REMINDER: Kentucky Volleyball to unveil 2020 national title banner tonight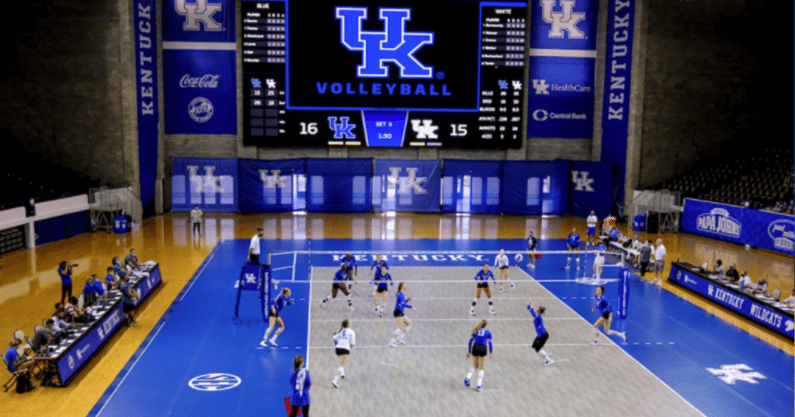 For those of you planning to attend the Kentucky Volleyball home-opener later on Friday night, make sure to show up at Memorial Coliseum a little bit early. The 2020 NCAA national championship banner will be unveiled shortly before the 7:30 p.m. EST start time.
The No. 3 ranked 'Cats are set to take on Northern Iowa in the first of three games spread out between Friday and Saturday. At about 7:20, however, UK will hang up the program's first-ever volleyball championship banner in the rafters. Tickets are still available for $5 or $10 through TicketMaster.
There is also speculation that one of the now-graduated mainstays from last season's squad will make a virtual appearance.
"[I'm] so excited for our players and families to be a part of that, and [it will] be a special night for all involved,' UK Volleyball head coach Craig Skinner said on Thursday.
Kentucky opened up the 2021 season and its title defense with a 3-0 record last weekend at the Dayton Invitational, winning all nine sets along the way. This weekend will provide a tougher challenge for the 'Cats as they host the Bluegrass Battle.
Northern Iowa will get the ball rolling on Friday night before Kentucky faces off against Creighton (ranked No. 26) on Saturday morning at 10:30 a.m. EST and Southern California (receiving poll votes) on Saturday night at 7:30 p.m. EST. All three games will be broadcast live on the SEC Network+.
This weekend will be pivotal for a young and talented Kentucky team still transitioning from the loss of three All-Americans. This team is clearly still one of the best in the country, but they're going to be tested early.
After the Bluegrass Battle, UK will travel to play No. 2 Wisconsin on Sept. 10., No. 25 Marquette on Sept. 11, and No. 14 Louisville on Sept. 15, all in a row and on the road. It doesn't end there, though, as Kentucky will come back home to host No. 20 Stanford on Sept. 19 before SEC play begins.
So basically, Kentucky will face four ranked opponents over the span of nine days and then dive right into the conference schedule. We'll find out rather quickly just how good this squad is compared to last season.
If you aren't already, make sure to follow KSR intern/volleyball beat reporter Alex Weber (@alexweberKSR) on Twitter for updates on everything that happens.