Rhyne Howard named AP WNBA Rookie of the Year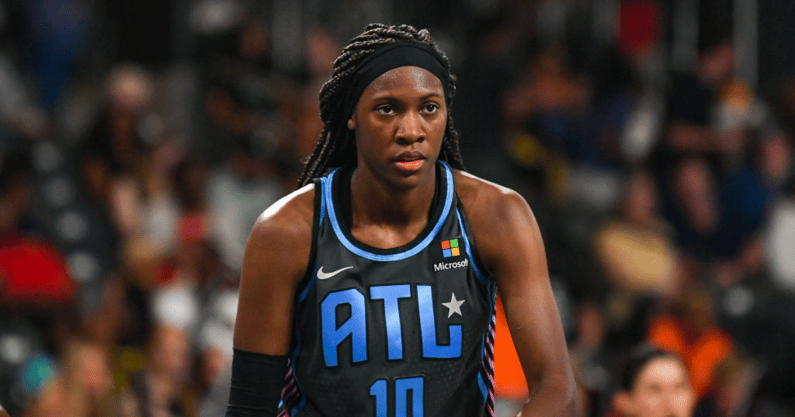 Awards season for Rhyne Howard has begun. The former Kentucky Women's Basketball star was just named WNBA Rookie of the Year by the Associated Press. Atlanta's Tanisha Wright also won AP Coach of the Year.
The No. 1 overall pick in April's WNBA Draft has more than lived up to expectations. In her first season as a pro, Howard averaged 16.2 points, 4.5 rebounds, 2.8 assists, and 1.6 steals and started all 34 games. She averaged 36.1% shooting from the field and 34.3% from three, with 2.5 made threes per game on 7.3 attempts. Last week, Howard broke Tamika Catchings' 20-year-old record for most threes made by a rookie in a single season. Catchings made 76 back in 2002; Howard finished the year with 85.
In July, Howard was named to the WNBA All-Star Game, where she finished with 13 points, 5 rebounds, 4 assists, and a steal in just over 15 minutes of action. She finished the regular season with more 20-point games (11) than all other rookies combined. Atlanta's season ended on Sunday with an 87-83 loss to the New York Liberty.
To be clear, the AP honors are not the official WNBA awards; those will come out over the course of the postseason, which begins tomorrow. That said, Howard's case for ROY is ironclad.
Howard wins 4th straight Rookie of the Month award
Today, Howard also brought home her fourth consecutive Rookie of the Month honor to make it a clean sweep for the season. Over six games in August, she averaged 19.3 points, 4.0 rebounds, and 3.8 assists per game. She had 28 points in Atlanta's win over the Los Angeles Sparks on August 5:
Rhyne Howard's 2022 Accolades
WNBA AT&T All-Star
AP WNBA Rookie of the Year
WNBA Kia Rookie of the Month – August
WNBA Kia Rookie of the Month – July
WNBA Kia Rookie of the Month – June
WNBA Kia Rookie of the Month – May
WNBA Eastern Conference Player of the Week – May 15
Associated Press Player of the Week – May 16