Rhyne Howard has Bradley Central High School jersey retired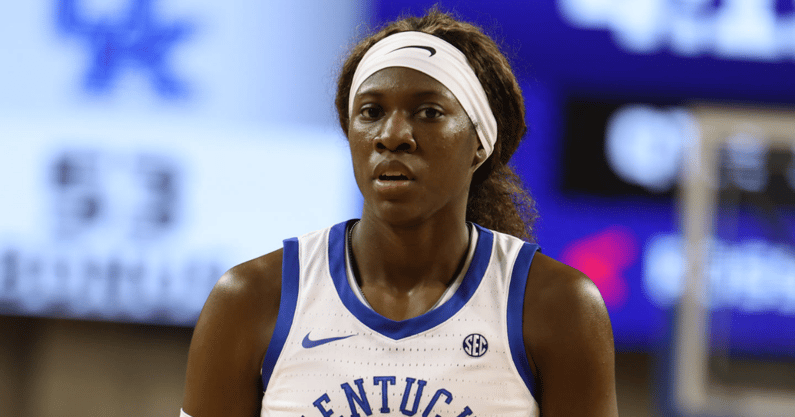 Not only is Rhyne Howard arguably the greatest Women's Basketball hooper to ever suit up for the Kentucky Wildcats, but she's also the greatest to ever come through Bradley Central High School.
On Friday night, Howard's legacy at Bradley Central was cemented in the rafters when she had her No. 23 jersey retired. The two-time SEC Player of the Year was a superstar for the Bearettes from 2014-18, winning Tennessee Gatorade Player of the Year and Tennessee Miss Basketball honors in 2018. Howard was a consistent all-state honoree throughout her high school career, ultimately committing to Kentucky as a five-star recruit where she's become the projected No. 1 overall pick in the upcoming WNBA Draft.
The ceremony took place during halftime of the Bradley Central boy's basketball game against Cleveland. In front of a packed hometown crowd, Howard's jersey was retired to a sea of applause.
"It's a great honor," Howard told WDEF, which is located in Cleveland, TN. "It's just super fun to be back and be around everybody who loves me. This is always going to be home for me. Once a Bearette, always a Bearette. For me to receive this accomplishment is just great."
Howard averaged over 22 points per game as a senior at Bradley Central, leading the Bearettes to 30 wins and a state tournament appearance. She was named Class 3A Miss Basketball runner-up as a junior while putting up 19.6 points per outing. As a sophomore, Howard posted 18.5 points per game as a sophomore, as well.
If you want to watch Howard in person before she graduates from UK and eventually has her Wildcat jersey retired, you can do so later on Sunday. No. 16 Kentucky will play host to Merrimack College at 2 p.m. EST inside of Memorial Coliseum.