Rhyne Howard hits 100-point mark through first 5 WNBA games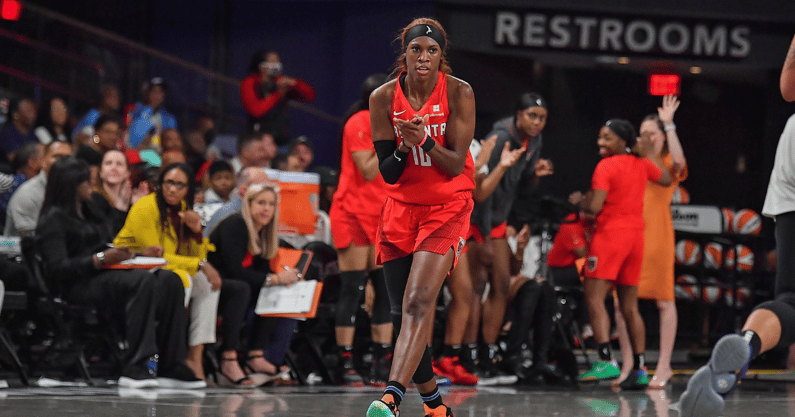 The Atlanta Dream were projected to finish the 2022 season as the second-worst team in the WNBA. Now five games into the schedule with a newly minted No. 1 draft pick leading the charge, Atlanta looks like a serious contender, at least in the early stages.
Rhyne Howard is to thank for that. The aforementioned top overall selection from April's WNBA Draft has taken the league by storm. Any nonsensical questions surrounding her motor have been dispelled. Howard is playing the part of a generational talent not even two weeks into her professional career. On Tuesday night — another win, this time coming against the Indiana Fever, 109-79 — the former Kentucky Wildcat was marvelous once again.
Howard dropped 19 points on 7-10 shooting, including a 3-5 clip from distance and a 2-2 mark from the free-throw line. It was easily the best shooting contest of her young career. She also added five rebounds, one assist, and one steal in nearly 25 minutes of action. Arguably most impressive though? Zero turnovers.
She has yet to play a "bad" game in the WNBA.
Rhyne Howard's first 5 WNBA games
5/7 @ DAL (W): 16 pts, 3 rebs, 4 asts, 2 stls, 4 blks, 1 TO | 4-15 FG, 4-12 3PT, 4-5 FT
5/11 vs. LAS (W): 21 pts, 8 rebs, 1 ast, 1 stl, 1 blk, 1 TO | 7-18 FG, 5-10 3PT, 2-2 FT
5/13 vs. LAV (L): 13 pts, 4 rebs, 2 asts, 1 blk, 1 TOV | 4-10 FG, 2-2 3PT, 3-3 FT
5/15 @ IND (W): 33 pts (WNBA season-high), 3 rebs, 2 asts, 3 stls, 3 TOV | 9-18 FG, 3-8 3PT, 12-17 FT
5/17 @ IND (W): 19 pts, 5 rebs, 1 ast, 1 stl, 0 TOV | 7-10 FG, 3-5 3PT, 2-2 FT
PER GAME AVERAGES: 20.4 pts, 4.6 rebs, 2.0 asts, 1.4 stls, 1.2 blks, 1.2 TOV | 43.7 FG%/45.9 3PT%/79.3 FT%
Howard is up to 102 points following Tuesday night's performance. That is the seventh most in WNBA history through the first five games of their pro career. She was named Eastern Conference Player of the Week on Monday, most notably for her 33-point outburst against the Fever over the weekend. My favorite Rhyne stat, though, has to be the fact that her 26.2 usage percentage leads the Dream, while her 6.7 turnover percentage ranks last on the team.
Atlanta is now 4-1 on the season for the first time since 2017. Through five games, this has been a thrilling and surprising start. But there are still 31 games left on the schedule. The last two wins for the Dream came against the Fever, which was the only franchise projected to finish lower in the preseason standings than Atlanta. We'll find out sooner rather than later just how legit this team is — the Dream will face the league-leading Washington Mystics (4-1) in back-to-back games on May 20 and May 24.
All that aside, Howard is clearly a special talent and the front office/coaching staff changes made throughout the offseason have shifted the mindset to a winning culture.
"I'm just super comfortable and my team has confidence in me," Howard said after beating the Fever on Sunday. "The coaches have told me to go play. They drafted me for a reason and I have to come out, make an impact and help the team win."