Rhyne Howard showcases Player of the Year potential against WVU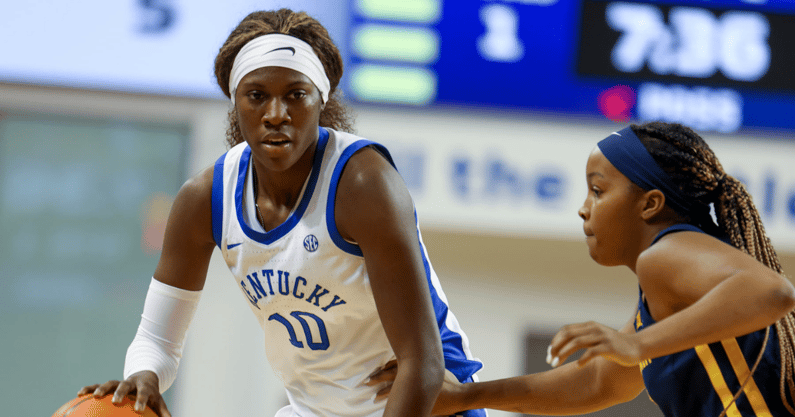 The word "potential" is funny when applied to a player such as Rhyne Howard.
Over the last three-plus years now, members of the Big Blue Nation have watched Howard develop her game at a rapid pace. Howard won National Freshman of the Year then back-to-back SEC Player of the Year honors as a sophomore and junior. Now a senior, she's chasing her first National Player of the Year award.
All Kentucky fans know with Howard is her unlimited potential; a ceiling so high that it'll take years before she fulfills her actualized talent level. Enjoy her hoops expertise while she's still here, because a superstar like herself hasn't come around this program since the early 1980s.
If you were one of the fans on Wednesday night who helped create the most exciting atmosphere of the season at Memorial Coliseum, you got a first-hand look at just how special Howard truly is.
No. 16 Kentucky (5-1) walloped the West Virginia Mountaineers (4-2), exploding in the second half to earn a resume-building 83-60 win. WVU projects to be a top-four team out in the Big 12, but were no match for the SEC opponent on this particular night. Both of West Virginia's losses this season have come to nationally ranked squads.
Leading the charge was none other than Rhyne Howard, who is off to arguably the best start of her soon-to-be Hall of Fame career. Against WVU, she popped off for a season-high 27 points on 7-14 shooting, including a 5-7 mark from beyond the arc. Howard also contributed seven rebounds, four assists, and three steals in 34 minutes of action. The 6-foot-2 guard poured in 10 points by herself during a third-quarter run that saw Kentucky take total control of the momentum and eventual outcome.
"Well she's a great player," West Virginia head coach Mike Carey said of Howard after the game on Wednesday. "She's a 6-1, 6-2 guard that can shoot the three and take you off the dribble. I said coming in here she's probably one of the top five players in the country. She's a great player."
It was another masterclass performance from the two-time All-American against WVU, but nothing new.
"Not to be cocky, I can do that day in and day out, honestly," Howard said bluntly in the postgame. "That's honestly like a normal night for me, I would say."
What's incredible, though, is that she's still getting better.
Howard's numbers this season are even confusing to read off the stat sheet. She's averaging 20.5 points, 7.7 rebounds, 4.5 assists, 3.0 steals, and 1.0 blocks through six games on a shooting split of 49.4/44.4/67.7. Howard's efficiency continues to climb past career-high territory despite added responsibilities. She's crashing the glass with precision and getting every single one of her teammates involved. Her timing on the defensive end of the ball is robotic.
It's been an ideal start to her senior campaign, where she's expected to win her third straight SEC Player of the Year honor. Howard's number thus far would indicate she's on that trajectory. According to HerHoopStats, she ranks in the 90th percentile or higher nationally in these per game categories: minutes played, points, field goals made, 3-pointers made, free-throws made, rebounds, assists, steals, and blocks.
To put it frankly: she's playing out of her MIND.
Howard knows she's cooking right now, too. Not just through her individual offense, but everything else she brings to the hardwood. West Virginia focused too much on Howard coming into Wednesday night and it hurt the Mountaineers' chances as the game progressed.
Coach Carey said after the game that he was shocked by how efficiently the rest of the Wildcats outside of Howard shot the ball. While he must have missed the part of the scouting report where it said Kentucky shoots 36 percent from deep on nearly 20 attempts per game, it was a poor excuse at best. That's just what Howard does; she makes everyone around her better and puts them in positions to succeed.
"I don't know why he thought that. That's why they lost," Howard said. "If you come out focusing on one person when the other four can do stuff, it's never going to go your way.  I have a lot of confidence in my teammates and everybody, and I'm going to give them the ball and they're going to shoot it."
Howard also has a lot of confidence in herself, which is translating onto the court in the form of a National Player of the Year campaign.