Rhyne Howard tabbed to Naismith Women's Defensive Player of the Year Watch List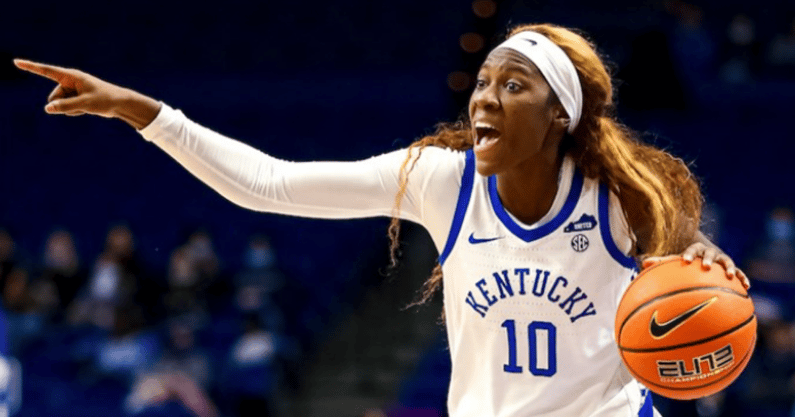 While Kentucky Women's Basketball has been struggling lately as a whole, it certainly isn't due to the play of senior Rhyne Howard.
The reigning two-time SEC Player of the Year earned another midseason honor on Tuesday afternoon as she was named to the 2022 Naismith Women's Defensive Player of the Year Watch List. Earlier this month, Howard was tabbed to the John R. Wooden Award Midseason Top 25 Watch List for the third year in a row, which recognizes the nation's top overall player.
Now, her efforts on the defensive end are being rightfully acknowledged.
Howard, a 6-foot-2 guard out of Cleveland, TN, is one of 15 players who made the Defensive Player of the Year Watch List. Through 16 games played this season for the 9-7 Wildcats, the future top pick in the upcoming WNBA Draft is posting 2.9 steals and 1.3 blocks per outing.
Due to her size, length, and quickness, Howard is one of the versatile defenders in all of college basketball–she can guard all five positions on the court with effectiveness. Her steal numbers rank top 20 in the entire country while both her steal and block figures rank in the 90th percentile or better, per HerHoopStats. Howard has recorded at least three steals in a single game this season on 10 separate occasions, including a pair of six-steal outings.
On the year, Howard is averaging 20.0 points, 7.0 rebounds, and 3.6 assists per game on top of her defensive stats. She's shooting 43.8 percent from the floor and 31.4 percent from beyond the arc in over 35 minutes per outing. Howard's jumper has betrayed her a bit to begin SEC play, but a 29-point explosion (5-12 from deep) to beat Auburn on Tuesday night will hopefully be enough to get her back on track.
Naismith Women's Defensive Player of the Year 2022 Watch List
Aliyah Boston – South Carolina
Angel Reese – Maryland
Ayoka Lee – Kansas State
Cameron Brink – Stanford
Elissa Cunane – NC State
Elizabeth Kitley – Virginia tech
Emily Engstler – Louisville
Jordyn Cambridge – Vanderbilt
Lorela Cubaj – Georgia Tech
NaLyssa Smith – Baylor
Nancy Mulkey – Washington
Que Morrison – Georgia
Rhyne Howard – Kentucky
Tamari Key – Tennessee
Veronica Burton – Northwestern