Rhyne Howard's talents aren't being fully utilized this season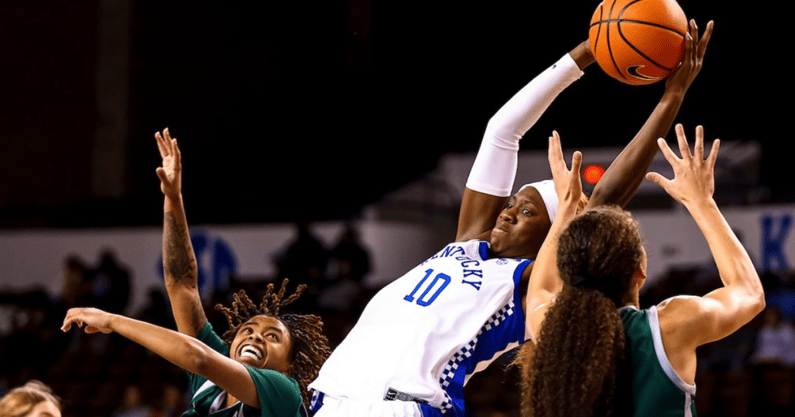 As ridiculous as it may seem, Rhyne Howard is being underutilized.
On Sunday afternoon, Howard scored 24 points in Kentucky's agonizing 84-58 loss to No. 5 Tennessee. Howard was one of only two players for UK to score double figures. The senior guard was also the only 'Cat to record more than 15 points.
Howard is leading Kentucky with 19.2 points per game this season. Thus, it may seem odd for me to question whether Howard's skill is being maximized for the 'Cats. However, when examining the statistics, it's clear Howard is capable of even more.
Digging into the numbers
This seemingly odd question formed when a statistical graphic regarding Howard's usage rates flashed on the screen during Sunday's contest. The graphic displayed Howard's usage rates throughout her four years at UK.
As a freshman, Howard had a 27% usage rate; sophomore year, 36%; junior year, 29%; this season, 25%. Why is Kentucky's generational talent being utilized less than ever when she's at her best? In reality, there's not a good answer.
This season, Howard is shooting and scoring less than in both her sophomore and junior seasons. One could argue Howard is shooting less for the betterment of the team. However, it's difficult to defend this stance when the 'Cats are 1-4 against ranked opponents this season, which includes back-to-back +20-point losses to top-five opponents.
If sharing the ball isn't leading to success, why not live and die by Howard? Fans around the nation certainly seem to be taking notice of the peculiar situation.
Kyra Elzy on Rhyne Howard
Although Howard ultimately decides her actions on the court, many fans are frustrated with head coach Kyra Elzy. The second-year head coach was asked after the game about Howard's shot totals decreasing throughout the game.
"She had some great looks. Obviously, she's an integral piece of our offense, but you have to have balanced scoring so they can't load up on her defensively," Elzy said. "At the end of the day, you need three or four people in double figures and we just didn't hit that today."
While Elzy's sentiment makes sense, it doesn't necessarily add up. In Kentucky's losses to Indiana and Louisville, Kentucky had three players score double digits. In UK's 20-point defeat against South Carolina, four 'Cats reach double figures. Clearly, team scoring doesn't always equate to team success.
What can be done?
Thankfully for Kentucky, there's still plenty of season left to play. Problems can be solved. Wrongs can be made right. Not enough Howard shots can become a surplus of Howard buckets.
For the remainder of the season, Howard has to shoot the rock with reckless abandon. On Sunday, Kentucky's only winning quarter was the first. In what isn't a coincidence, Howard dropped nine points in the same period.
If Howard scores at a higher level, open shots for her teammates will follow. Perhaps legendary head coach Matthew Mitchell put it best back in 2019 when discussing his mindset toward Howard's offense.
"If she's open, I want her to shoot it. If she's open a thousand times, I want her to take a thousand 3's," Mitchell said.
Me too, Coach. Me too.