Bio Blast: Kentucky offensive coordinator Rich Scangarello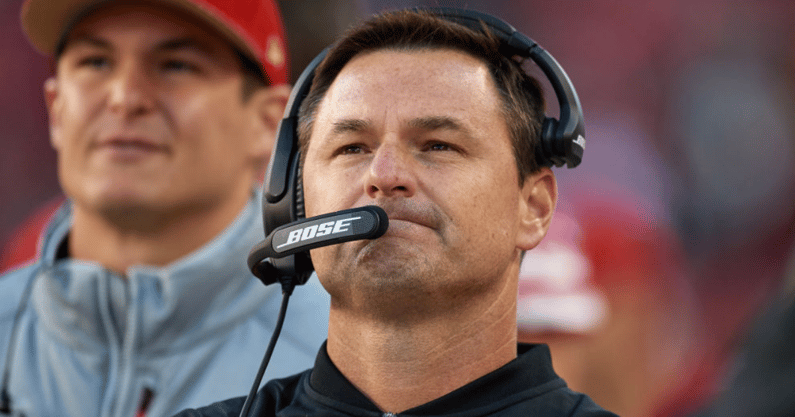 After a long week of source reporting, hot board speculation, and leaked candidates, we now know who is the new offensive coordinator at Kentucky.
On Friday, NFL Network's Tom Pelissero reported that San Francisco 49ers quarterbacks coach Rich Scangarello is taking the play-calling gig at Kentucky to replace new Los Angeles Rams offensive coordinator Liam Coen. Kentucky is staying committed to the Sean McVay/Kyle Shanahan coaching tree.
Who is Rich Scangarello? Let's find out.
Kyle Shanahan tree
For the last offensive coordinator hire, Mark Stoops went diving into the Sean McVay coaching tree. For the next hire, Stoops dove into the Kyle Shanahan coaching tree. The two NFC West head coaches worked together at the Washington Redskins and utilize a similar scheme.
Sticking with this coaching tree made a ton of sense for Stoops and Kentucky.
After serving as the offensive coordinator at Northern Arizona for three seasons, Kyle Shanahan hired Rich Scangarello as a quality control coach under the Atlanta Falcons offensive coordinator. After one year in 2015, Scangarello jumped back into the FCS working as the offensive coordinator at Wagner, but would again join up with Shanahan.
After two seasons as the quarterbacks coach for the San Francisco 49ers, Scangarello and Shanahan were separated as the former became the offensive coordinator for the Denver Broncos in 2019. However, the two would reunite after the 2020 season just in time for the 49ers to decide on pick quarterback Trey Lance in the first round of the 2021 NFL Draft.
Kentucky is committed to the McVay/Shanahan offensive philosophy, and Stoops just hired a coach who has been hired three separate times by Shanahan.
Coaching continuity
Rich Scangarello is familiar with the offense that Liam Coen installed in Lexington. The San Francisco 49ers assistant will be bringing his own version of it, and he'll be doing it with a familiar face.
New Kentucky offensive line coach Zach Yenser spent the last three years as an assistant offensive line coach with the 49ers organization, and the 2021 season was overlapped with Scangarello. The two parties will bring work synergy to the Kentucky football program and that will ease the rest of team and coaching staff into this transition.
The Wildcats are committed to a specific offensive philosophy and are adding coaches with direct work history with this offense.
Play-calling experience
Rich Scangarello has spent seven seasons in the NFL with multiple roles. The 49-year-old coach has worked in off-field roles — quality control, offensive assistant– in addition to being a quarterbacks coach and offensive coordinator. Most importantly, there is play-calling experience.
Scangarello got his first shot in Division III working at Carleton (Minn.) College in 2001 as the offensive coordinator. Nearly a decade later, the Sacramento State alum would accept the same role at Division III Millsaps (Miss.) College where he would spend 2010-11 as both assistant head coach and offensive coordinator. Then in 2012, Scangarello was the offensive coordinator at FCS Northern Arizona for two seasons and then had a one-year stint at FCS Wagner in 2016.
After two years under Shanahan in San Francisco, Scangarello got a play-calling chance in 2019 with the Denver Broncos under new head coach Vic Fangio. However, the Broncos finished just No. 26 in offensive DVOA thanks mostly due to a revolving door at quarterback. Joe Flacco, Drew Lock, and Brandon Allen all started games for the AFC West franchise that season on their way to a 7-9 finish. Yet, the Broncos produced a 1,000-yard rusher, and rookie quarterback Lock had his best season as a pro going 4-1 in five starts to close the year while completing over 64 percent of his passes.
Obviously, most fans would prefer a better play-calling track record, but Scangarello simply would not have been a candidate for the position if there was more on the resume. However, the quarterbacks coach has received multiple opportunities and did a solid job with limited talent in Denver.
Multiple boxes checked
As Kentucky moved on from Liam Coen, it was clear that not much reconstruction needed to be done to the offensive operation. The Wildcats appear to be very content with the rest of their coaching staff, and new wide receivers coach Scott Woodward has made plenty of early splashes both as a coach and as a recruiter. On the recruiting trail, the new style of play has been embraced by prospects.
Kentucky is now looked at as a pro-style offense that can help players come to college and get to the next level. Bringing on another play-caller with extensive NFL experience made a lot of sense. Only this time, Mark Stoops was able to hire a move-proven commodity.
Unlike Coen, Rich Scangarello has spent four seasons in the NFL as a top position assistant and had one year running his own offensive operation. The new offensive coordinator has deep ties with Kyle Shanahan and is familiar with the current scheme at Kentucky.
The Wildcats wanted to keep running a similar system, and Stoops found a candidate that is more than qualified to run an SEC offense. There are plenty of reasons to get excited about the potential of this hire.