One Surprising Adjustment to SEC Football for Rich Scangarello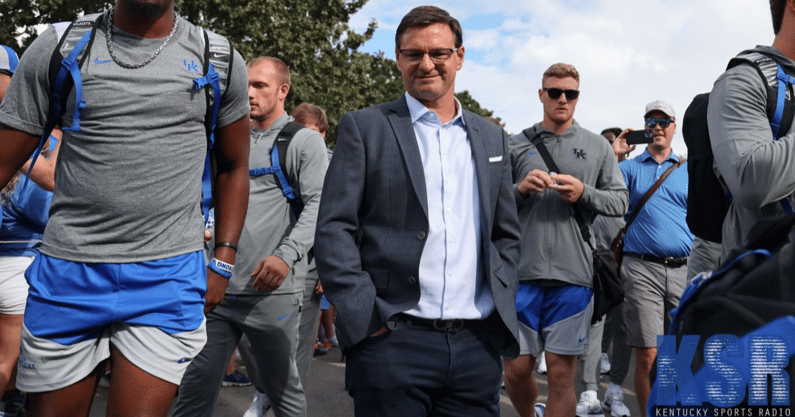 Excuse the headline. It make for easy fodder for those who want to dunk on Kentucky's offensive coordinator. Now preparing for his seventh SEC football game, KSR's Adam Luckett asked Coach Rich about the biggest differences between coaching in the NFL and the college level. As succinctly as possible: "the stakes."
"The biggest transition for me back to college, the game's a little different and calling it's a little different, just the style of play. But in the NFL, last year we were 10-7, we were the last team in the Playoffs in San Francisco. We're in the NFC Championship Game, beating the Rams at halftime and we're the odds-on favorite to win the Super Bowl. And we lost seven games. We were going to be the best team in football in the end," Scangarello said.
"In college if you lose a game, it's like the end of the world after one game. It's just crazy how it is. If we're getting ready for a Wild Card game or a playoff game, this town would be jacked right now. It is a different — the pressure you put on 18, 19 to 20-year-olds, the immense pressure they have to grind through, the outside influences and things that go on — it is very, very, very challenging."
He later added: "To me, every game is like the end of time if you don't win it, whereas in the NFL, you literally wake up Monday and go to work. 'All right, next week. We're going to win 11 (games). We'll be all right.' It is interesting, but it also makes it more fun. It's a great challenge and I've loved the good and bad."
College football is a week-to-week sport. It takes no time for the entire outlook of a season to shift, in either a positive or negative direction. What once looked like a lost season can now be salvaged with a strong finish in November.
"What I love about this program and the players and I appreciate, Coach Stoops has recruited the right types of people," said Scangarello. "He's got the right kind of grit, he exudes it into the whole program and we're willing to fight through those type of times. I thought last week we showed a great deal of respect to that."
With that being said, if the CFB Playoff is ready to expand, the committee has Rich Scangarello's 100% support.
"No doubt about it. It would be different if there were 16 teams battling it out. You would feel completely different. But still, the good part is we're going to have a great year, we're going to finish strong, we're going to get better and we're going to build for the future. The guys that are here are going to enjoy a bowl game and we're going to finish on the right foot. You can feel it. We're doing the right things in today's practice represented that."
Don't miss one minute of action all season long. Subscribe to the KSR YouTube Channel today!