Rich Scangarello "very, very excited" about Kentucky's tight end room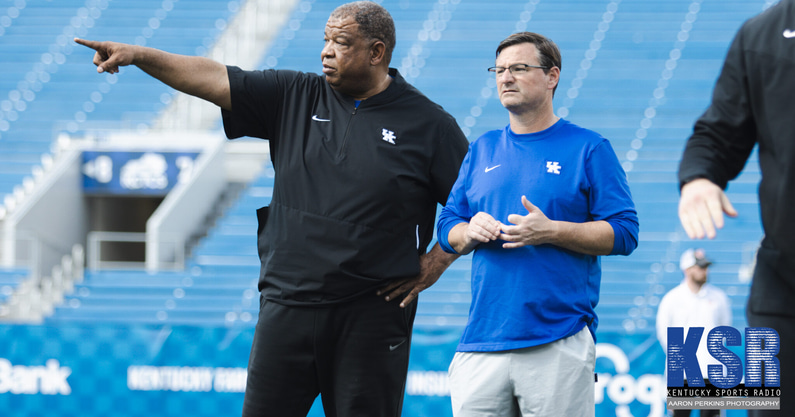 Coming from an offense with the San Francisco 49ers known for utilizing and maximizing production from its tight ends, new Kentucky offensive coordinator Rich Scangarello is giddy about the talent he has to work with at the position in Lexington.
With Keaton Upshaw returning from injury, along with the likes of Izayah Cummings, Brenden Bates, Jordan Dingle, and Josh Kattus rounding out the room, Scangarello believes several — if not all — tight ends on the roster are capable of playing in the NFL.
"We have a very deep tight end room. … I don't want to point anyone out yet and I don't want to overhype anything, but I am very, very excited about that tight end room," Scangarello said at UK Media Day on Wednesday. "I mean, it's hard to imagine a better one. You don't have the luxury of carrying six tight ends in the NFL, and I really believe that there are three or four or five in that room that are going to play on Sundays."
It's a group with several players bringing something different to the table. All, though, are capable of producing.
"They're all a little different, they're all good guys, they all work at their craft," Scangarello added. "Some guys are pass-catchers, some guys will set the edge, some guys can do both. But it's a really, really good group."
It's not just coach speak, either. During an appearance on KSR this morning, Vince Marrow said Scangarello's optimism about the tight end group is the same even behind closed doors.
"Rich (Scangarello) is a tight ends guy coming from the 49ers," Marrow said. "He actually said that room is loaded, and it is. We did a really good job recruiting that room."
The all-around talent at the position has Kentucky's starting quarterback excited for what's to come. He stressed that the tight end room is so deep that the depth chart really doesn't even exist yet. At this point, they're just mixing and matching talent for different scenarios, all capable of producing in various ways.
Considering Scangarello's offense includes two and three tight end sets, Will Levis is confident the Wildcats will be able to maximize the position's talent and potential production.
"(The tight end group is) really good. Really, really good," Levis said. "We've just been mixing in a bunch of guys, we don't have like a kind of set 1, 2, 3, 4 depth chart (with that group). We have four or five guys that we can rely on and they're able to do all the things we asked them to. I think it's going to be more so figuring out which guys are the best at the certain things we need for them to do, whether it's different routes or different blocking opportunities.
"But I mean, we have personnel sets with two, three tight ends at a time. You can only do that if you have the guys on the roster to be confident enough to put them out in the field. I really like where we're at with the tight ends and they've just got to keep working. It's definitely gonna be a big part of the offense this year."
After years of hearing complaints about the lack of targets and utilization of the tight ends, Mark Stoops says Scangarello's offense should make fans quite happy.
And maybe Vince Marrow — the tight ends coach — too.
"Well, you know Vince is always calling for (more tight end usage)," Stoops said. "That's the only suggestion he ever makes. (Laughter.) No, Rich likes being multiple, so it's a tight end friendly offense, that's for sure, so they should get some action."