Rivals.com says Kentucky is capable of winning the SEC East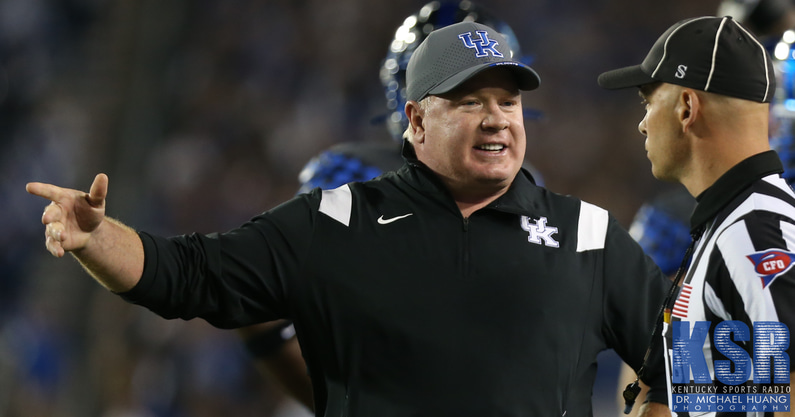 A four-score underdog in Athens? Don't count out the No. 11 Kentucky Wildcats, says Mike Farrell of Rivals.com.
And while we're at it, why not a run at the SEC East title?
In Farrell's latest Fact or Fiction feature, the college football analyst says Kentucky is capable of knocking off Georgia in Athens on Saturday. Take down the Bulldogs, and the Wildcats could earn a spot in the SEC title game in Atlanta.
"This Kentucky team can beat Georgia, make no mistake about it," Farrell wrote. "Will Levis is playing well, the Wildcats have a great offensive line and their running game can control the clock. Defensively they are solid enough to handle a Georgia offense.
"If Kentucky doesn't hurt themselves with dumb penalties or turnovers they could be SEC East champs."
The praise doesn't stop there, either. When discussing Alabama, Farrell said the Crimson Tide should have fallen further than No. 5 overall following the team's loss at Texas A&M this past weekend. Instead, the likes of Michigan, Michgan State, and yes, Kentucky, all have better resumes at this point.
"A loss to an unranked team and wins over Florida and Miami make me think Alabama should be down near No. 7 or No. 8 in this week's poll and not No. 5. Penn State has better wins and the Nittany Lions and Ohio State Buckeyes have better losses than Alabama," he wrote. "Michigan, Michigan State and Kentucky are all undefeated with six wins. This is why preseason polls are dumb. Polls should be based on the wins you have and who you've lost to if anyone."
Kentucky has made plenty of history already this season with a 6-0 start and wins over Florida and LSU. A road victory over Georgia would take this program yet another step further.