Rob Radio's Roundball Roundup - Week VII
Hope everyone had a good Christmas.  I know I was busy with family and friends. Plus, since this sports writing thing isn't very lucrative right now, I have a job that is just completely nuts at this time of year. Don't worry, I'll be making Clay/Bozich money really soon.  Have a Happy Holidays.
This week in college hoops brought some colossal battles, a few upsets, and some separation occurred at the top. We are starting to find out who was over-achieving early and who might have just had a bad game in an early loss.  This is the last week before conference play and coaches want to have their corps rotation set so they can feel comfortable in league play. Teams need to gain momentum this week going into league play later in the week. -Losing to
UCONN
in OT in what was a great college basketball game shouldn't have hurt
Gonzaga
too much in the polls. They traveled, fought hard and lost to the 2nd best team in the country.  Losing to Portland St. at home shows they probably still don't have the moxy to get very far in the tourney. The WCC is getting progressively better and should give the Zags greater competition than usual.  Unfortunately if the Zags get a middle seed (4-9) it will be hard for them to get past day 2. -One of my preseason sleepers,
Wake Forest,
has crept all the way up to #6. The best team they have beaten all year is #21 Baylor.
Indianapolis product Jeff Teague
(left)
is averaging close to 20 a game and some analysts are giving him the "Most Underrated" belt for this year.  4 guys average double figures, but the Pomeroy ratings have them with the 296th toughest schedule so take it all with a grain of salt for now. They have games coming up against BYU, the mighty Heels and Boston College coming up.  If they win 2+ in that stretch. We'll see if they stay in the Top 10 after that. -
Arizona St. sophomore James Harden
(right) might be the best player in the country not wearing Carolina blue this year. He's averaging 24 points 6 rebounds and 4 assists for a 10-1 Sun Devils team. He scored 21 in the second half against a good BYU team in an extremely narrow victory this week.The smooth scoring wing  has scored 40 once and 30 on 5 occasions. A sure-fire lottery pick, Harden's Sun Devil team reminds me a lot of OJ Mayo's USC team last year. Only I don't think Harden has as big of an entourage as OJ. Herb Sendek's squad open up conference play at Stanford this week. - Don't sleep on
Butler.
They have only 1 loss (by 3 at Ohio St.) and could enter play in the treacherous Horizon with that their only blemish.
They bested then #7 Xavier last week
and have a tou
gh test against UAB this week, but it is very possible that they could reach the postseason with only 2-3 losses. Their coach looks like he won a frat contest for the next coach, but he keeps bringing in guys like Sheldon Mack from Bryan Station who didn't get the looks he wanted from local schools, but is averaging 13 points in 30 minutes a game for the Bears. Not saying they are a contender, but I do expect them to be in or around the top 10 all year. -
Davidson
proved that if
Stephan Curry
isn't hitting they will get dominated by top teams.
Purdue
showed that the other night, beating them by 18 behind 18 and 14 from Robbie Hummel. The tough Matt Painter defense held the Curry Show to only
13 points on 5-26 shooting
. Davidson is a one-trick pony, but like Snoop Dogg. their trick is better than most. Only he's not sneaking up on anybody this year. - Texas pulled something off that isn't done very often. The Longhorns beat a Bo Ryan led Badger team at home. In Ryan's seven seasons,
the Badgers are 113-8 at home
. Damian James is playing great after a slow start and AJ Abrams is molding himself into a point guard. The early losses to Michigan State and Houston were fuel fro doubters. Howver, I think Texas is the class of the Big 12 this year and they'll prove that when Blake Griffin and Oklahoma come to town in conference play.
The week that will be...
Saturday
- Aside from the local match-ups, there are a couple late games to watch. One is Johhny Pelphrey's Razorbacks taking on the power that is northwestern St. Arkansas is 9-1 but in the 100s in both the RPI and Pomeroy. They lost to Missouri St. and have the 338th ranked schedule. Michael Washington paces the 'Backs with 16 and 11 a game. Also check out, Iowa and Western Illinois if you are just a complete nut at 7 on the U.
Sunday
- The big, bad Heels take on Rutgers at 7 on FoxSports. I really don't see the Heels slipping up against the cellar-dwellers of the Big East, however the PG match-up is very intriguing with Mike Rosario of the Scarlet Knights squaring off against Ty Lawson. Lawson is the best senior PG in the land and Rosario is the best frosh PG in my opinion. The Heels will win by 30, but when that's the case you have to find something to entertain you. It's either that or take a shot every time Psycho T goes to the line on a phantom foul. Then you'll pass out by halftime. You can also catch the Tubster taking on his alma mater as the streaking Gophers (11-0) take on High Point at 7 on the U.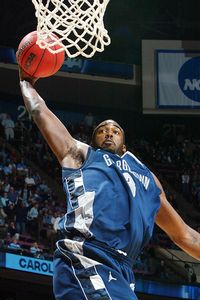 Monday
- Best match-up of the week pits two top 10, Big East powers on Big Monday. #9 Georgetown goes to Storrs to face #2 UCONN. So many battles between these two teams over the years and this should be a doozy as well. The main question is - How will the Hoyas play Hasheem Thabeet? JT3's team matches up everywhere else, but with the loss of Roy Hibbert the void in the middle may be too much for the Hoyas to handle.  The match-up to watch in this one will be G'town PF DaJuan Summers against UCONN's Jeff Adrien. Both guys play physical, so don't be surprised if you see blood.  Former Great Midwest conference rivals Cincinnati and Memphis follow on ESPN in the wannabe red/blue game. A secondary affair.
Tuesday
- Illinois takes on Purdue in the Big Ten opener. I think the usually boring Big Ten will be more exciting to watch than in previous years because there are 5-6 teams competing for the title as opposed to 2 maybe 3 in years past. No word if Al Legion will make his season debut of not. Who cares? Rob Jones and San Diego take on Mississippi at 9 on FoxSports.  No, my granfather wasn't the leader of a Kool-Aide sipping cult too. At least that I know of.
Wednesday
- I'll be ringing in the New Year with some Big Ten basketball. Wisconsin goes to Michigan at 2 and Michigan St takes on Minnesota at 6. I'm sure most will be tuned into bowl games and the booze, but if you haven't seen Michigan's Manny Harris or Michigan State's Raymar Morgan play yet, you are missing out on some potential future stars. Everybody get a DD and have fun watching Dick Clark and Ryan Seacrest.
Thursday
- Two top 25 teams in action as Dominic James and Marquette host Cory Stokes and Villanova. Both teams had early season setbacks but are looking to start out well in the monster known as the Big East. Scottie Reynolds needs to improve on his 38% shooting and Marquette needs to find a presence on the inside for either to make an impact in conference.  Both play "small-ball" so it should be a good break from football at 2:30 on ESPN. Happy New Year to the KSR nation.
LYesReport.blogspot.com - It's almost rivalry week....