Rob Radio's Roundball Roundup - Week X
It never fails, college basketball brings it every week. Yet another stellar week with your usual barn-burners, unbelievable individual performances, and upsets.  A few teams that looked dead in the water were reincarnated and a couple teams that looked to be on an upswing took a downward turn. A team like Carolina looked pretty unbeatable early, put their weakness has been found. In turn, UCLA looked like they were down this year after early losses to Texas and Michigan. Now they are ranked 7th and looking like they could make yet another Final 4 run.  Here are a few teams that's only common factor is inconsistency. Teams that could make a run in March or exit prematurely...
4 teams I Can't Figure Out -
1 -
Georgetown
-The Hoyas have enough talent to play with anyone in the country. Some days they play like a top 5 team and sometimes they look like wanna-bes. Greg Monroe is a stud. Guys like Jessie Sapp and Austin Freeman can knock down the open shots all day.  The Hoyas man-handled UCONN,  then followed that with losses at ND and by 16 to PITT. Wednesday they defeated #8 Syracuse by 14. Might just be the BIG EAST, but JT3's squad is on a rollercoaster right now.
2-
Tennessee
- The Ladies Man's squad is oozing talent but lacking heart. They have given up a career-high in points to 6 different players this year. This is a team that was supposed to be a heavy favorite in the SEC and now will struggle to finish in the top 2 of their division. TLM Pearl has buxom blondes sitting directly behind the bench, meanwhile his team is letting Mr. Meeks take more open shots than I do in the comments section every week. 3-
Michigan
- John Belien was looking like a genius earlier in the year beating Duke and UCLA.  Manny Harris and DeShawn Sims looked like All-Big TEN locks and the Wolverines looked to be a conference favorite. Still may still be the case, but Belien has missed some action due to health and a home loss by 12 to Wisconsin followed. If IU takes you to OT (as the Hoosiers did the 'Rines) and Illinois drops you by 15 then there are a few question marks surrounding your team. 4-
Clemson
- The Tigers have just been blazing through their schedule of mostly cupcakes. However, they did crush Miami (FL) and So. Carolina on their home floors and also own wins against NC St. and Illinois. Not very impressive, but somewhat acceptable. They will come out of this week men or boys as they face Wake Forest on Saturday and go to Chapel Hill for the Heels Wednesday. - IUPUI's Ron Hunter is leading the annual "Coaches in their fresh sneakers" night again this year to raise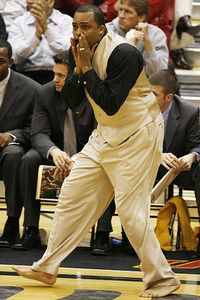 awareness for
Samaritan's Feet
, an organization to donate shoes to the less fortunate abroad. If you haven't seen the story yet,  Hunter goes a step further and coaches bare foot. This made me think. What coach would you not want to be around if they joined Hunter?  3 guys came to mind - WV's Bob Huggins, UCLA's Ben Howland and ND's Mike Brey. Big ups to Hunter for championing such a great cause. - Game of the week outside of the Bluegrass had to be
Wake Forest's mild upset against the Heels
. The Deacons are the real deal and remind me a lot of the Georgia Tech team that went to the final game several years back. Lots of athletes, a couple diaper dandies, a bonafide go-to guy and an awkward white center who surprisingly gets the job done. Add
Wake's Jeff Teague
to the "Dream Team" of guys from Indiana that didn't play for the Hoosiers along with Eric Montross, Jason Gardner, Greg Oden, Mike Conley, ect. Teague laid 34 on the Heels Sunday night. - What happened to
Arkansas
? I was all over them last week after they upset 2 top 10 teams in a week. Then they proceed to lose to Miss St. and Ole Miss back-to-back. Freshman
PG Courtney Fortson
must have let some of his recent hype go to his head. He was averaging a NCAA-best 7 assists a game as the Razorbacks started 12-1 and were screwed out of a top 25 ranking last week. In the 2 in-conference losses, Fortson has taken 32 shots with only 5 total dimes. Fortson needs to get in inside to Mike Washington or find Rotnei Clark for an open shot. That's how they were winning games.
Here's what to watch for daily this upcoming week...
Friday
- I should just skip Friday's every week. The marquee match-up is an IVY league scrum between
Yale and Brown.
If you think there's a lot of dunking and fancy ball playing on the  AND1 Mixtape Tour, you obviously haven't been graced with the presence of yale/Brown basketball.  Could be reminiscent of the classic 1983 Louisville/Houston semifinal battle when it comes to action and excitement.
Saturday
- By my calculations, there are 27 games on TV starting at noon and ending in the wee hours of Sunday morning. Here a a few to keep an eye on. -
Notre Dame/Syracuse
at noon (ESPN). Both teams are coming off tough losses to good competition and trying to avoid the dreaded in-conference 2-game losing streak. -
Georgetown/Duke
at 1:30 on CBS. The Hoyas have played top 15 teams 5 put of the last 6 games. If they beat the Dukies they will finish it at an impressive  4-2. -
Wake Forest @ Clemson
at 3:30 (ABC). The Tigers look to prove their top 10 worthiness against the #2 team in the land. If the Tigers win this one, they should be recognized as a legitimate high-caliber team. -
#15 Arizona St./#7 UCLA
at 3:45 (CBS). The Sun Devils' James Harden has seen a couple guys look to overtake his spot on the All-American team in the last week. Not that he cares, but you have to think in the national spotlight, against the conference powerhouse, his A-game will come out. Freshman SG Jrue Holiday is starting to mesh well with PG Darren Collison for the Bruins. that makes one of the scariest back-courts in the country. -At 6,
#1 PITT
takes their undefeated record to Denny Crum Court to face a
Louisville
team playing as well as they have all season. -Mr. McClinton brings his up-and-down
Miami
squad to Chapel Hill to face a
Tar Heel
team looking to get their ACC record back to .500.
Sunday
- Besides the Cats and a couple of Big TEN contests, this day will be mostly be dedicated to seeing who makes the Super Bowl. My money is on the Eagles/Steelers, so your money should be on Cardinals/Ravens.  But if you are in need of your college basketball fix after the UK game, check out the Tubster and his Golden Gophers against Michael Wilbon's alma mater, Northwestern.  Minnesota's Colton Iverson might be the ugliest player in basketball besides Nick Calathes.
Monday
- The Big Monday double-header brings yet another colossal BIG EAST battle as
Syracuse travels to PITT
. It will be interesting to see how the Panthers react to their
first loss
game against Louisville Saturday and the quick turnaround for the Orange Monday.  The clash of PG's will be fun to watch as both Jonny Flynn and Levance Fields are gritty floor generals who have that competitive fire that is cherished by PG's. Flynn is faster than Fields, but Fields is stronger than Flynn.
Texas A&M
takes their 15-2 record to Kansas to face Sherron Collins and
Kansas
at 9. (ESPN)
Tuesday
- Only 2 top 25 match-ups highlighted by the
Dukies hosting NC St.
I think Greg Paulus is a tool, but he is playing a lot better since being benched for Nolan Smith. He shoots the ball way too much for a PG, but in Duke's system, it fits. Gerald Henderson has really taken on the Grant Hill-type roll of slasher and finisher. NC St. isn't very good, so Duke should handle business. Take your pick between watching
Tennessee
kill their Meeks hangover with
Vandy
on ESPN or Manny Harris and
Michigan against Penn St.
on the BTN at 9.
Wednesday
- Both local teams' play will occupy most of the night, but - whichever side you're on - there are some decent games.
Florida
takes on one of my favorite players in the country,
Devan Downey
and South Carolina at 7 on Fox Sports. Downey is putting up 20 a game with close to 5 assists with the highlight of his season being a 37-point effort against an undefeated Clemson.
Clemson takes on Carolina at 9
on ESPN. Depending  on what the Tigers do against Wake Saturday, they could bring that undefeated record into the Dean Dome. I say the Tigers drop their second straight game.
UCONN and Villanova clash at 7
on ESPN in just your everyday battle between 2 BIG EAST teams ranked in the top 20.
Thursday
-
Purdue and Minnesota
square off at 7 (ESPN) in a match-up between two top 20 teams from the BIG TEN. the BIG TEN could sneak up and grab 7 bids to the tourney this year. You have to think 5 (Mich St. Minnesota, Purdue, Michigan and Wisconsin) are almost shoe-ins right now and 2 (Ohio St., Illinois) right on the cusp of being in. The BIG TEN is for real this year, regardless of how boring the games might be. They just don't have that big-time title contender like they've had the past few years.
Props to Jodie Meeks
- that's a lot coming from me. Best performance I've seen since the days of DeJuan Wheat. Go to The L Yes! Report (
lyesreport.blogspot.com).
Comence to hating...