Rounding up this week's Kentucky football scholarship offers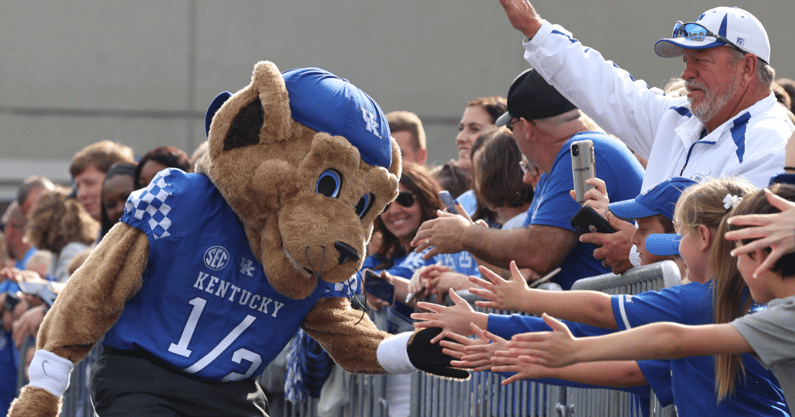 Official visit season is right around the corner for Kentucky football. We're about one week away from the beginning of an important month for the Wildcats' coaching staff. By our count, roughly 30 nationally-ranked rising high school seniors expect to officially visit UK throughout June. But the coaches continue to hit the recruiting trail in search of even more targets.
Over the last seven days, a half-dozen new prospects popped up on the radar after being given scholarship offers from Kentucky, including a pair of four-star recruits from the class of 2024 and two underclassmen out of Louisville. Let's break them all down in our latest offer roundup.
But first, a word from our sponsor.
Time for our weekly recruiting update presented by our friend Andy Luedecke at MyPerfectFranchise. Andy is a huge college sports fan and franchise veteran, having owned multiple franchises and businesses. Using his expertise, he helps others find their American Dream through a very thorough consultation and evaluation process.
If you are wanting to find a way out of corporate America, wanting a side-hustle business, or a way to diversify…..reach out to Andy, as he's got a ton of knowledge in this world and best of all, his services are 100% free to you – always! After you finish this post, you can learn more or reach Andy at [email protected].
---
Class of 2024 offers
Malcolm Ziglar (S) 6-1, 195 | Fuquay-Varina (Fuquay-Varina, NC)
4-star: No. 250 overall, No. 22 S
Kentucky is getting in late on one of the top prospects from the state of North Carolina. Malcolm Ziglar received an offer from the 'Cats on Monday, tagging defensive backs coach Chris Collins, defensive coordinator Brad White, and safeties coach Frank Buffano. So far, Ziglar already has official visits locked in with nearby schools South Carolina (June 9) and North Carolina (June 23). Doubling as a star track runner, he holds additional offers from the likes of Notre Dame, Louisville, Penn State, Vanderbilt, and several other Power 5 programs, but his recruitment has only picked up steam in the last few months. That being said, UNC and South Carolina have brought him onto campus multiple times already and appear to have the inside edge at this stage in his process.
D'antre Robinson (DL) 6-3, 315 | Jones (Orlando, FL)
4-star: No. 385 overall, No. 34 DL
Another four-star recruit that Kentucky offered late is D'antre Robinson, who announced his offer from Wildcats' defensive line coach Anwar Stewart on Wednesday. The massive 6-foot-3, 315-pound lineman already has four OVs scheduled for Florida (June 2), Ohio State (June 9), Texas (June 16), and Georgia (June 23). It'll be tough for UK to compete with that level of competition, especially with such a late offer, but more and more teams across the country continue to throw their hat in the ring with offers for Robinson.
Class of 2025 offers
Isaac Sowells (IOL) 6-1, 290 | Louisville Male (Louisville, KY) –> KSR+ interview
Isaac Sowells is one of two Louisville Male prospects to pick up an offer from the 'Cats this week. Associate head coach Vince Marrow visited him on Tuesday and reached out with an offer the same day. UK was just the fifth offer so far for Sowells and the first from an SEC school. Louisville, Eastern Kentucky, Indiana State, and Bethune-Cookman are the other schools to extend scholarships. He visited UK once last year and tells Jacob Polacheck of KSR+ that he's looking to return this summer. Sowells is the son of Isaac Sowells Sr., who played at Indiana and was a fourth-round NFL Draft selection. Kentucky currently has one former Male player on the roster, senior tight end Izayah Cummings.
Antonio Harris (ATH) 6-0, 170 | Louisville Male (Louisville, KY) –> KSR+ interview
Sowells' teammate at Male, Antonio Harris, earned an offer from the 'Cats this week, as well. Coach Marrow was also the one who reached out with an offer on Tuesday. Harris, who primarily lines up at cornerback, has yet to visit UK but intends to do so in mid-June for one of the Wildcats' camps, he tells KSR+. Harris also holds offers from Purdue and Louisville, although both of those came in Jan. 2022. He's taken multiple visits to UL already.
Class of 2026 offers
George Haseotes (IOL) 6-2, 270 | Community School of Naples (Naples, FL) –> KSR+ interview
George Haseotes is in the middle of a popularity boom. Louisville and Eastern Kentucky were the first two schools to extend offers, which came back in the winter, but since April, his recruitment has exploded. Kentucky is one of the latest to get involved with Coach Marrow offering the Naples, FL prospect on Saturday. Additionally, the likes of Stanford, Michigan State, Arizona, Arizona State, and New Mexico State have all offered Haseotes since April. He visited EKU last month and was able to make a quick pit stop in Lexington, he tells KSR+, and could return for another visit in the near future.
Jeff Ward (ATH) 6-4, 180 | Cleveland Heights (Cleveland, OH)
Jeff Ward is the least-known of the six recruits we've discussed, but he could be one to remember down the road. The Cleveland, OH product announced an offer from the Wildcats on Thursday, his first-ever from a Divison I program. Coach Marrow was the one who reached out. With a solid 6-foot-4 frame as a rising sophomore, Ward plays a multitude of positions, including wide receiver and quarterback.
---
Learn more about Andy Luedecke and franchise ownership through these resources:
Andy's Story
Why a Franchise
Service Based vs Brick and Mortar
Semi Absentee Ownership
The Process and How It works
Book time with Andy: Andy's Calendar