Rounding up this week's Kentucky Football offers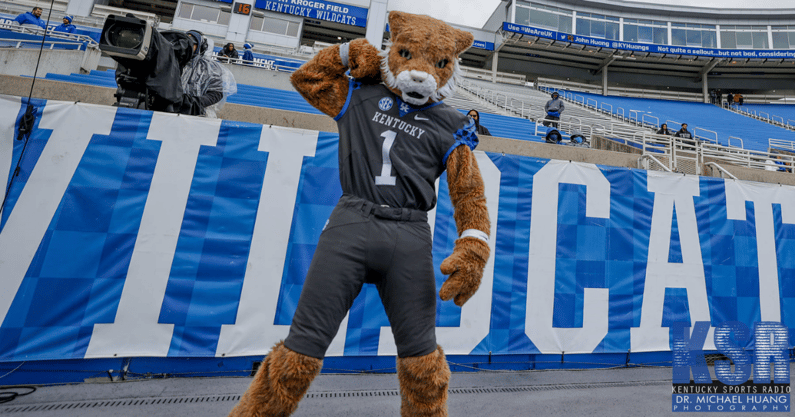 And we're back! With another Kentucky Football offer roundup.
Earlier this week, we broke down the nearly 20 high school recruits who received an offer from the Wildcat coaching staff. Well, the travel miles continued to rack up throughout the rest of the week as we have another dozen prospects with a Kentucky offer in hand. Enough chit-chat, let's dive right in.
All rankings are courtesy of the On3 Consensus.
Class of 2023
Khamari Anderson: 6-4, 225-pound TE | Cass Technical (Detroit, MI)
3-star, No. 520 overall; No. 26 TE
Kentucky is no stranger to the Detroit-based Cass Tech program, which has produced several current and former Wildcats. Jalen Thompson is another Cass Tech star high on UK's radar, but now we can add his teammate and Cincinnati commit Khamari Anderson into the mix. He received his offer from the 'Cats on Wednesday from associate head coach Vince Marrow, the same day that Michigan State and Alabama also extended scholarships. Anderson tweeted out on Wednesday that he is still committed to the Bearcats, but it's clear that he's at least talking with other schools on some level.
Christopher Terek: 6-6, 295-pound OT | Glenbard West (Glen Ellyn, IL)
It appears that Christopher Terek is in the midst of a major breakout spring. Currently unranked by the On3 Consensus, the rising senior offensive tackle has been picking up quality Power 5 offers left and right this month. Coach Marrow reached out on Thursday with an offer from the 'Cats. Kentucky joins the likes of Missouri, Minnesota, Michigan, Wisconsin, Illinois, Iowa, Vanderbilt, Iowa State, and Boston College as schools to offer over just the last two weeks. Iowa is the perceived leader and Terek will take an official visit there in late June, along with a trip to Wisconsin. Michigan will likely get an official visit, as well.
Sean Thompkins: 6-6, 310-pound IOL | Newton (Covington, GA)
Kentucky joins Houston and Western Kentucky as schools to offer unranked offensive lineman Sean Thompkins this month. The Wildcat staff offered on Wednesday, his first from an SEC school. Thompkins took spring visits to Georgia and Tennessee, although no scholarship offers from those schools have been publicized. Georgia Tech is the one to keep an eye on right now.
Class of 2024
Mike Matthews: 6-2, 170-pound WR | Parkview (Lilburn, GA)
4-star, No. 65 overall; No. 12 WR
Arguably the most versatile rising high school junior in the country, Mike Matthews received his Kentucky offer on Wednesday from defensive backs coach Chris Collins. Doubling as a stud wide receiver and safety, Matthews is already considered an elite prospect. Ohio State also offered on Wednesday and he's previously earned scholarships from the likes of Notre Dame, Arkansas, Auburn, Michigan, Oklahoma, and plenty others. He's also taken spring visits to Clemson and Georgia.
Edwin Spillman: 6-2, 205-pound LB | Lipscomb Academy (Nashville, TN)
4-star, No. 74 overall; No. 8 LB
A tag-team tandem of inside linebackers coach Mike Stoops and wide receivers coach Scott Woodward offered Edwin Spillman on Wednesday, his third Divison I offer this week. The other two came from Arkansas and Troy. Spillman is one of many Nashville-area recruits offered this week and plays for a powerhouse program in Lipscomb Academy coached by former NFL quarterback Trent Dilfer.
Jonathan Paylor: 5-9, 170-pound WR | Hugh M Cummings (Burlington, NC)
4-star, No. 131 overall; No. 19 WR
One of two offers publicized on Friday went to star pass-catcher Jonathan Paylor. The top 20 ranked wide receiver already boasts several high-profile offers, including ones from Texas A&M, Ohio State, LSU, Georgia, and others. South Carolina is also involved and has gotten him on campus multiple times since the fall.
Mason Curtis: 6-2, 190-pound LB | Ensworth (Nashville, TN)
4-star, No. 149 overall; No. 13 LB
The first of two Ensworth (TN) recruits who were extended an offer from Kentucky this week was Mason Curtis, which came on Thursday courtesy of Coach Woodward. West Virginia and Virginia Tech also offered him this week while the likes of Michigan, Mississippi State, Kansas, Boston College, Louisville, South Carolina, Cincinnati, Tennessee, and Ole Miss have already done so. Curtis already has intentions to visit Michigan this summer.
Samuel Dixon: 6-0, 195-pound RB | West Holmes (Millersburg, OH)
On Thursday, Samuel Dixon earned offers from Boston College and Kentucky. That brings his total number of Division I scholarships up to six, joining Akron, Ball State, Boston College, Cincinnati, and Toledo. All of his offers have come since the new year began and he's also taken spring visits to nearby Ohio State along with Penn State. Dixon ran a 4.44 40-yard dash in February and doubles as a track athlete.
Lorenzo Cowen: 6-3, 215-pound LB | Jenkins (Savannah, GA)
Lorenzo Cowen could be an under-the-radar name to keep an eye on moving forward. Coach Collins offered on Kentucky's behalf Thursday, just a day before Duke reached out with an offer on Friday. He received his very first Divison offer just a couple of weeks ago from Georgia Southern and then took a visit to Florida State (his second of the spring) a week later for the Seminoles' spring game. Cowen was in Lexington for a visit in mid-March.
Brandon Jacob: 6-2, 180-pound S | Evans (Orlando, FL)
Mike Stoops was the one who extended a Kentucky offer to Brandon Jacob on Thursday, his ninth scholarship at the time. Illinois stepped in on Friday with a scholarship to make it double-digits. While he's not currently ranked by the On3 Consensus, the folks over at 247Sports have him tabbed as a three-star product. Pittsburgh, Indiana, Nebraska, Maryland, and Iowa State are among the other big-name programs to have offered. Jacob visited two nearby schools, Florida and Florida State, earlier this spring.
Michai Boireau: 6-5, 200-pound DL | Lovejoy (Hampton, GA)
The first-ever Divison I offer for Michai Boireau came from the home state Georgia Bulldogs all the way back in Oct. 2020. Shortly after, Tennessee and Georgia Tech extended offers that same year before Florida State and South Carolina did the same in 2021. Louisville was next at the beginning of 2022, followed by Houston and finally Kentucky, which came from Coach Collins on Friday. Georgia still appears to be interested, but it's tough to say who might be in the lead as of right now.
Class of 2025
Ethan Utley: 6-4, 250-pound DL | Ensworth (Nashville, TN)
Our second Ensworth (TN) offeree is expected to be one of the premier defensive linemen in his class moving forward. Ethan Utley hauled in a Kentucky offer from Coach Woodward on Thursday, marking his eighth Divison I offer this month, joining the likes of Texas A&M and Mississippi State. Utley's first dozen scholarships included ones from LSU, Tennessee, Ole Miss, and Cincinnati, among others. The Volunteers have been heavily involved from the jump, extending him an offer back in the fall.