Rupp Arena wants YOU to name the new video scoreboard
[caption id="" align="alignnone" width="925"]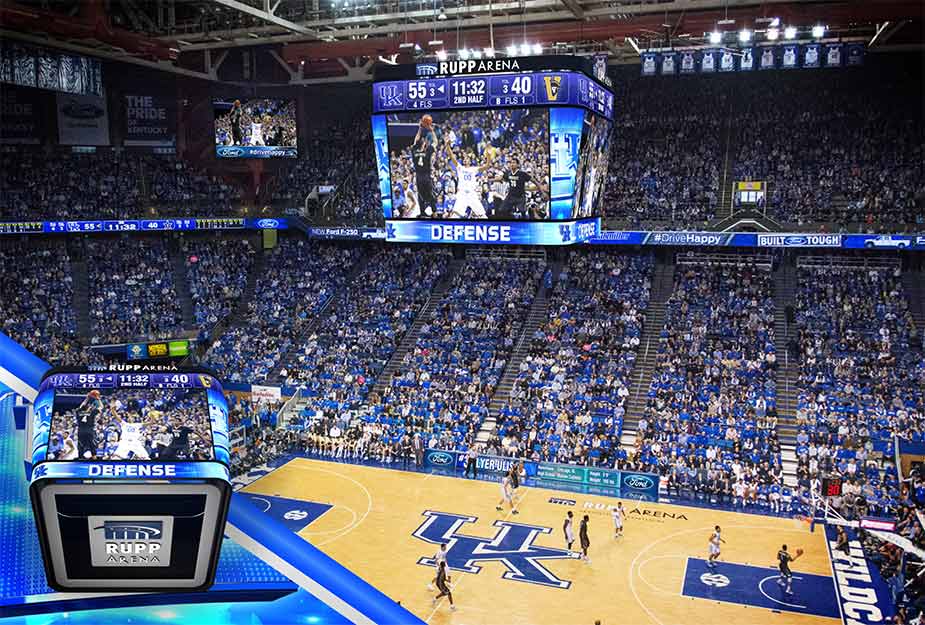 @Daktronics
[/caption] By now, you've probably seen the pictures of the new center-hung video scoreboard that replaced Big Bertha in Rupp Arena. The state-of-the-art Daktronics scoreboard was unveiled to the media yesterday and will have its first big run at Big Blue Madness Friday, but the 34' x 28' beauty still needs a name.
The Lexington Center is holding a public contest to name the scoreboard
, which will run from this Friday, October 14 to November 14. The winner will be announced on December 3 at the UK vs. UCLA game. What does the winner get?
Two tickets to every publicly ticketed event in Rupp Arena for the 2017 season
, including lower level tickets to the 2016-17 UK Mens' Basketball Season, a private tour for 10 of the UK Locker room, and a custom 40th Anniversary Rupp Arena Jacket. That's a pretty amazing prize when you think about it. To enter, submit your entry online by going to
www.rupparena.com/nameit
or mail it to Lexington Center, 430 W. Vine St. Lexington, KY 40507 Attn:  Nameit Contest. Submissions should include the proposed name along with an explanation of the significance of their submission in 100 words or less. 
Submissions will be dated and timed, in the event of duplicate entries, the earliest entry will prevail. No one steal "Bigger Bertha." That's mine. Here are some more details on the scoreboard and a video presentation:
34' wide x 28' tall
45' off the floor
SMD LED Video Displays with tight 6-millimeter line spacing to provide excellent image clarity and contrast to every seat within the arena.
The Main Displays each measure approximately 15 feet high by 25 feet wide and are connected by curved corner displays, each measuring 15 feet high by 6 feet wide.
Above the Main Displays, a Ring Display circles the top of the configuration measuring 4 feet high by 126 feet long, and at the bottom of the center-hung, a ring display measures 3 feet high by 116 feet long.