Rupp's Best Moments: Kentucky's 2021-22 Home Season In Review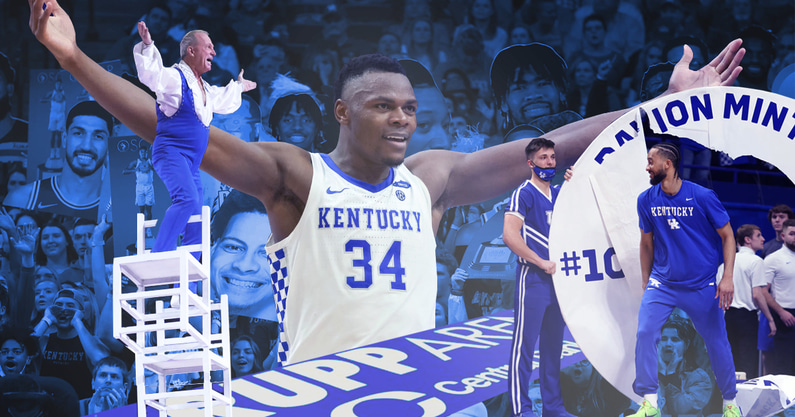 Kentucky Basketball turned out the lights on Rupp Arena for the season with an 83-72 defeat of Ole Miss last night. The home finale win clinched an 18-0 record for the Wildcats on their own floor and the program's sixth undefeated homestand under John Calipari, the first since the 2015-16 season.
Up next, Kentucky travels to Florida to wrap up the regular season in one last roadkill opportunity this coming Saturday. From there, it is back to Florida for the SEC Tournament in Tampa beginning a week from today.
But first, a final nod to Rupp Arena for going unbeaten in 2021-22 with a collection of the highlights and top moments from all of the fun in a year everyone needed it most.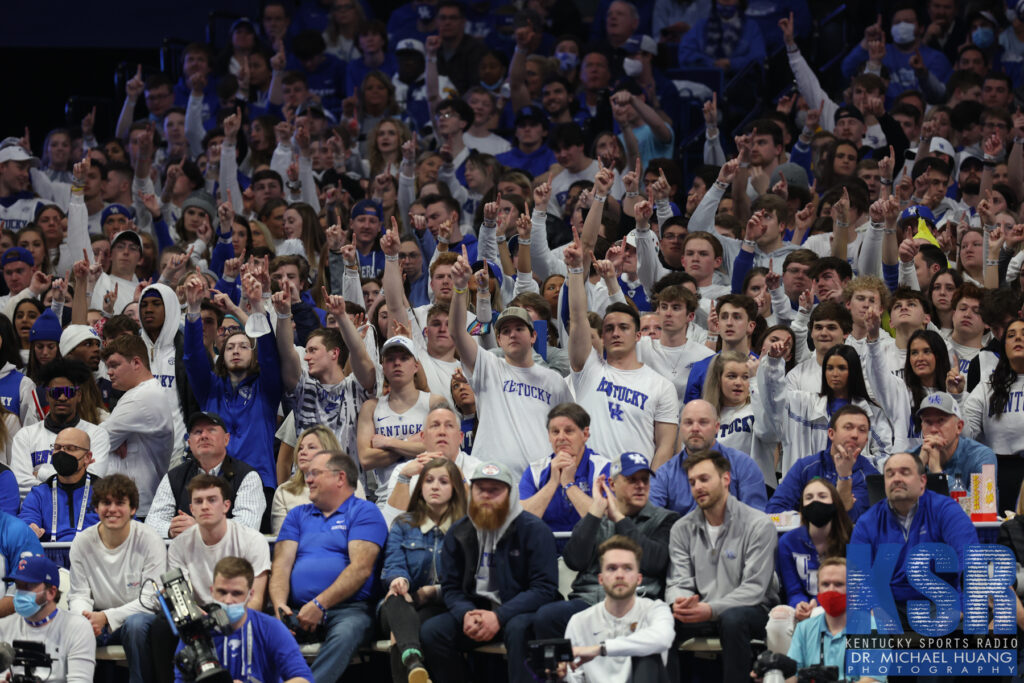 Oscar Tshiebwe broke Shaq's rebounding record in Rupp Arena
Oscar Tshiebwe rewrote Rupp Arena's record book in Kentucky's late-December win over Western Kentucky University with the best rebounding performance in the history of the building. Shaquille O'Neal's longstanding record of 21 rebounds against Kentucky in 1990 was shattered by Tshiebwe's 28 rebounds against the Hilltoppers.
It was Kentucky's first 28-rebound game since Mike Phillips grabbed 28 boards against Tennessee in 1976. Phillips and Tshiebwe are now tied for sixth on the single-game rebounding list behind Cotton Nash, Dan Issell, Bill Spivey, and Bob Burrow, all in the 1950s and 60s.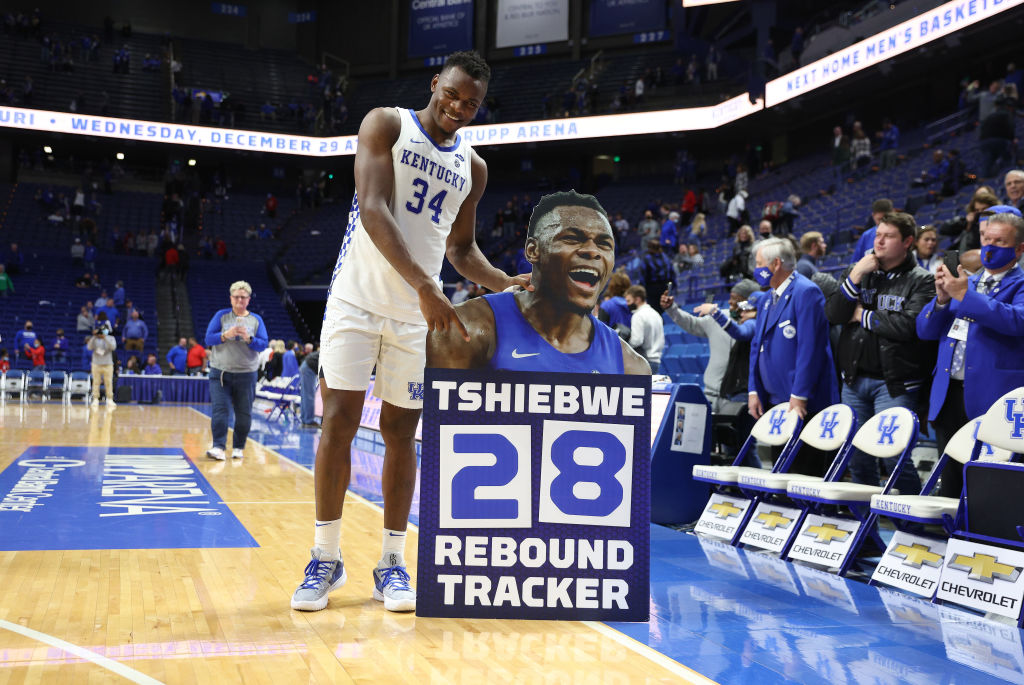 TyTy Washington broke John Wall's single-game assist record
Oscar Tshiebwe isn't the only Wildcat to make history in Rupp Arena this season; TyTy Washington also broke an unbreakable record by surpassing John Wall's 16-assist game with 17 assists against Georgia. Crazy, right? Even crazier, it was Washington's first time as the starting point guard due to Sahvir Wheeler's absence with a neck injury.
And the craziest, Tom Crean hugged Wheeler's neck injury.
One, two, three $10,000 halfcourt shot winners
Central Bank is out $30,000 (actually, the contest's insurance company is out $30,000) after not one, not two, but three fans drained halfcourt shots in the $10K challenge. There were back-to-back winners at the start of the season, then the talent selection got a little suspect for a few months before a third fan won another 10 grand with the third make of the year.
Big Blue Nation, the best shooting fan base in college basketball. "Makers," Calipari would say.
Tubby Smith's jersey retirement ceremony
Finally, Tubby Smith's name is up with the greats in the Rupp Arena rafters where he belongs. Smith brought his High Point team to Lexington to play his old team, the Wildcats, and he was honored before the game.
After High Point lost to Kentucky, Smith said he "couldn't be more happy" about the homecoming he received in Rupp Arena and the ceremony to enshrine his name in the rafters.
"It's the No. 1 basketball program in the history of college basketball, so that's why it's such a thrill, an honor to be a part of the legacy of Kentucky by having your banner raised in Rupp Arena."
Zan Payne made someone a lot of money
In maybe the most thrilling game of the non-conference, Zan Payne hit two late-game free throws to cover the 24.5-point spread against Mount St. Mary's. Late covers happen all of the time in college basketball, but this one was particularly interesting because earlier that day, an anonymous bettor placed a $220,000 bet on Kentucky to cover the 24.5 points. Kentucky won by 25 thanks to Payne's perfect trip to the foul line.
Kellan Grady's two 3-pointers in overtime win
Kentucky needed five extra minutes before it could send Mississippi State back to Starkville with a loss. The Bulldogs forced overtime in Rupp Arena but Kellan Grady called game with two 3-pointer a minute apart in OT. Grady scored eight of Kentucky's 10 points in overtime in Kentucky's 16th win of the season.
Kentucky Basketball "Letterman's Day"
Kentucky Basketball invited all of its former players back for the first Letterman's Day at Kentucky's home game against Alabama. Over 50 alums from every coaching era–Rupp through Calipari–attended a reunion and sat in the stands to see the current team of Wildcats in action.
Off the top of my head, former Wildcats I remember seeing include Ramel Bradley, Immanuel Quickley, Wayne Turner, Julius Mays, Daniel Orton, Jared Prickett, Deron Feldhaus, Dan Issel, Erik Daniels, Dirk Minnifield, Jack Givens, and Michael Kidd-Gilchrist.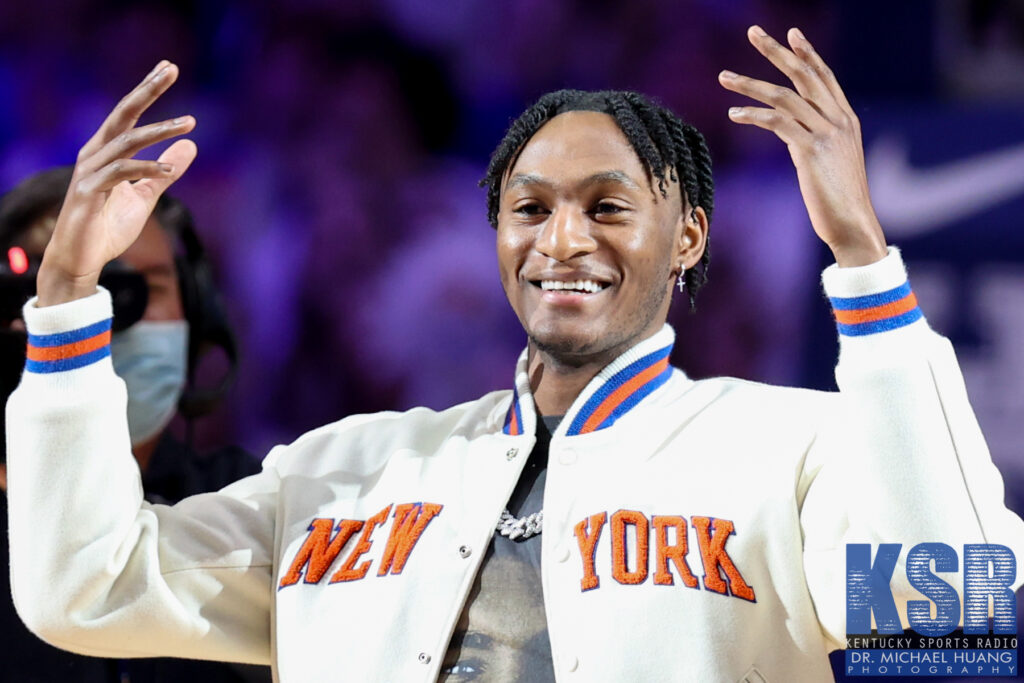 Also on Letterman's Day…
Kentucky's comeback against Alabama
Alabama hit nine 3-pointers and jumped out to a 13-point lead with five minutes to go in the first half, but Kentucky clawed back to steal the lead by halftime and win by nine in the end. Playing without TyTy Washington or Sahvir Wheeler, Kentucky got a halftime speech from Calipari with a great line about Alabama's 3-point shooting.
"They made nine 3s and they're down one," he told Kentucky in the locker room. "What are they going to make, 18? That's fine, they'll be down two and the game ends."
One more memory from that Feburary 19th Saturday…
The guy balancing on the chair tower
I thought he was going to die. I thought we were going to witness a death at halftime of Kentucky-Alabama with all of those Wildcat legends in attendance.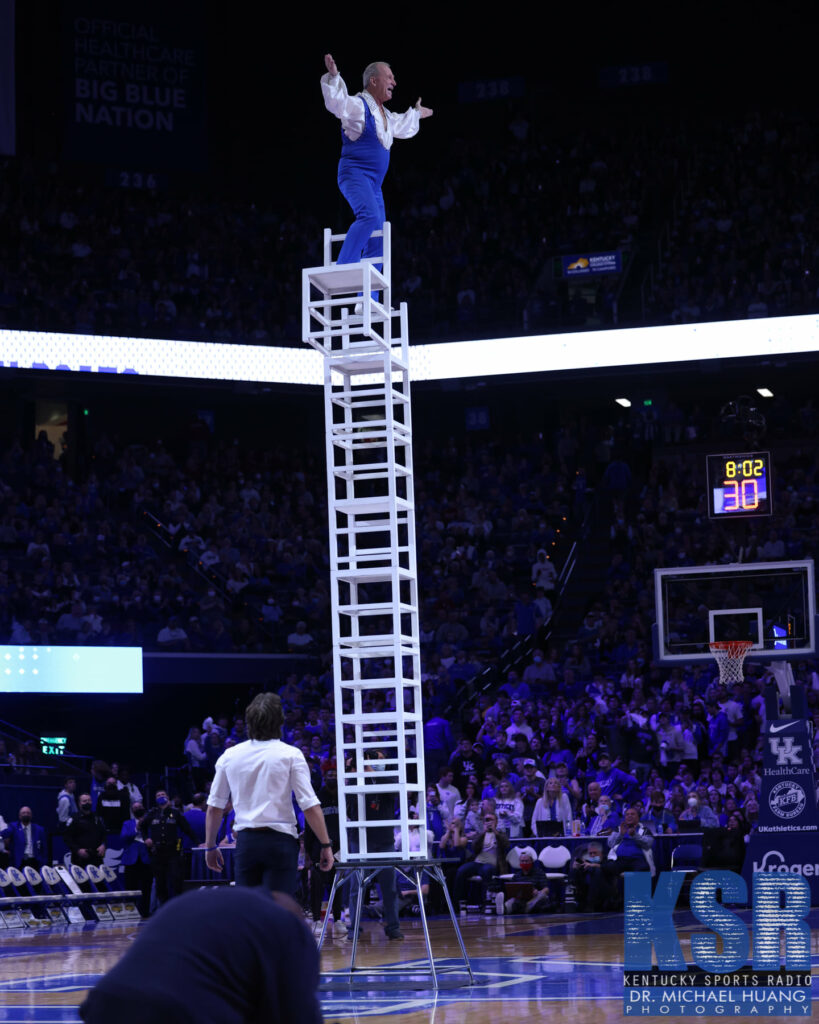 He did not die, thankfully.
LSU Revenge Game (aka the Bryce Hopkins Game)
Again without TyTy Washington or Sahvir Wheeler, Kentucky showed its reslience with a second straight shorthanded win, again in comeback fashion. LSU took a nine-point lead into the break but Bryce Hopkins' breakout performance in the second half brought Kentucky back to avenge the loss to LSU earlier in the year.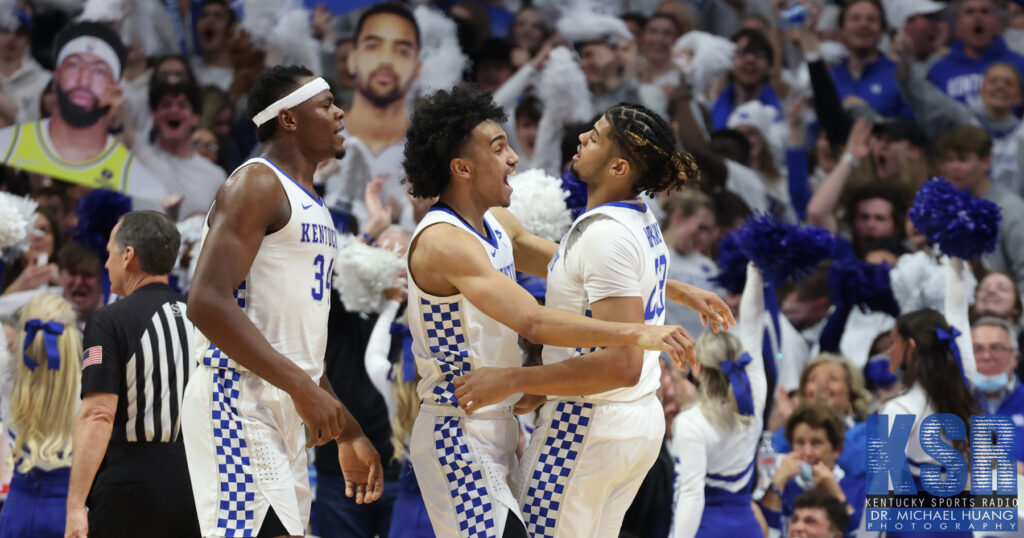 100+ points against Tennessee
In Kentucky's best home performance of the year, the Wildcats scored 107 points on Tennessee in front of an electric Saturday atmostphere in Rupp Arena. TyTy Washington, Sahvir Wheeler, Kellan Grady, and Davion Mintz combined for 75 points in the backcourt to pace the high-powered offense. Tennessee couldn't keep up in the 28-point loss for the Vols.
Oscar Tshiebwe meeting fans after games
Until Oscar Tshiebwe, every Kentucky player's postgame routine included a swift exit from Rupp Arena once team and media obligations were complete. Occasionally, a fan might catch a player visiting family in the Hyatt lobby or in the parking lot, but no player has ever held a full-on autograph session with fans immedaitely after a game.
Until Oscar Tshiebwe.
In a new Kentucky Basketball tradition that only Tshiebwe participates in, he stayed around the Rupp Arena court to take pictures and sign autographs for fans who stuck around after Kentucky home games. The line was 100 fans long when Tshiebwe first started his voluntary meet-and-greets with Big Blue Nation after the Georgia game.
When he was asked about it, Tshiebwe explained, "If they sacrificed to follow us wherever we go, then we have to do something for them. We cannot just get up and go when the people need something, especially the little kids. I love spending time with little kids. I can do anything for those kids because they come into the game, we are their examples for what we do because they want to do that one day too. So, we've got to show them good things to follow so when they grow up, they can grow up as good examples."
Senior Night for Davion Mintz and Kellan Grady
Before Kentucky's 2021-22 home finale in Rupp Arena, the program celebrated the home finales of Davion Mintz and Kellan Grady, the two seniors on the team. Though they were only in Lexington for three seasons between them, Mintz and Grady are a couple of fan favorites for their contributions to the program during their short stays. Mintz, the super-senior who came back to experience Kentucky Basketball the right way; Grady, the sniper from Davidson known as Granddad.
This little guy.
I almost forgot this little fella. He was a nice addition to the Kentucky-LSU game's halftime festivities.