Rutgers Is In The News Again, Still Not Good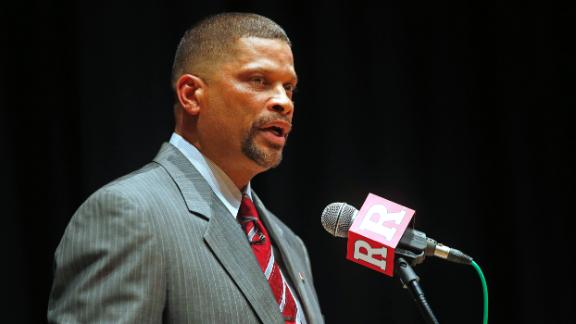 Over a month ago, the Rutgers men's basketball team made national news when videotapes of head coach Mike Rice verbally abusing his players and beaning them with basketballs on a regular basis made it to ESPN's Outside The Lines, eventually leading to Rice's dismissal from the school. After that ordeal, Rutgers looked to Rutgers alum and former Washington Wizards coach Eddie Jordan to fill the head coaching position. The hire generated much less news than Rice's firing did, but less then a few weeks into the Jordan Era at Rutgers, they are once again the center of controversy. 
Deadspin reported yesterday that Rutgers' definition of alum was a very loose one, and that Eddie Jordan had in fact NOT graduated from the University in 1977 like his website bio declared. The Rutgers athletic website declared that Jordan  "earned All-America honors as a senior in 1977 before earning a degree in health and physical education". Jordan claims that he returned as a voluntary assistant in 1984-85 and completed his course work but did not walk in graduation or receive a diploma because he "wasn't registered right" at the time, but maintains that he had completed all his course work towards graduation.
Why is this news you may ask? Well, many schools in the NCAA require a bachelor's degree to become the head coach, but based off the statement Rutgers issued last night, they do not seem to be one of them.
While Rutgers was in error when it reported that Eddie Jordan had earned a degree from Rutgers University, neither Rutgers nor the NCAA requires a head coach to hold a baccalaureate degree. Eddie Jordan was a four-year letterman and was inducted into the Rutgers Athletics Hall of Fame in 1980. Rutgers sought Eddie for the head coach position as a target-of-opportunity hire based on his remarkable public career.

Eddie Jordan was inducted into the Rutgers Hall of Distinguished Alumni in 2004 and he has been a part of the Rutgers family since before 1977.

His athletic skills and leadership and his professional accomplishments have been a source of pride for Rutgers for more than three decades. We are excited to have him as our men's basketball coach, and we look forward to many winning seasons.
However, recent job postings from the Rutgers athletic department, including one for an ASSISTANT coaching position on Jordan's staff lists a bachelor's degree as a requirement for the job. Awkward. What say you? Is this all being blown out of proportion, or did Rutgers manipulate their own rules to get the coach they wanted?