Kentucky shortstop Ryan Ritter wins Gold Glove Award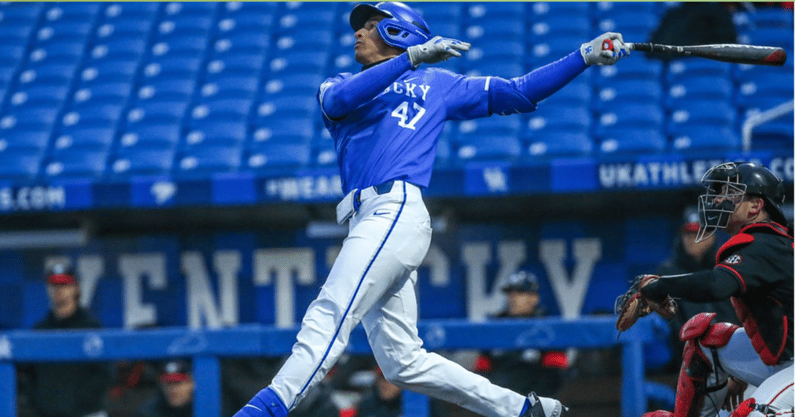 Ryan Ritter entered the 2022 college baseball season as one of the best defenders in the sport. The Chicago area native backed that reputation up with another strong season on the diamond. Now the former junior college transfer has brought up a prestigious award.
On Wednesday, the junior won the Rawlings Gold Glove Award over finalists Adam Crampton (Stanford) and Austin Thompson (Georgia Southern).
Ritter is now the seventh player in Kentucky baseball history to win a Gold Glove joining Dustin Beggs (pitcher), Collin Cowgill (outfield), Austin Cousino (outfield), Corey Littrell (pitcher), Evan White (first base), and Ryan Wilkes (shortstop).
The second-year Kentucky player finished the season batting .283 with 24 extra-base hits, 36 RBI, and a .416 on-base percentage. However, his biggest impact was made on defense as the shortstop recorded a .973 fielding percentage with 137 assists and 83 putouts with just six errors on the year.
The shortstop has now been awarded for his stellar work on defense as Ryan Ritter has been named one of the top defensive players in college baseball. A draft decision now awaits as Ritter is currently considered to be the top draft prospect on Kentucky's team.
Nick Mingione is currently in roster-building mode as the Wildcats are hitting the transfer portal to replenish their roster, but now the coaching staff can give a Gold Glove sell as Ryan Ritter developed into one of the country's top shortstops during his brief stint in Lexington.