Sahvir Wheeler believes Kentucky is destined for "special" season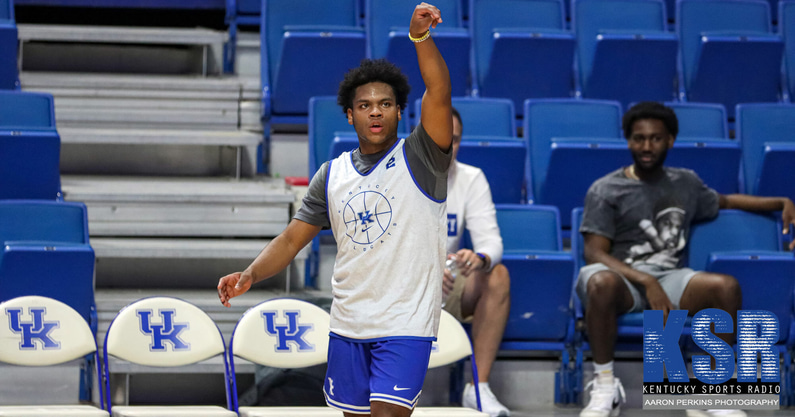 When Sahvir Wheeler transferred to Kentucky this offseason, it was a fairly polarizing move for John Calipari and his staff. On one end, the former Georgia guard was a second-team All-SEC honoree a year ago after leading the conference in assists (7.4) to go with 14.0 points, 3.8 rebounds and 1.7 steals per contest.
On the other, Wheeler averaged 4.4 turnovers per game and shot just 22.5 percent from three and 39.9 percent from the field overall.
The playmaking ability is clearly there, but were the turnover and shooting woes worth it? Calipari thought so. In his eyes, surrounding a floor general like Wheeler with elite shooters and rebounders would maximize his strengths and minimize his weaknesses.
"We're going to do something special."
If you ask Wheeler, it's a match made in heaven, the ultimate recipe for success.
"I feel like I'm the best playmaker in the country," the 5-foot-9 guard said at UK Media Day. "I feel like with the guys I have here, we're going to do something special."
Individually, Wheeler said the positive traits he brought to the table at Georgia and throughout his standout high school basketball career remain. He's still the quick, shifty playmaking guard who earned All-SEC honors a year ago.
"I bring the same things I bring to every team: my speed, my playmaking ability, me being a leader, being able to communicate, and defend," said Wheeler. "That's something I've gotten back to, being able to defend and being disruptive on the ball as well as off the ball whether that's in passing lanes or just being a quarterback. Rebounding, I have that capability. I'm going to continue to show that, as well."
Now, though, Wheeler says the efficiency is going to come with better surrounding talent and less weight on his shoulders to run the show.
"(I'm going to be) more efficient on the offensive end and more locked in on the defensive end, for a greater span of time," Wheeler added. "Everything else is the same."
Still a point guard's dream
Upon committing to the program, Wheeler said the Kentucky roster as constructed was a "point guard's dream." He said it was a team capable of winning a national title, one he was capable of leading on that postseason run.
"The opportunity to not only play in the NCAA Tournament, but on a roster that is set up to win a national championship," Wheeler said at the time. "You've got guys who are experienced, guys with length and athleticism. Most of all, I'm looking forward to playing with players who can space the floor in CJ (Fredrick), Kellan (Grady), Dontaie Allen and TyTy Washington coming in. That's a point guard's dream to be able to play with guys of that talent."
After a full summer and preseason with the program, the dreams he had with this roster remain as strong as ever.
"It's been everything I've thought it was going to be," Wheeler told KSR. "Being able to play with guys who can make shots, who can make my life easier. They can give me spot-up shots, and I'm able to knock them down. All of that stuff is coming to fruition. I can't wait to get out there and play with the guys."
"I don't think anyone in the country can stop me one-on-one."
The shooting help around him creates the spacing necessary to break down defenders and find easy paint touches. From there, Wheeler is able to do what he does best: make plays. If the defense swarms, he's able to find easy shots on the perimeter. No open looks? He's going to beat you one-on-one for a bucket at the rim.
"Getting to the paint is a lot easier," Wheeler told KSR. "I feel like you have motion, you have spacing, now it's time to break your guy down. I don't think anyone in the country can stop me one-on-one. You guys shouldn't think so either."
As Calipari felt from the start, the team is built to Wheeler's strengths. It's a roster designed to push the tempo, score points, and outwork opponents defensively.
"We're going to be one of the fastest teams in the country," said Wheeler. "Not just because we have that capability, but because we're going to defend, we're going to limit teams to one shot, we're going to rebound and get out in transition.
"We're going to make it fun, we're going to make shots, we're going to throw some alley-oops and we're going to score."
"We know we can be the best team in the country."
If it sounds like the Wildcats are confident, it's because they are, especially Wheeler. They've quickly learned each others' strengths, weaknesses and tendencies. They're sacrificing personal accolades and numbers for the betterment of the team. The players and coaches will all tell you — and they have — chemistry is at an all-time high.
It's a winning formula, no matter which way you look at it.
"We're definitely confident, not only in ourselves, but in each other," said Wheeler. "We know what that guy can do, what that guy is capable of. He's capable of having 30 rebounds in a game, that guy is capable of having ten blocks, he's capable of having 30 points.
"We know that we can be the best team in the country. We're sacrificing that, sacrificing what we do best for the greater good of the team. Everyone is buying into that. Everyone wants to win."
Coming off one of the worst seasons in Kentucky basketball history, John Calipari went back to the drawing board. He hit reset on the coaching staff, bringing back (and in) Orlando Antigua and Chin Coleman. He then hit reset on the roster, bringing in seven new scholarship players. More importantly, he changed the type of players he brought in, putting an emphasis on shooting and scoring.
Maybe the most significant piece of the puzzle? Sahvir Wheeler, who will be tasked with running the show from day one. And if you ask the 5-foot-9 point guard, it's a challenge he welcomes with open arms.