Sahvir Wheeler creates much-needed spark in return to lineup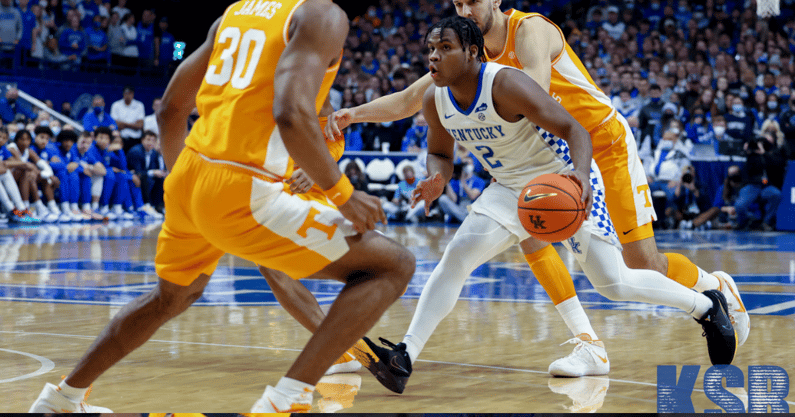 Somewhat lost in the overall scoring explosion and clowning of Tennessee fans yesterday was the anticipated return of Sahvir Wheeler. Wheeler looked like he hadn't missed a beat since suffering a neck injury in Baton Rouge last week, adding immense value on the offensive end against allegedly one of the best defensive teams in the nation.
Sahvir Wheeler returns to the lineup in grand fashion
I wouldn't say anyone was shocked by what they saw from Wheeler last night. We've been seeing those types of glimpses all season from the point guard. We were caught a bit off guard though since it wasn't even confirmed mere hours before tip-off if he would be available. Calipari had made comments earlier this week pointing to Tennessee being the return for Sahvir Wheeler, but famously known truth-teller John Calipari tends to hoodwink the media in some cases. Good thing he wasn't this week.
The offense had been buzzing in the couple games that Wheeler missed and it surely didn't slow down yesterday. After the blowout against one of the best defenses in the country, Wheeler noted the potential around this offense.
"I think we could be like this on most nights. We are not going to be having too many more L's on us for the rest of the year," Wheeler said. " We shared the ball, we made shots, and we played with good pace. And above all that, we started on the defensive end by getting rebounds and doing what we do best, which is running."
If they're going to start running people out of Rupp Arena like this on a consistent basis, I'm inclined to agree.
Sahvir Wheeler had one of his best overall offensive performances in a Kentucky uniform last night. The point guard was back to his usual self with eight assists and a couple of steals in his return to action. It was the scoring outburst that caught the attention of everyone's eyes.
Wheeler finished with 21 points on 8-10 shooting with a perfect 4-4 mark from the free throw line. He even made a three in the midst of Tennessee's embarrassment, which provided for a good laugh on the internet.
Since It was in the middle of a team-wide blowout it understandably flew under the radar to an extent. Wheeler's game yesterday though may be incredibly important for Kentucky the rest of the season.
What this could mean for Wheeler
It hasn't gotten much attention since he's always been a such dynamic playmaker and facilitator, but Sahvir Wheeler had really been struggling to score for a while now.
Taking away the 26 point explosion over North Carolina, Wheeler has only scored more than ten points in a game once since the end of November. He scored 11 in the win over Missouri. Is this poor scoring streak a fluke or something that should be monitored? Nobody knows; regardless though yesterday's win was an example of what this team can consistently become on offense.
"I think we have the capability of playing like this every game. Ultimately, it starts on the defensive end. This is where we are playing as one unit. We are playing as a fist, and you can see us talking and communicating," Wheeler said. "In the summer, we spent four months, six months just running and flying, and obviously you guys are seeing just how fast we can play. So, for us to be able to play that fast, we must make shots, take care of the ball, and make quality decisions. Games like these are going to happen every once in a while."
Sahvir Wheeler may end up having a bad shooting night. But his impact as a playmaker and a defensive menace are far too valuable to underrate. Kentucky was able to survive against teams like Georgia and Vanderbilt with little issue. But we also saw what that offense started to look like when Sahvir is gone. TyTy Washington is evolving into an elite point guard of his own, but Sahvir being on the court is invaluable.
Just hope that he can keep up the scoring over the next couple weeks, there's a few big ones coming up soon.