Sahvir Wheeler crucial to Kentucky's success: "We need him"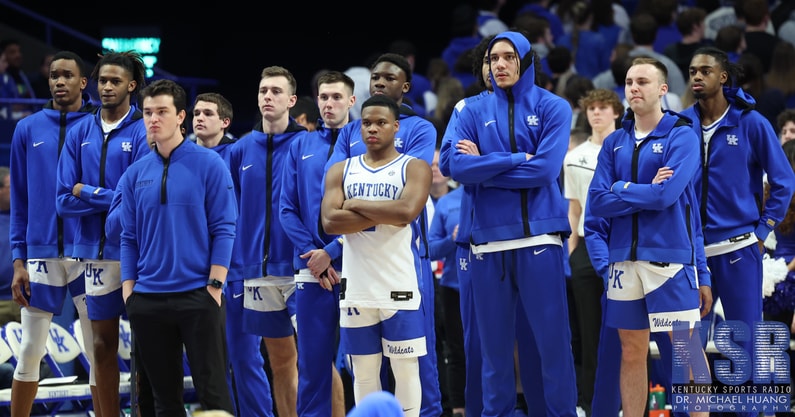 John Calipari has made a statement with his closing lineups as of late. The five-man group Kentucky fans have been begging for from day one — Cason Wallace, CJ Fredrick, Antonio Reeves, Jacob Toppin and Oscar Tshiebwe — has emerged as Coach Cal's go-to, one that has been crucial in the team's three-game winning streak.
In that stretch, a combined +43 in the overall +/- with otherworldly offensive and defensive efficiency. The analytics continue to back up the eye test, and the Kentucky head coach is in.
"The biggest thing is, you've got to guard all five guys," Calipari said after the win vs. Texas A&M. "But there's another guy on the court that you've got to pay special attention to. The kid, what's his name? 34."
That leads to the question of the hour: what do you do with Sahvir Wheeler, who missed the Tennessee game due to injury, then played just 11 minutes vs. Georgia and eight minutes vs. A&M — one second-half minute in each of the past two games? It's the same player with 10 games of at least 34 minutes this season — five being losses.
Jacob Toppin and Chris Livingston both went to bat for the senior point guard last week. "We need him in order to do something special," the former said.
"He's a vocal leader, he's someone that we need for this team," the latter added.
Calipari provided his input on Saturday, noting that he likes Wheeler "when the game is faster" and "we need to get something up-and-down." He loves how he "mixes it up" during his time on the floor.
"But in most cases," though, Calipari says, "[playing a guard like Wallace at point] gives you one more scorer on the court."
With the dust now settled following the win over the Aggies and a matchup at Vanderbilt coming tonight, UK assistant coach Chin Coleman voiced his support of Wheeler and the 5-foot-9 point guard's importance of the team to close out the season.
In short — like Toppin stressed — this team goes as Wheeler does. For the Wildcats to make a run, Coleman believes the senior will be needed both on and off the floor.
"Very important — very important," the UK assistant said. "For us to reach the heights we're capable of reaching, we need him."
The team doesn't need him to be a superstar — no one on the team does, for that matter. He's one of many pieces that just need to play their role. Just be solid and everything else will fall into place.
"Again, a good Sahvir. If everyone is good, not one player has to be great," Coleman said. "We know we need Sahvir to be good for us, and he will be. It's a long season — he's not out or anything. I think our staff and our players, everyone knows how much we need Sahvir. And he understands that."
Many players would use a demotion to sulk and cause issues in the locker room, but that's not the case with Wheeler. Coleman says the senior guard has been supportive of his teammates as they've gotten Kentucky rolling during SEC play. He expects that to continue moving forward.
And that's just as crucial.
"He's happy with the way the other guys are playing, too," he said. "And as long as they're playing well and we keep winning, he's OK with that. But he's still a big part of what we're doing and that's not gonna change."