Sahvir Wheeler still day-to-day with neck injury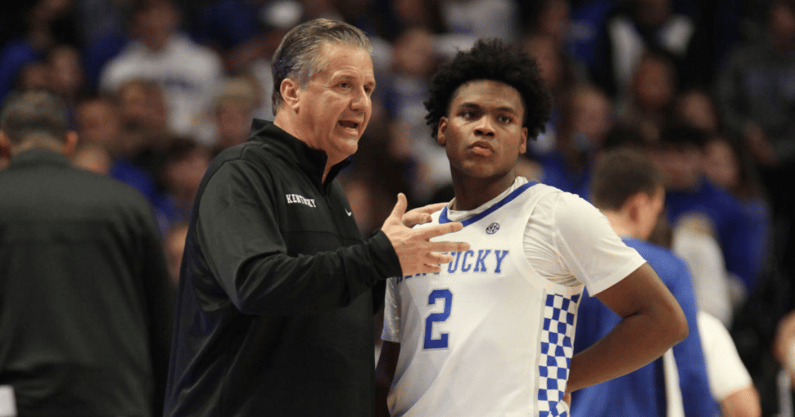 Kentucky could be without its starting point guard tomorrow vs. Georgia. John Calipari told reporters this morning that Sahvir Wheeler is still day-to-day after suffering a neck injury vs. LSU.
"He's still day-to-day. He's day-to-day and I doubt — I don't think he'll practice today. The neck is still bothering him so it'll be day-to-day."
Typically, Calipari's rule is if you don't practice the day before a game, you don't play. Even though Kentucky hosts Wheeler's old squad, Georgia, tomorrow, that'll likely still be the case.
"I know he wants to play against Georgia," Calipari said. "He's not doing it out of spite, he just wants to play games but it'll be day-to-day."
Wheeler was knocked out of the LSU game after running into a hard screen by Efton Reid less than four minutes in. Oscar Tshiebwe was the closest Kentucky player to Wheeler. When asked on today's Zoom, Oscar said he called out to Wheeler to give him a heads up, but the crowd drowned him out.
"I will take responsibility. I screamed. The gym was crazy loud. I was behind him screaming and screaming and screaming. He could not hear me. What Coach tells me, maybe next time just go out there. Go out there and tell him, scream, scream because the gym was really loud. I was screaming and he could not hear that but I will take that on me because that's was my guy who was screening him. I'm glad he's good. Everything is good for him, so I'm glad."
TyTy Washington will run point if Wheeler is out
If Wheeler can't go tomorrow, Calipari said TyTy Washington will likely take his place. Washington battled cramps down the stretch vs. LSU, which Calipari told him to use as a reminder to sub when needed. Davion Mintz and even Kellan Grady can also run point when needed.
"I told him, what a great thing for you, now you've got this chance," Calipari said of Washington. "Everybody on this call knows the guy that stirs the drink for us is Sahvir. But, you've got two guys that can play that position and run our club. I told him, you've got to sub yourself before TV timeouts. You can't try to play every minute. Yesterday he was really good and we'll see what happens for us, if he's that guy. If Sahvir cannot play, the ball will be in his hands more."