Sahvir Wheeler is doing what John Calipari expected of him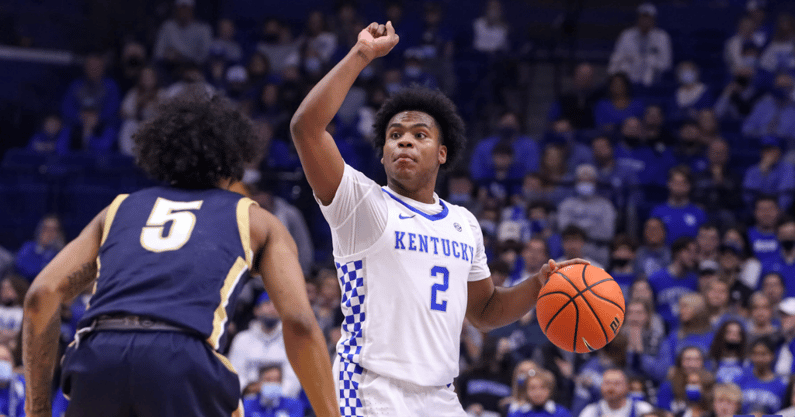 Before Sahvir Wheeler came over to Kentucky from Georgia via the transfer portal, John Calipari told him he would have to play a different way if he wanted to be a Wildcat.
Not necessarily stylistically, but through a few specific aspects of his game that needed improvement.
When talking to the media on Thursday ahead of Friday's matchup against the Ohio Bobcats, Calipari touched on what those areas were. Wheeler, a 5-foot-9 junior point guard, was already one of the country's best playmakers before coming to Kentucky, but Calipari was going to need more.
As someone who coached against him firsthand, Cal knew exactly what Wheeler didn't do well at Georgia.
"Two things: He didn't guard. I'm not even sure he tried," Calipari said on Thursday. "The second thing was, that you could go under a lot because he didn't shoot the ball well. When we talked, his interest in coming here, I said first of all I know what you'll do for our team cause you're a point guard. I know what you'll do for the speed of the game cause of who you are."
Wheeler's ability as a pure point guard has never been in question. His speed has completely changed UK's offensive approach. Calipari needs more than just that out of his lead ball-handler though, and it extends to defense and shooting.
"There are three things that, if you're not willing to do you shouldn't come here," Calipari said he told Wheeler. "You have to be a disruptive defensive player or I'm not helping you, so you've got to prove that you can be disruptive. And that's without fouling."
Wheeler is tied for the Kentucky lead in steals with six through three games. He's the team's premier on-ball defender and a constant pest to opposing ball handlers. Wheeler's point of attack defense constantly leads to delayed offensive sets for the other team. While he does lead the team in personal fouls with nine, his early aggression is still a positive sign.
"The second thing is, you've got to have a floater," Calipari added. "Because you're not big enough to just go in and try to shoot layups. The floater will get you fouled. They're not fouling you on layups."
Admittedly, Wheeler hasn't lived up to this one quite yet. Calipari quipped that he doesn't think Wheeler is even taking enough floaters. If anyone on the team has utilized the floater this season, it would be TyTy Washington. Wheeler has been consistent in getting in the lane though, so more floaters should be on the way.
"The third thing is, you can't shoot 22 percent from the three," Calipari said. "You don't have to shoot 50 percent, but you can't shoot 22 percent. You got to get into the 30s. If we get those done for you, not only have you helped the team, but we've helped you."
Arguably the most important of the three, Wheeler has shown improvement in his long-range jumper. Through three games, he actually is shooting 50 percent at a 3-6 clip. The sample size is still small, but the threat of Wheeler knocking that shot down is becoming more known in scouting reports.
Aside from his outside shooting woes, Wheeler came to Kentucky labeled (justified or not) as a bit turnover-prone on a bad UGA squad. He possessed a turnover rate of 27.6 percent and 25.0 percent during his freshman and sophomore seasons at Georgia, respectively. This season, that number has dipped down to 20.6 percent. In the last two outings, Wheeler has 20 assists and just one turnover.
"I knew that wouldn't happen here because I told him. 'You're not turning the ball over four times a game here, you know that right?'" Calipari said with a smirk.
It's not just the basketball aspect of the game that makes Wheeler an important player, though. Calipari compared him to former Wildcat point guard Tyler Ulis in terms of taking over a team. The coach knows that his lead guard is going to hold others accountable and that trickles down.
But who will hold Wheeler accountable? 20 assists and one turnover over the last two games doesn't fully mask a seven-turnover performance against Duke in Madison Square Garden. Those miscues hurt UK's chances at beating the Blue Devils.
"He got sloppy the first game and I told him, no uncertain terms, I kept it real in front of the team, that you can't do this," Calipari said. "You can't hurt your team this way. Most of it was over-dribbling or making the hardest play he could make. You got too many good players on the court you can't do it."
Calipari wants Wheeler's teammates to let the point guard know when he's getting out of control. The majority of his turnovers against Duke came as a result of trying to make something out of nothing. How will Wheeler react when a teammate respectfully calls out his play?
"I did make a statement to him yesterday, again in front of the team," Calipari said. "With him yesterday in the locker room I just said look, I love the fact that you're holding people in this room accountable. I think it's great. Now, what if somebody holds you accountable? How are you gonna react? What are you gonna say when they say you're holding the ball too long, would you please just pass it to me? You're over-dribbling. What are you gonna say? And I looked at the team and I said 'You know what? I think he'll be fine with it.' But the players need to know that we're all in this together, we're all holding each other accountable."
Coming into the season, Kentucky desperately needed a leader in the backcourt. Calipari asked Wheeler if he could be the one to fill that gap, and so far, the point guard has held up his end of the bargain.