Coach K: "[Sahvir] Wheeler was a problem for us"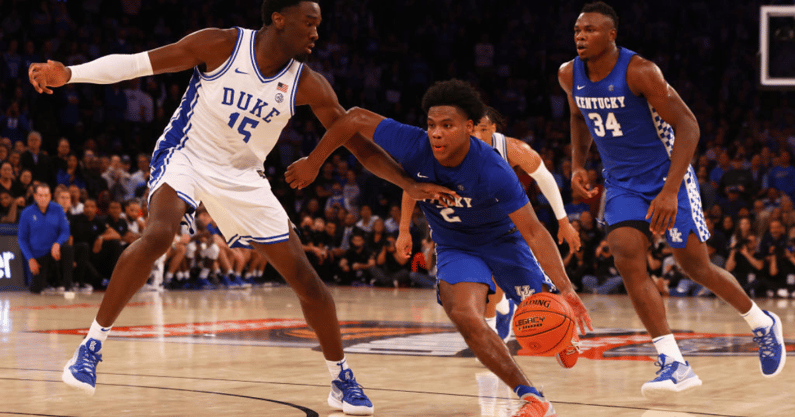 In his first official game as a Kentucky Wildcat, Sahvir Wheeler made an impression. The transfer from Georgia finished with 16 points and 10 assists in the 79-71 loss to Duke, his ninth career double-double. Wheeler is now tied with Kyle Macy for the second most assists by a Kentucky player in their debut behind De'Aaron Fox, who had 12 vs. Stephen F. Austin in 2016.
"Wheeler was a problem for us," Mike Krzyzewski said after the game.
"Wheeler, I really like his game because he's always under control," Duke freshman Paolo Banchero added. "He had control of the team. You could see it. I think he had 10 assists and was hooping and was under control. Was a floor general."
Calipari on Wheeler's turnovers: "Not his fault, that's on me."
Wheeler's double-double only tells half the story. He also had seven turnovers and was 6-15 from the floor. John Calipari shouldered some of the blame for Wheeler's mistakes, telling reporters he kept him in too long. Wheeler played 38 minutes total, by far the most of any Wildcat.
"Part of this was me based on playing Sahvir too many minutes," Cal said. "I think he tired out a little bit. He had five [turnovers] in the second half but TyTy [Washington] wasn't playing well so I just stuck with who was playing well. So, he got tired."
Turnovers aside, Calipari still loves his transfer point guard, who is clearly Kentucky's leader early on.
"He's in huddles talking. I mean, he's directing. He's taking, he's doing — look, when you have a downhill runner, he's just got to get comfortable with our guys, and Oscar has never been, they have never thrown lobs to Oscar. Everything was a bounce and a mush."
Kentucky will learn from tonight's loss. One lesson Calipari will take home is to give his floor general a few more breathers.
"I think it was an enjoyable game that we learned, hopefully they learned. We got to have some guys step up. I got to — I can't play Sahvir how many minutes did I play him? [38] Can't play a guy 38 this early in the season. So he should have played about 32 and he would have been fine, he wouldn't have had those turnovers. Not his fault, that's on me."