Sahvir Wheeler looking to prove he can be a "super efficient" shot maker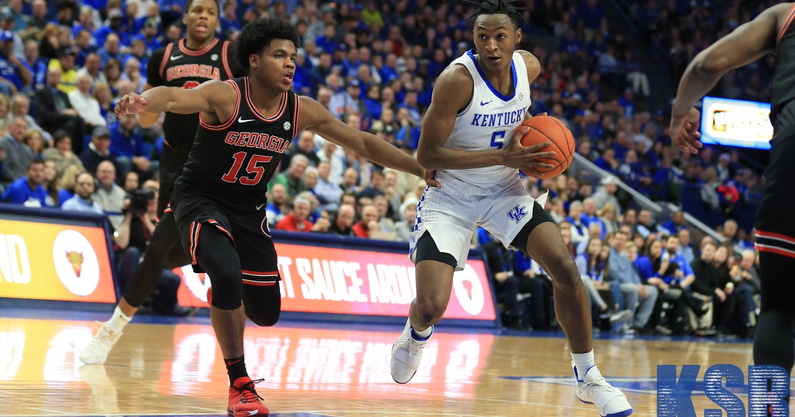 When Georgia transfer Sahvir Wheeler announced his commitment to Kentucky this offseason, the scouting report was fairly black and white. The 5-foot-10 point guard earned second-team All-SEC honors after averaging 14.0 points, 7.4 assists, 3.8 rebounds and 1.7 steals in 34.8 minutes per contest as a sophomore. He led the conference in assists and broke Georgia's single-season record with 193 total dimes.
On the flip side, though, he averaged 4.4 turnovers per contest and shot just 26.2% from field, two clear areas of concern.
The turnover issues can be attributed to a lack of surrounding talent and trying to do too much at times as the primary ballhandler at Georgia. Kentucky loaded up on shooters and will split time with freshman point guard TyTy Washington and sixth-year senior Davion Mintz. The weight won't be on his shoulders alone.
As for the shooting woes, Wheeler is confident his play will do the talking this season. In his eyes, it was a down year and he'll be back with "super efficient" shooting numbers in 2021-22.
"I think a lot of people are looking at a one-year stat of how I shot the ball last year," Wheeler told KSR on Thursday. "Obviously, I'm coming back to improve those numbers and also change peoples' perspectives. I know I can make those shots, I know I can be super efficient."
When his shot starts to fall the way he expects it to, his teammates will reap the benefits. It will be a winning brand of basketball, one Kentucky fans should be excited to watch.
"When I'm efficient and making shots, it's not only going to help myself, but it's also going to make my job easier getting everyone else involved," Wheeler said. "It'll help us play a style of basketball that's exciting, loose, and a winning brand."
At the end of the day, it comes down to winning games.
"Ultimately, I'm just trying to win, that's my main thing," Wheeler previously told KSR. "I'll impact games, impact winning, impact the community, impact people around me who just want to watch me play basketball. That's my biggest thing."