Sahvir Wheeler prioritizes diet going into senior year at Kentucky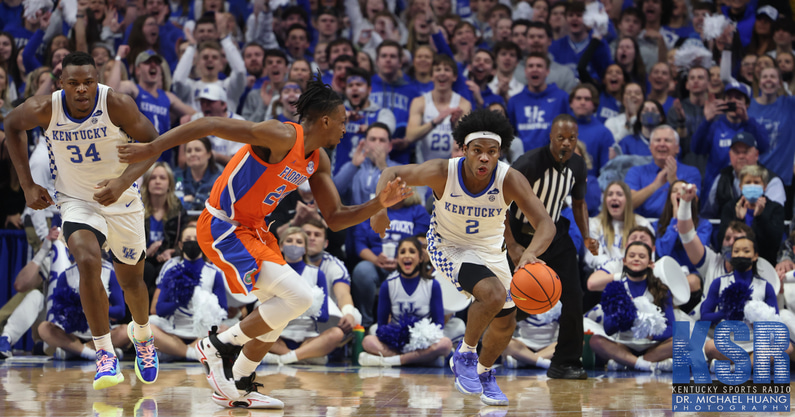 Kentucky point guard Sahvir Wheeler is working on his body going into his senior season in Lexington.
John Calipari said in a recent interview on BBN Tonight that the 5-foot-9 playmaker put on "eight or nine pounds" last season when he missed time due to injury. During the spring, though, Wheeler "came in and lost weight," something he credits to a cleaner diet.
Wheeler confirmed that he put on weight during the season, adding that it's to be expected when you have the diet of a college athlete and are forced to stop your workouts for an extended period of time. You eat the same, but the exercise portion is taken out, resulting in natural weight gain.
"My weight is down, yeah, but when you're injured, you're not working out as much," Wheeler said Friday. "Obviously, it's a natural thing, especially for us athletes. We're so used to spending so much energy working out and practicing, my metabolism is still high. I'm still always hungry every two to three hours, so I was still eating while I was injured."
That's not to say it was a weight issue, Wheeler made clear. It did, however, push him to be more disciplined with his diet when the season ended, with the physical and mental benefits already starting to show.
"I had weight being gained naturally, but it wasn't an issue — I'm not on Weight Watchers or anything like that," Wheeler joked. "When I went home for the spring, for discipline, I took some stuff out of my diet and allowed myself to slim down a little bit. That way if I do decide to not play basketball for a week or whatever, I can eat all I want and be in a good weight range.
"I'm as fast, even faster than I once was. More explosive than I was last year, definitely faster, I feel strong. Just as an overall human being, I'm in a great space physically and mentally. I can't wait to get out there and get better with my team in front of BBN one more time."
What were some of those changes he made this offseason?
"I don't eat red meat. No red meat. I didn't do pasta, didn't do rice for like half the month. The whole month I took out bread," said Wheeler. "I feel cleaner, my body feels cleaner. Just feel a lot better, more energy, even after a hard day of workouts, a lift, maybe I play pickup. At the end of the day, I might feel tired, but as a person, I'm ready to go. A quick nap and I'm back to normal. I just feel better as a person."
Wheeler feels he's always been a healthy person overall, eating good foods with plenty of nutritional value. On his end, it was just about taking certain foods out and changing up his habits.
"I was pretty healthy, eating my fruits and vegetables, stuff like that," he said. "I've always been like that because my mom always made sure — she's a cook, she's Dominican, so we always have home-cooked meals. I never had to worry about that. It was just about taking stuff out, not eating as late at night. After eight o'clock, don't eat. Give yourself time to cool down and let your body have time to digest food, the dinner I just had. No more snacking at midnight, waking up and going to get ice cream, not having chips at two o'clock right after a workout, little things like that.
"It's just about having cleaner fuel so your body can be more efficient. I just feel way better than I was."