Sahvir Wheeler releases statement on transfer from Kentucky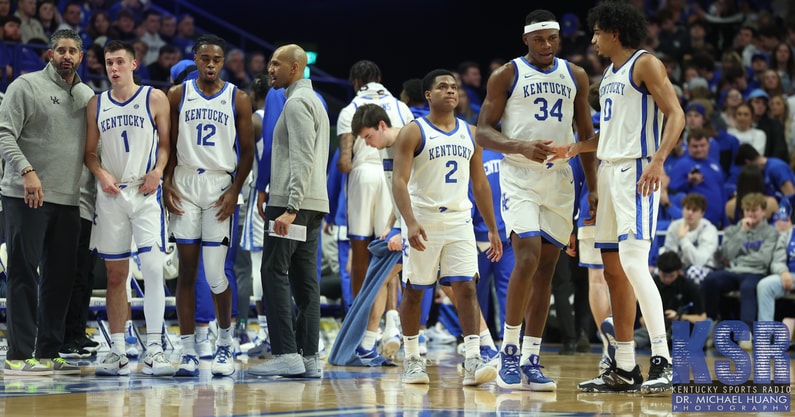 Sahvir Wheeler is the first domino to fall this offseason for the Kentucky basketball program, with the senior point guard officially hitting the transfer portal on Monday. Two days later, the 5-foot-9 floor general is now ready to address the decision and his imminent departure.
Wheeler thanked the fans, his teammates and coaching staff before bidding farewell, announcing he will be graduating in May and entering the portal as a grad transfer.
"For the past two years you all have been nothing short of amazing," the senior guard wrote. "Some of my greatest memories that I will take away from my time at Kentucky will be my time spent interacting with the fans. The community service opportunities that I was able to participate in with you all were invaluable and I will always be thankful.
"To my teammates, we have made so many memorable moments. We competed everyday, committed to making each other better, and I would not change that experience. Each one of you has made an impact on me and I consider you all brothers for life. Playing along side of you guys has truly been a dream come true.
"To Coach Cal and all the staff, thank you for giving me the opportunity to represent such a prominent university.
"With that being said, I look forward to graduating from the University of Kentucky this May and have entered the transfer portal as a graduate transfer."
Wheeler spent two seasons at Kentucky following two at Georgia, finishing his career in the top five of total SEC assists (656) to go with 1,107 career points and 11 double-doubles in 85 starts. During his time in Lexington, the native of Houston, TX averaging 9.1 points, 6.3 assists, and 2.5 rebounds per game while shooting 43.2 percent overall from the field in 51 total appearances, 43 being starts.
Kentucky head coach John Calipari announced Wheeler's departure shortly after his name was added to the list of available players in the portal on Monday.
"I talked with Sahvir a few days ago and he decided that he wants to graduate and play one more year because of the injuries he faced this year. He also wanted a fresh start, and I supported his decision," Calipari announced. "Sahvir has been a big part of our team and we wish him nothing but the best."
The former Bob Cousy Award finalist is now available, with the Big 12 seen as the likely destination.
Discuss This Article
Comments have moved.
Join the conversation and talk about this article and all things Kentucky Sports in the new KSR Message Board.
KSBoard