Sahvir Wheeler thrives in new role: "The game changed the minute he walked in"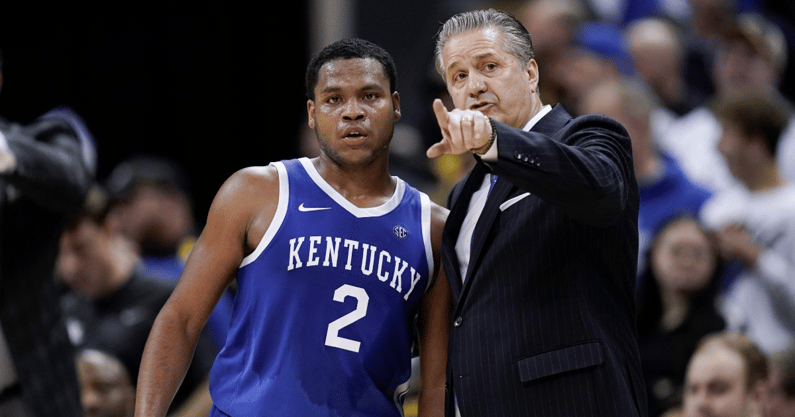 There was an elephant in the room during Kentucky's three-game winning streak: Sahvir Wheeler. There's no denying that the Cats finally achieved some momentum by making Cason Wallace the primary ballhandler and flanking him with CJ Fredrick and Antonio Reeves, which shifted Sahvir Wheeler to the bench. Wheeler was out vs. Tennessee with a shoulder injury and only played 11 minutes vs. Georgia and a season-low 8 vs. Texas A&M on Saturday. The "Basketball Benny" lineup was making strides, but there was always a sense that for Kentucky to truly reach its potential, it would need Wheeler in some capacity.
Tonight, we saw what it could be. Wheeler came off the bench and played 22 minutes, scoring four points and dishing five assists in the 69-53 win over Vanderbilt. Most importantly, he helped Kentucky push the pace, which John Calipari said was a focal point in practice this week.
"I had talked for two days about, we've got to rush the ball up the court. We start the game, we're walking it up the court. I had to put Sahvir in. I said, 'You got one job: get this going.' And the game changed the minute he walked in. And then Cason got to see it. And he did it. Now all of a sudden, the ball's whipping around."
We've mostly seen Wheeler play with Cason Wallace in the backcourt, but tonight, we got a good dose of him alongside CJ Fredrick, Antonio Reeves, Jacob Toppin, and Oscar Tshiebwe. It was the Basketball Benny lineup with Wheeler in instead of Wallace, which will inevitably come in handy when Wallace faces foul trouble or needs a breather.
"We've been playing with each other since this summer, so it's not like it was the first time thing," Wheeler said of playing alongside Fredrick and Reeves. "We played pick-up together. We played in practice together. But with those guys out there, there being so much space that you can do, and everyone's pretty versatile. Seen some times where they have the ball, they're making some plays, and I was off the ball screening for them, moving, getting rid of it and giving these guys opportunities because they're a hell of playmakers themselves."
Subscribe to the KSR YouTube Channel for press conferences, interviews, original shows, fan features, and exclusive content.
CJ Fredrick on Wheeler: "He's our guy"
Throughout Kentucky's winning streak, Wheeler's teammates have made a point to praise him in media opportunities. Jacob Toppin, who has spoken openly about his mental health, insisted that for Kentucky to do something special, they need Wheeler. Speaking to reporters for the first time since he was taken out of the starting lineup, Wheeler reflected on the past few weeks.
"Those guys who've been playing the past couple of games have constantly been winning games. That's the group that went down to Tennessee and popped Tennessee. So, at the end of the day, we're at Kentucky. I'm playing some really good players. And sometimes that's okay. And you've got to learn to live with that and learn to grow from it but be mature about it because those guys deserve to play as much as anybody else. Those guys were fighting in practice, working their tails off, paying attention to detail, and they deserve that. So riding with that got us three wins in a row.
"Today, it was just my turn, my opportunity to kind of give us some energy and I did that but you've gotta give all the credit to these guys. They were the ones who were in there when I wasn't available. And we continue with that and now we look pretty good."
When a reporter started to ask another question, CJ Fredrick interrupted him.
"I'd like to comment on that. Sahvir was great tonight. He comes in every single day with a leadership mentality, and he's been ready to go and he was ready tonight, and he's gonna continue to do that. He's our guy. And we have tremendous respect for Sahvir. And that's just the kind of guy he is. Every day brings it. You know, he's been great in practice. Today, he was the reason that we got up so big in transition. He was that ignite that we needed today."
Calipari: "I kissed him. I said, I'm about ready to cry."
Numerous times this season and especially in the past month, John Calipari has voiced his concerns about the toxicity of social media and the impact it's having on his team. Calipari even started a new tradition of taking the players' phones and iPads from them the night before each game so they don't stay up all night reading negative comments from fans or trolls.
"A lot of things piled up and there was a lot of garbage out there that he told me he didn't read. And I tell them, they may not be people that even like our program. Why would you read that stuff? 'I don't.' Oh, you're reading it. And so hopefully he's learned that from this and he also learned how that team in there loves him and how his coach is both feet in till the wheels fall off for him."
"I'm proud of Jacob, Sahvir, and other guys because I told them, my legacy will be what they do and what they overcome; that's my legacy," Calipari said. "Being at Kentucky? Really hard being here. You struggle, it's an avalanche. It is and it's personal, and it's nasty. It's okay because the other side of it is, there's no better place to go if you want to build yourself, get yourself mentally tough and strong, and present yourself on the biggest stage which is Kentucky Basketball."
Calipari said he was overcome with emotion seeing Wheeler thrive in his new role.
"I kissed Sahvir. I've got sweat all over my face, I had to get a towel. I kissed him. I said, I'm about ready to cry. I know what he's been through; you don't."
Calipari admitted that it was hard to hold his tongue when he saw Wheeler struggling, but he knew the senior guard was the only one that could truly silence the critics.
"I needed him to do what he did so everybody respects who he is as a player and respects that he's taken on another role and he's being an all-star at that. It didn't change anything about his game. He gets to watch the game for a few minutes before he steps in."
Now, Kentucky takes a four-game winning streak into Saturday's game vs. No. 9 Kansas. The atmosphere at Rupp Arena should be absolutely incredible, a stark contrast from where the team and fanbase were only a few weeks ago after a bad loss to South Carolina. Changing the lineup has been integral to Kentucky's turnaround, but getting Wheeler on board in his new role is just as important, which makes tonight's win in Nashville big.
"Now, you may have to come off the bench," Calipari said of his message to Wheeler. "But so what? Doesn't mean I don't love you, I'm not for you, I won't be there for the rest of your life as long as I'm living. But someone's playing better, so they gotta be in. That's team. Then you accept it and say, 'I'm ready. What's my role? I'm going to do this.'"