Saturday Morning Headlines from around the BBN
Good morning. Happy Saturday, June 6. Today marks the 45th birthday of an American musical icon, Uncle Kracker. Few observe the significance of that birthday but across the world we recognize the 76th anniversary of D-Day. Codenamed Operation Overlord, more than 150,000
brave Allied soldiers
stormed the beaches in Normandy, a turning point that marked the beginning of the end of World War II. Because of their sacrifice, we can enjoy sharing information with Kentucky fans across the globe on this forum. Before things get rolling throughout the day, a few headlines you need to know.
Stoops, UK Football March through Lexington
Mark Stoops, Vince Marrow, Mayor Linda Gorton and dozens of members of the University of Kentucky football team marched through downtown Lexington to the city's courthouse to protest racial injustice across America. "We're here to fight racism, to bring awareness, and to do our part," Stoops
said
. "I think most of you know me, I keep things pretty tight to the vest with the media, but there's no more of that on this issue.
Everybody needs to get off the bench and make a difference
, stand for something. We're not going to tolerate any more racism and social problems. We want to make a difference and be a part of the solution. That's why we're here." Masked players wore Black Lives Matter t-shirts and signed the following statement.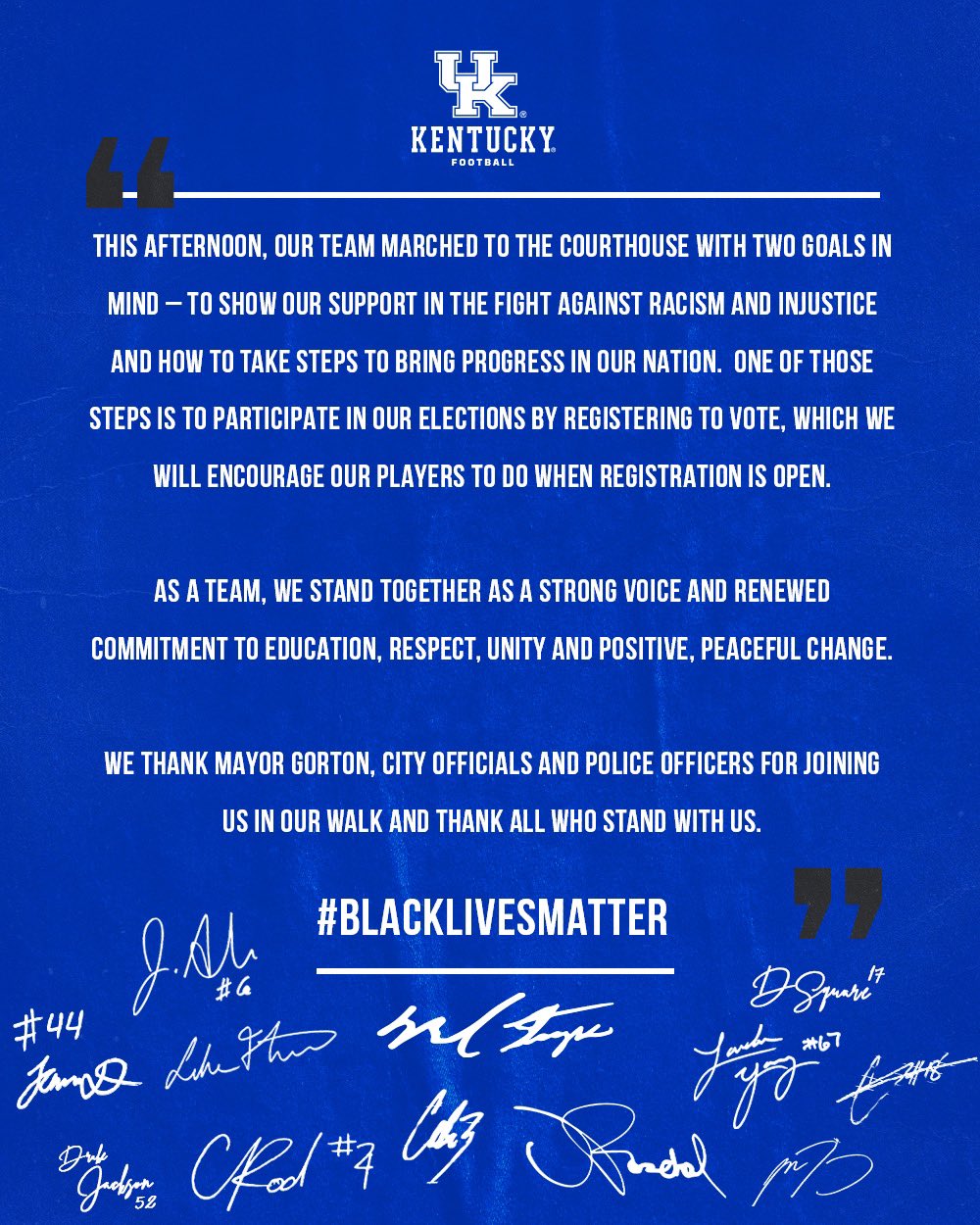 While some college coaches are walking back statements, Kentucky's coaches are taking action. The players are proud to play for their coaches and represent a university that supports them. https://twitter.com/d_square10/status/1269061737451532293?s=20 https://twitter.com/jamindavis25/status/1269067035235028994?s=20
Oklahoma State receives Postseason Ban
The Cowboys will be sidelined for the 2020-21 NCAA Tournament. The four-letter governing organization handed down the postseason ban after it charged the program with one Level 1 violation. The first response to the
news
-- what's Cade Cunningham going to do now? The impact on the top-ranked recruit in America is significant, but not as significant as what may come to other programs facing prosecution. If Oklahoma State got this severe of a punishment for only one Level 1 violation, what's going to happen to Kansas, a school that is facing FIVE Level 1 penalties?
Nine Make Athlon's Preseason All-SEC Team
Last time I checked, nine is a whole lot of people.
First Team: OT Darian Kinnard, P Max Duffy, C Drake Jackson
Second Team: OT Landon Young, OLB Boogie Watson
Third Team: OG Luke Fortner
Fourth Team: RB A.J. Rose, NG Quinton Bohanna, S Yusuf Corker
Santa Anita Derby Day 
It's the biggest day of horse racing on the West Coast. The Santa Anita Oaks begins a packed slate in California with seven horses entered in the Santa Anita Derby (7:09 ET). Two are trained by Bob Baffert, but neither is the favorite. That honor would belong to Honor A.P., John Shirreffs' horse that will be ridden by Mike Smith. The day culminates with the Gold Cup at 8:12 p.m. ET.
American Pharoah is the one!
On the day that should have been reserved for the Belmont Stakes, we celebrate the five-year anniversary of American Pharoah's historic 1 1/2 mile sprint. Ridden by Victor Espinoza and trained by Baffert, the win snapped a 37-year Triple Crown drought. Yes, I may or may not have shed a few tears watching the replay. What a horse. https://www.youtube.com/watch?v=w0I4Z8priHQ
A Plethora of Podcasts 
Need something to listen to while you're doing chores around the house this Saturday? KSR has you covered. This week on the
Aaron Torres Sports Podcast
, KSR's west coast correspondent spoke to a long-time college basketball assistant, David Grace, and ESPN's Ryan Hollins. There's also a new edition of
11 Personnel
. If you thought I talked a lot of football on KSR this week, wait until you get into this football deep dive. It's just what every UK football fan needs. On the second week of
The Matt Jones Podcast
's relaunch we brought in some big names. Dr. Ricky Jones joined Matt for a serious discussion about the race relations consuming our country. ESPN's Mina Kimes discussed the ramifications of Drew Brees' comments and the ensuing fallout before describing her rise through the ranks. The week ended as Ryan McGee joined Matt to talk football (and a little NASCAR) for an hour.