Saturday Night News and Views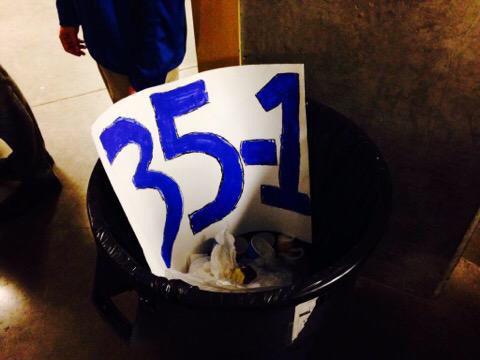 Image via @KyleTucker_CJ
Let's all take a moment to pay our respects to this Cincinnati fan's optimistic sign. Oh Sign, how you waved proudly during today's game. All white, shiny and hopeful. Your time with us was short and we wish you well in your new home. May you somehow find peace in the garbage bins of the KFC Yum! Center, amid the Crown Royal and stale popcorn. You dreamed big, little fella.
Villanova ousted by the Wolfpack
Tonight, the first number 1 seed has fallen. Eighth seeded NC State beat Villanova, 71 to 68. The Wildcats were favored by 9.5 in today's game but poor rebounding and shooting by Villanova gave NC State the wiggle room it needed to oust the Wildcats from the tournament. Villanova fans took the loss hard, particulary this flute player. https://twitter.com/KySportsRadio/status/579456722655277057
(11) UCLA beat (14) UAB 92 - 75
Bruins Forward Tony Parker led five Bruins in double figures with a career high 28 points and grabbed 12 rebounds as 11 seeded UCLA beat 14 seeded UAB today. With today's win, the Bruins are headed to their second straight Sweet Sixteen.
(5) Utah beat (4) Georgetown 75 - 64
The Utes opened today's game as the favorite by 4.5 and it seems that Vegas was correct. The Ute's will
LIKELY
face (1) Dukies in the Sweet Sixteen.
(2)Arizona beat (10) Ohio State 73 -58
Arizona's Head
Coach Sean Miller
will play against his former team, Xavier. Miller coached the Musketeers from 2004 to 2009.
(6) Xavier beat (14) Georgia State 75 to 67
Former Wildcat
Ryan Harrow
 returned to the game after being out with a strained hamstring that he suffered against Georgia Southern in the finale of the regular season. He played 19 minutes and scored 6 points both three pointers. R.J. Hunter, the hero in the first round for Georgia State, led the way with 20 points and also had 5 assists.
(4) North Carolina beat (5) Arkansas 87 - 78
This game was full of 
Bobby Portis
head-shaking action, Coach
Roy William's
ugly blazer and (besides the team that's 36-0) the last SEC team in the tournament.  With this win, Williams ties the late Dean Smith for second most NCAA Tournament wins of all time.
Survive and Advance
The Twins, Lyles and Ulis performed well today.
Andrew Harrison
continued his trend of completing games without turnovers. This was Andrew's third straight game without one. In fact he's only had 2 turnovers in the last 5 games.
Ulis
dominated on offense as well, dishing out five assists with zero turnovers. Man, I love our point guards.
Lyles
recorded his second career double-double with 11 points and 11 rebounds, while
Aaron Harrison
was the only other Cat to join him in double figures with a game-high 13 points.
Willie Cauley-Stein wanted for murder
Willie continues his rampage on defenders in the post, as seen here: https://twitter.com/UKAthletics/status/579373214549196800 Did you know he played Wide-Receiver in High School?
Next stop Cleveland
The team will be traveling to Cleveland and have a practice scheduled on Wednesday (time TBD) in preparation of Thursday's opponent, the winner of the West Virginia/Maryland game.
Wildcats make history, again