Scotty Davenport on Bellarmine's gauntlet and his appreciation for Calipari and Kentuckly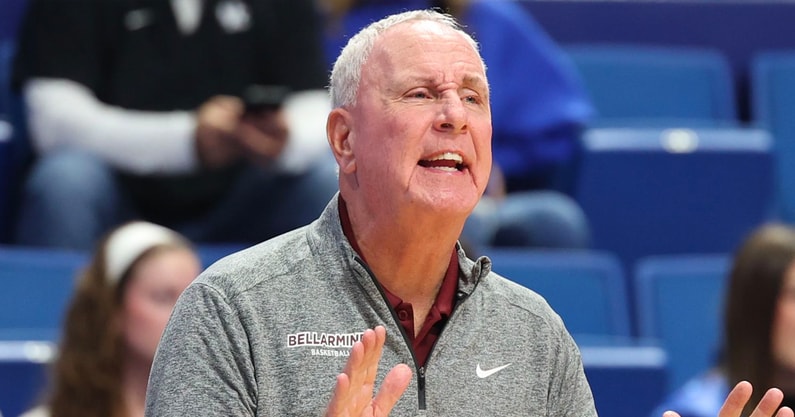 It was the Scotty Davenport Show after Kentucky hosted Bellarmine in Rupp Arena for the first-ever meeting between the two schools. John Calipari broke tradition by going first with his postgame press conference and Davenport followed with a long-winded and passionate conversation about his Knights and the team that beat his Knights, your University of Kentucky Wildcats.
In the beginning, Davenport thanked Calipari for Calipari's comments about Bellarmine's snub from last year's NCAA Tournament due to the NCAA's rules against programs transitioning into Division I. It's how John Calipari opened his postgame press conference; not by talking about the game, but by making a case for the NCAA to ditch its rule keeping Bellarmine from postseason play.
"Let me just say this," Calipari said, an indicator that a prepared talking point is on its way. "Scott has done a great job with that program. We all know. You know what's disappointing. You know that if they win their league tournament again, they can't get in. Here's what I would say. And I've said this many, many times. If you do things for the kids, you're never wrong. If you're doing stuff based on, well, that's the rule. Well, we had a rule that they changed because a player went on TV and said I'm starving and I don't have money to buy a hamburger. And all of a sudden all the rules change within a week. They all changed.
"I understand–well, there's a rule that Bellarmine's gotta wait eight years, whatever it is. Change it. It's not right for the kids. It's not right for the kids. They should be able to be in that tournament."
Watch the latest John Calipari press conference on the KSR YouTube Channel.
Word of Calipari's comments quickly got back to Davenport in Rupp Arena's away locker room because Davenport opened his press conference with a sincere and emotional appreciation for Calipari going above and beyond the regular postgame speak to put his endorsement behind Davenport's program.
"First of all, I want to thank Coach," Davenport said. "He knows how much I appreciate him doing this. He didn't have to do it. That's what makes people extraordinary. Caring is an incredible talent, and we can all learn that."
Bellarmine's fight against the NCAA for postseason eligibility isn't a new story. Davenport has been open about it in the past and he even mentioned the emergency legislation within the NCAA again on Tuesday night. "I've got them all chronicled. If anybody wants them, call me up. I can give them all to you. They can do anything they want to do."
From there, Davenport spoke about the present by detailing the gauntlet his team ran to play at Duke, then at UCLA, and then at Kentucky in a span of eight days. In doing so, Bellarmine became the first program in college basketball history to play at Cameron Indoor, Pauley Pavilion, and Rupp Arena in the same season, and only the fifth school to play any games at all three venues.
"To have us here? This is incredible. Those young men, they'll never forget that experience for the rest of their life. Pauley, Cameron, Rupp Arena, and that's Bellarmine University. People say, why? I said, 'I believe that's what a program is about.' I don't use the word culture. I use the word program because that means you have a plan. Playing at the lights at Cameron and UCLA and Rupp Arena, that is a key component in playing because it puts your players first."
Davenport noted the grind it took to make that three-game span possible. This past Sunday, the Knights played a 4 p.m. game in Los Angeles and immediately took a bus to the airport for a red eye flight to Atlanta. They landed at 6:20 a.m. Monday morning and were back on their campus by 10 a.m. for practice and film to prepare for Kentucky, followed by more prep later in the afternoon. On game day, they bussed to Lexington with a stop for food and film along the way and then brought the fight to Calipari's 19th-ranked team.
"And not one word because there's no entitlement," Davenport added. "They understand how blessed and fortunate they are."
As for what Davenport saw in the game, he believes Kentucky is as good as anyone in the country.
"They have tremendous personal pride and it shows it shows everything they do. They don't overlook people and respect their opponents. But most importantly they respect the game. You know that I like that. That's important."
Hear more from Davenport below.