Early Scouting Report: Florida Gators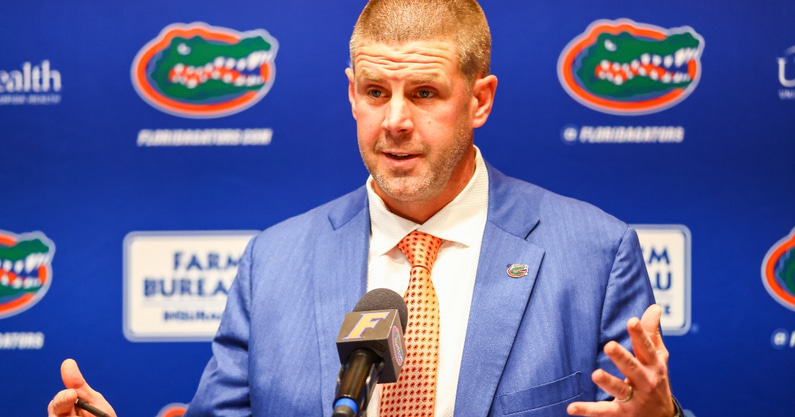 Kentucky is no stranger to big Week 2 games to begin SEC play. The 2022 season will be no different when the Wildcats make their first road trip.
Billy Napier has taken over at Florida and the SEC power that thrived under Steve Spurrier and Urban Meyer is looking to return to a championship level. However, constant coaching turnover over the last decade has put the Gators in a legitimate program reset situation.
After touching on MAC title contender Miami (Ohio), we are switching over to Florida to take a look at Napier's first squad in the SEC in our early opponent scouting series at KSR.
Nuts and Bolts
Entering 2009, Florida had won two of the last three national championships and ran the table in the regular season with senior Tim Tebow at quarterback. The No. 1 Gators faced No. 2 Alabama in a showdown of undefeated teams at the SEC Championship Game.
That evening in Atlanta saw the birth of one SEC dynasty and the death of another.
Since 2010, Florida is 95-57 (.625) overall with a 58-41 mark in SEC play. The Gators have zero top-five finishes in 13 seasons and haven't won an SEC title since 2008. The program has reached the conference championship game four more times but has fallen to Nick Saban's Alabama in each meeting. Meanwhile, Alabama has won six national championships and eight SEC titles as we've seen one of the best runs in college football history.
During that run, Florida quickly burned through three head coaches. Will Muschamp, Jim McElwain, and Dan Mullen each had some early success with double-digit win seasons in Gainesville before things began to fall apart after their first two years. Napier is hoping to avoid that same fate.
The former staffer at Alabama and Clemson has worked for both Saban and Dabo Swinney. However, Napier also stepped out of those systems to become a successful offensive coordinator at Arizona State in 2017. From there, the Georgia native would lead Louisiana to a 40-12 record over four seasons with four division titles and an outright league championship in 2021. The head coach has a process, and that helped lead the Ragin' Cajuns to an elite 16-3 record in one-possession games.
That process included a meticulous approach with a support staff army that is compensated by a $5 million salary pool to help Napier fill out roles in quality control, recruiting, player personnel, and other areas. Add in a brand new football-only facility that is scheduled to open soon, and the Gators have made a financial commitment to return to championship glory.
Now the wins must follow.
Transfer Portal recap
With any coaching change in the player empowerment era, we are seeing a lot of roster movement when there is a coaching change. Florida is no different as 13 scholarship players entered the transfer portal since last season. The Gators did not lose any star power, but depth at a few positions took a hit.
This was a team that was really thin at wide receiver, offensive line, tight end, and defensive line. Florida was able to address most of these spots. The two biggest wins may have followed Napier to Gainesville from Lafayette.
— O'Cyrus Torrence (6-5, 347, Sr.) is one of the top guard prospects in college football who started 36 games at Louisiana. The right guard was a preseason first-team All-SEC pick for a reason and will be the best player on Florida's offense this year.
— Montrell Johnson Jr. (5-11, 218, So.) rushed for 838 yards and 12 touchdowns as a true freshman last season on 5.2 yards per rush highlighted by a 99-yard touchdown against Arkansas State. The New Orleans native gives Napier a scheme fit at tailback for the outside zone offense the new coaching staff will be installing in Gainesville.
— Arizona State transfer Ricky Pearsall (6-1, 200, RJr.) committed to the Gators in May. The slot wideout is coming off a season that saw him collect 48 grabs for 580 yards. Pearsall will help bolster the depth on offense.
On the defensive line, the coaching staff had some misses. The Gators will need at least two true freshmen to become consistent contributors in the rotation, and developmental sophomore Desmond Watson will likely need to play a bunch of snaps. The lack of depth could be hurt by just one injury, and the unit may be a shell of itself going into the final bye week.
At tight end, there was not a transfer brought in, and there is a glaring lack of depth at this spot. Napier likes to use many two tight end sets and that just may not be an option this year.
Florida offense
Before diving into what Napier's offense could look like, let's take a look back at a statistical profile of Mullen's final offense at Florida.
Scoring: 30.7 (No. 49 overall)
Success Rate: 46.7% (No. 27 overall)
Yards Per Play: 6.6 (No. 12 overall)
Yards Per Rush: 5.5 (No. 4 overall)
Yards Per Attempt: 7.6 (T-47 overall)
Run Play Percentage: 53.6% (No. 63 overall)
Explosive Play Rate: 14.7% (No. 12 overall)
Points Per Scoring Opportunity: 4.4 (No. 43 overall)
Despite finishing last season with a losing record, Mullen put together another solid offense at Florida. After throwing the ball all over the yard in 2020, the Gators leaned into the ground game for a lot of success. Mullen probably should've leaned into it more.
With some strong production coming from QB runs, the Gators put up 208.7 yards per game on the ground and did that without a 1,000-yard rusher. There was a strength in numbers in the attack, and that could translate well with Napier taking over the call sheet.
At Louisiana, the head coach installed an outside zone offense that operates primarily out of the pistol. The Ragin' Cajuns want to establish the run first and then hit defense with play-action passes over the top. Last fall, Napier's offense was No. 32 overall in run play percentage (57.4%). That should continue in Gainesville, but QB run could have a bigger role.
For about a month early in the season, Anthony Richardson (6-4, 232, RSo.) was the biggest story in college football. A top-250 recruit out of Gainesville (Fla.) Eastside drew many Tebow and Cam Newton comparisons due to his ability to run the football like a tight end to go along with a big arm and high upside for the position.
There was a small sample size for Richardson (64 rushes passes, 48 rushes) and just one start with 192 snaps played last season, but the ceiling is obvious. The offense likely goes through No. 15 in The Swamp this season. Odds are it'll be the ground game powering this offense.
At wide receiver, both Xzavier Henderson (6-3, 195 Jr.) and Justin Shorter (6-4, 223, RSr.) were top-100 recruits out of high school, but neither has played to that level yet. Shorter is a big X receiver who can be a quality possession target into the boundary. Henderson has legitimate track speed and the potential to be a vertical weapon. Getting these players to produce somewhere close to their ceiling is a big goal for the new coaching staff. Without that growth, this passing game could struggle.
On the line of scrimmage, Torrence highlights the group and should be a stud for the Gators. Around him will be four returning starters who each played at least 350 snaps last season. Expectations are high for Richard Gouraige (6-5, 308, RSr.) at left tackle.
There are enough pieces available to believe this could be a top-25 offense if Richardson takes a significant step in his development. The ground attack will lead the way.
Florida defense
The offense was not a problem throughout the Mullen era at Florida. The defenses under Todd Grantham were typically the biggest weakness for the Gators. Let's take a look at the numbers from last year.
Scoring: 26.8 (T-73 overall)
Success Rate: 40.9% (No. 53 overall)
Yards Per Play: 5.5 (T-59 overall)
Yards Per Rush: 4.5 (No. 88 overall)
Yards Per Attempt: 6.7 (T-26 overall)
Havoc Rate: 11.2% (No. 86 overall)
Takeaways: 13 (T-104 overall)
Points Per Scoring Opportunity: 4.0 (No. 51 overall)
The Gators were never truly bad under Grantham, but the long-time defensive coordinator saw his units take a step back after two strong seasons that allowed Florida to win 21 games in 2018 and 2019. One of the biggest areas that Napier must fix is this side of the ball.
After missing on some key defensive coordinator candidates — Doug Belk (Houston), Jim Knowles (Ohio State), and Karl Scott (Seahawks secondary coach) — Napier decided to go with familiarity. Patrick Toney is just 32 years old but is entering his third year as a play-caller in the FBS.
Under Toney, Louisiana had their best defense under Napier in 2021 as the Ragin' Cajuns put together top-25 yards per play defense that played a key role in their 7-0 record in one-score games last fall. The new coordinator will use a similar three-down front structure to Grantham, but there will be stylistic changes.
Out will be the man-heavy concepts with reliance on zero blitzes. Expect to see plenty of two-high safety looks from the Gators with Toney committing to eliminating big plays. Tied with that will be a simulated pressure and creeper package to help create a pass rush. The style will be very similar to what Kentucky has used under defensive coordinator Brad White.
With rising sophomore Jason Marshall Jr. (6-1, 198, So.) back at cornerback, the Gators have a potential star and will take advantage of that by utilizing some man coverage. However, this defense may show a little more scheme versatility than the previous regime.
But the biggest worry is on the line of scrimmage.
There is just not much depth in the trenches for the Gators, and this group cannot afford an injury. Brenton Cox Jr. (6-3, 252, RSr.), Gervon Dexter Sr. (6-6, 312, Jr.), and Princely Umanmielen (6-5, 245, Jr.) are good trio to start with but things quickly fall off after that. Health and the ability to remain sturdy against the run seem to be the biggest issues facing Toney and this defense. Stopping the ground game was a huge weakness the last two years, and likely remains the same this fall.
Outlook
The 2022 season is very much a transition year for Florida football. Billy Napier returns to the SEC for the first time since 2016 and is trying build a program that can compete for championships. This won't happen overnight.
The starting 22 is solid and gives Florida a legit chance at chasing nine wins and an AP Top 25 finish. But injuries happen. A 5-7 or 6-6 year is also firmly on the table. There are many outcomes for Gator football, but none of them include threatening for a title.
As a new coaching staff adjusts to life in the SEC, there should be expected growing pains. The schedule should include five preseason top 25 teams, and that's not counting rivalry games against LSU and Florida State. In the first two weeks, Florida hosts Utah and Kentucky who both appear to have a better current roster situation than the Gators.
A slow start and a third losing season in six years in certainly on the table. The Gators need to give Napier some time. This won't be a quick fix unless Anthony Richardson takes huge strides and turns into Cam Newton 2.0. But the ceiling is still only likely 8-4 even if that happens.
Early expectations should be tempered in Gainesville.