Scouting Report: Georgia Bulldogs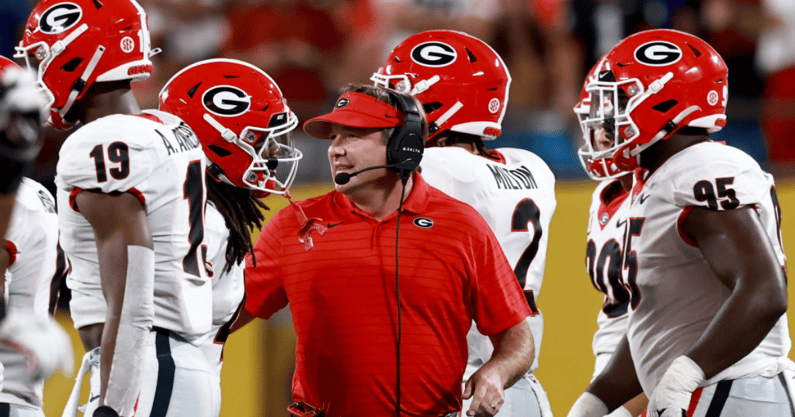 Want a game with stakes? On Saturday afternoon, No. 11 Kentucky will face No. 1 Georgia in a game that matters in the SEC East.
Both the Bulldogs and Wildcats are 4-0 in SEC play and the winner at Sanford Stadium will have the inside track at winning the division and moving on to Atlanta for the SEC Championshing Game in December.
There will be some big boy football played between the hedges and KSR's Scouting Report is here to set the table for one of the biggest Kentucky football games of the modern era.
Nuts and Bolts
Behind true freshman Herschel Walker's 1,616 rushing yards, Georgia ran the table under head coach Vince Dooley in 1980 knocking off No. 7 Notre Dame in the Sugar Bowl to bring home the national championship.
Over 40 years later, the Bulldogs are still looking for their next title to add to the trophy case in Athens.
The Bulldogs have had four different head coaches come through the program since Dooley retired following the 1988 season but not much success occurred until Florida State offensive coordinator Mark Richt arrived in 2001.
Despite winning a pair of SEC titles and finishing in the top-five three separate times, Richt could never get the Bulldogs to the national championship game and decided to move on after posting a .740 winning percentage at UGA. The decision was likely mutual.
The Bulldogs decided to turn to Alabama defensive coordinator and alum Kirby Smart. That is turning out to be an excellent decision.
The 45-year-old is 58-14 in his sixth season at Georgia with three SEC East championships and the 2017 SEC title under his belt. Smart led the Bulldogs to the national championship game in his second season before falling to Nick Saban and Alabama in overtime.
Under Smart, UGA has become a recruiting dynamo and has every important person pulling in the right direction at Georgia. Smart has tremendous financial support and no program has a bigger budget than the Bulldogs. It's only a matter of time until Georgia brings home a national championship.
The 2021 season could be the year that it happens.
Saturday will be the 75th meeting between the two division foes. Georgia owns a commanding 60-12-2 series lead with 11 consecutive wins in the series. These two SEC programs have met every year since 1956 and the Wildcats have never won consecutive games in the series in that 64 years. Kentucky will be looking for their first win at Sanford Stadium since 2009.
Out in the desert, Georgia is a 23-point favorite with a total of 44.5. That's a projected final score around 34-11. UGA is 5-1 against the spread (ATS) with a 3-3 mark on the over. Kentucky is 5-0 ATS against FBS competition this year with a 3-2 mark on the over. The Wildcats are 2-3 ATS against UGA since Smart arrived in Athens.
Georgia offense
After Jim Chaney left Georgia to call plays at Tennessee under Jeremy Pruitt, Kirby Smart promoted James Coley to the offensive coordinator chair. However, 2019 went horribly in Athens so Smart decided to dip into the NFL for a play-caller.
He found a good one with a solid track record.
Todd Monken worked for Mike Gundy at Oklahoma State from 2011-12 before becoming the Southern Miss head coach in 2013. After leading the Golden Eagles to the C-USA Championship Game in year three, Monken headed to the NFL for four seasons. After serving as the offensive coordinator for the Tampa Bay Buccaneers and Cleveland Browns, Monken moved back to college in 2020.
The goal was for Monken to upgrade the Georgia passing attack and make this offense more explosive. However, quarterbacks need to stay healthy for that to happen.
Wake Forest transfer Jamie Newman opted out before the 2020 season and USC transfer JT Daniels was not available until late in the season. That sent former walk-on and junior college transfer Stetson Bennett (No. 13) into the lineup.
The same thing has happened again in 2021 as Daniels has missed multiple starts this season and is still not full go at practice this week.
Bennett is expected to start his fourth game this season and the veteran looks much improved. UGA is asking the redshirt senior to throw the ball less than 20 times per game, but the 5-foot-11 quarterback is delivering by posting a 53.23 percent success rate and averaging 12.03 yards per attempt. Plus giving the offense an occasional rush now and then.
However, the Georgia offense lives and dies with its rushing attack. For a program that recruits well and consistently produces talent at tailback, that shouldn't be a surprise.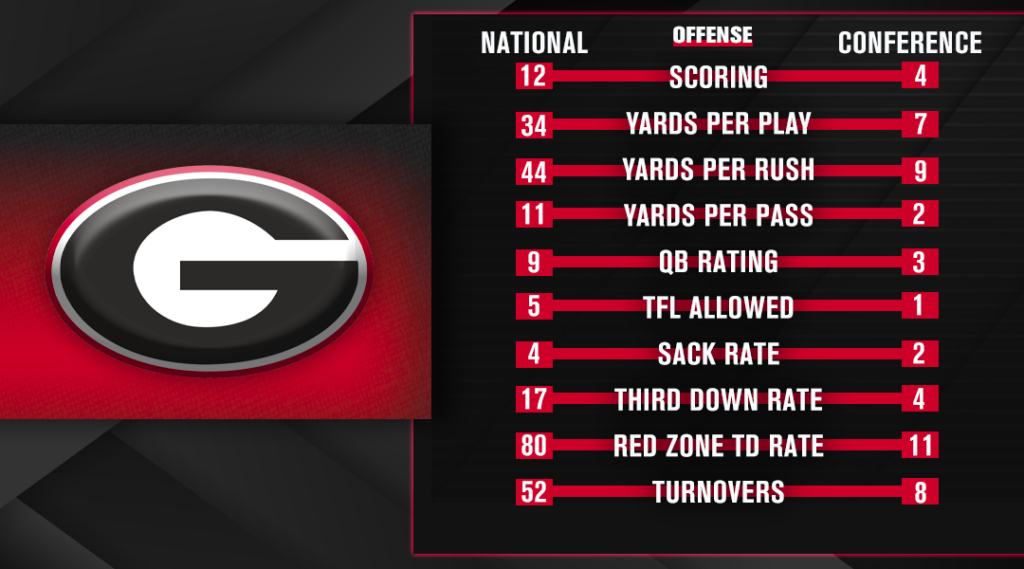 In 2021, UGA is a legit four-deep at the position with each player being a former top-200 recruit. A five-star redshirt junior leads the way.
Zamir White (No. 3) was a top-10 recruit out of North Carolina who has rushed for 1,541 yards and 20 touchdowns in his career. However, the 215-pound back is having the best season of his career as he leads the Dawgs in attempts (71), yards (354), touchdowns (6) with a success rate of 53.52 percent.
James Cook, Kenny McIntosh, and Kendall Milton will also contribute on the ground as this foursome is averaging over 30 rushes per game. Each player has a success rate that is over 53 percent led by sophomore Kendall Milton (57.78%). Georgia gets efficiency from the ground game but big plays have not been there this season. UGA relies on the passing game to provide explosiveness.
Entering the season, Georgia expected to have one of the most dynamic passing games in college football. To close last year, JT Daniels started four games and threw the ball deep early and often. The USC transfer averaged over 10 yards per attempt with an explosive completion rate of over 26 percent. However, the injury bug has prevented this from coming to fruition in 2021.
Daniels has missed multiple games and star wide receiver George Pickens has yet to play after suffering a torn ACL in spring camp. Meanwhile, leading returning receiver Kearis Jackson has played less than 100 snaps this season while dealing with an injury. Big-play threat Arian Smith has missed most of the year with a shin contusion. Dominick Blaylock, Jermaine Burton, and Marcus Rosemy-Jacksaint are other wideouts who have missed time due to injury. Tight end Darnell Washington missed all of the year until returning against Auburn.
UGA is hopeful to get both Burton and Rosemy-Jacksaint back against Kentucky but the offense has had to find help from other areas. Some unexpected contributors have emerged.
Redshirt freshman Ladd McConkey (No. 84) was a low three-star recruiting win out of North Georgia in the class of 2020 joining a class with a ton of star-studded recruits. However, the 185-pound slot receiver leads the UGA wideouts in receiving yards (280) and success rate (66.67%). The former high school quarterback has been effective in the short-to-intermediate areas and showed some vertical playmaking against Auburn.
At tight end, Washington was set to be a big part of the offense, and LSU transfer Arik Gilbert got a lot of buzz in the preseason. However, Washington is just now getting healthy while Gilbert has stepped away from the team. That has opened the door for Brock Bowers (No. 19) and the true freshman from California has delivered.
Bowers leads the team in targets (24), receptions (20), and touchdowns (4). His 62.50 percent success rate has proven that the 230-pound freshman is a legit weapon. Todd Monken has often started game plans with getting the ball to Bowers early. UGA even called a tight end jet sweep in the red zone against Vanderbilt to get the youngster involved. Bowers is a big-time player.
UGA is thin at wideout but these two freshmen are answering the bell. Meanwhile, true freshman Adonai Mitchell (No. 5) has also contributed 10 receptions on a success rate better than 50 percent. UGA has depth and experience issues at receiver, but foes have not been able to make them pay for it yet.
Todd Monken has done a great job manufacturing a passing game without the expected parts in the lineup. As Georgia begins to get guys back, the passing offense could take a big jump forward.
On the offensive line, the injury bug has also affected the Bulldogs. Georgia lost starting right guard Tate Radledge for the season in the opener against Clemson. Redshirt junior Warren Ericson (No. 50) has stepped in and performed well. Starting left tackle Jamaree Salyer (No. 69) left the Auburn game with an injury but is expected to be back in the lineup this week. Super senior Justin Shaffer (No. 54) is the best player in the unit from his left guard spot.
If looking for an area of weakness, UGA has had some issues finishing drives this season. The Bulldogs are currently 11th in the SEC and 80th nationally in red zone touchdown rate (58.62%) on 29 possessions. That could be an area to focus on if this is a close game in the second half.
Georgia defense
To no one's surprise, Georgia hangs their hat on the defensive side of the ball. The Bulldogs are on their way to leading the SEC in yards per play allowed for the third season in a row. After losing defensive coordinator Mel Tucker following the 2018 season, Smart went and found the next star defensive play-caller.
Dan Lanning was a graduate assistant at Alabama in 2015 before working for two years for Mike Norvell at Memphis from 2016-17. Smart went out and hired his former co-worker to coach the EDGE at UGA in 2018. After one season, Lanning was promoted to defensive coordinator at age 33. He will be a head coach very soon.
The Bulldogs are the best defense in college football this season and it's not all particularly close.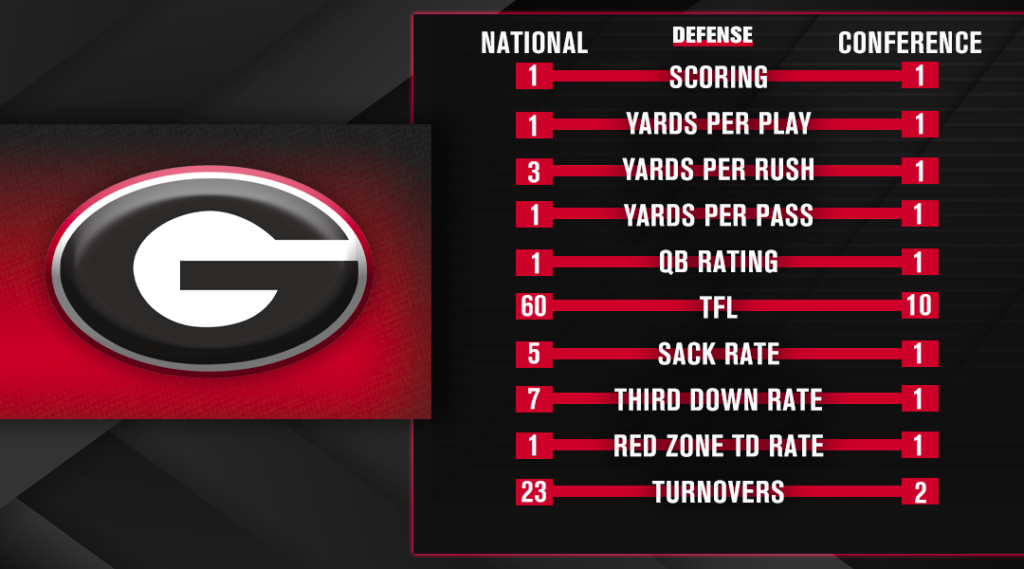 Georgia has seven senior starters, three juniors who will likely be high picks in this year's NFL Draft, and seven former five-star recruits in the two-deep. Kirby Smart has built a monster and the Bulldogs play like it. The party starts at the line of scrimmage.
At nose tackle, Jordan Davis (No. 99) is a mountain of a man standing at 6-foot-6, 340 pounds but moves like a defensive end. He is well on his way to All-American honors. Surrounding him is super senior Devonte Wyatt (No. 95) and junior Travon Walker (No. 44) who are both having All-SEC caliber seasons. Jalen Carter (No. 88) also plays a ton at the nose and with Davis. The former five-star recruit might be the best player of the position group with a team-high 17 quarterback hurries through six games.
At EDGE, former five-star recruits Adam Anderson (No. 19) and Nolan Smith (No. 4) star for the Bulldogs. The latter is an elite run stuffer and the former has some elite pass-rushing ability. Together, the duo has combined for 6.5 sacks and 19 quarterback hurries.
Everything with Georgia starts with their front. The Bulldogs are big, strong, long, and fast at the line of scrimmage. UGA has owned the point of attack battle in every game this season and is allowing just a 31.21 percent rushing success rate due to this group's ability to beat blocks, own gaps, and make plays at the line of scrimmage.
At the second level, Georgia has another potential All-American. Nakobe Dean (No. 17) was a five-star recruiting win for Kirby Smart out of Mississippi and the junior has been electric to start the season. Dean has recorded 3.5 sacks and 11 quarterback hurries serving as one of UGA's top pass rushers. Dan Lanning will send him after the quarterback often and drop someone on the front four into coverage. He is a playmaker.
Next to him, seniors Quay Walker (No. 7) and Channing Tindall (No. 41) are both quality players who would be the best on-ball linebacker for 100-plus teams in college football. The Dawgs are stacked at the second level.
If you're looking for a weakness in the defense, it is in the secondary. Strong safety Christopher Smith suffered a separated shoulder against Auburn and has been limited in practice this week. Walk-on Dan Jackson (No. 47) will likely start for him this week. Rotational cornerback Ameer Speed has been ruled out for Saturday with an ankle injury. Five-star redshirt freshman Kelee Ringo (No. 5) starts at one outside cornerback spot and Clemson transfer Derion Kendrick (No. 11) starts on the opposite side.
At free safety, Lewis Cine (No. 16) is a junior from South Florida who is a ferocious hitter that has made big strides in coverage. At the Star position that is a version of a nickel player, Latavious Brini (No. 36) has been a pleasant surprise as West Virginia All-American transfer Tykee Smith has been out with a foot injury all season.
The Georgia defense is elite in many aspects. Kirby Smart's unit is in the top-10 in nearly every metric out there and has only allowed eight red zone possessions in six games. However, UGA does not produce a ton of non-sack tackles for loss. If Kentucky can get their front blocked, there could be some running lanes open for Chris Rodriguez Jr. to take advantage of.
Georgia special teams
The Bulldogs entered the season with a ton of confidence in Jack Podlesny. A walk-on placekicker made 13 of 16 field goals in 2020 as a redshirt sophomore with a 53-yard career-long to defeat Cincinnati in the Peach Bowl.
However, Podlesny had had some struggles this season.
The Georgia native is 9 of 12 on the season with a pair of misses from 30-39 yards. That will be something to monitor in a close game.
At punter, Jake Camarda was an All-American in 2020 and is off to a strong start in his senior season. The Metro Atlanta native is averaging over 45 yards per attempt with half of his 16 punts landing inside the 20. Camarda has boomed 50-plus yarders six times this season and serves as the team's kickoff specialist. He has a big leg.
Georgia has not been a big threat in the return game, but the Bulldogs did block a punt against Arkansas. That defensive touchdown turned a huge top-10 matchup into a blowout from the jump.
UGA is very solid in the third phase.
Keys to Victory
Georgia simply has not been in a close game since the season-opening win against Clemson. The Bulldogs blitzed UAB, South Carolina, and Arkansas in huge first quarters that turned games into blowout city early. With a raucous crowd expected at Sanford Stadium, Kentucky must survive the early swarm. Get off the field on third down and move the chains a couple of times on offense to create a field position game. Get out of the first quarter within one possession.
On defense, Kentucky knows exactly how Georgia will attack them. The Bulldogs will use heavy sets and try to run the ball non-stop on Kentucky's defense. For the Wildcats to have a shot at the upset, Kentucky must find a way to slow the run game and get Georgia into passing downs. If the Dawgs can consistently run the ball it will be a long day for Mark Stoops and Kentucky at Sanford Stadium.
Due to both teams using run-heavy attacks on offense, the clock should move fast down in Athens. Kentucky and Georgia will play a limited possession game making turnovers much more important. The Wildcats need to win the turnover battle and being at plus-two or more would give the road team a great shot at the upset.
Kentucky has to try to run the football and must have some success to move the chains and have a productive day on offense. However, getting Wan'Dale Robinson the ball in space could be the key to the matchup. The Wildcats must find a way to win the explosive play battle and that must be done with Robinson. Scheming him open and getting him the ball on deep shots will be the top goal for offensive coordinator Liam Coen and quarterback Will Levis.
Saturday's matchup will likely be a game where Kentucky is outgained by Georgia. Therefore, the Wildcats must make up for it in the margins. One of those is in the red zone. UGA's offense has had issues finishing drives with touchdowns. Kentucky's offense has been very good finishing drives with touchdowns. The Wildcats must steal points on both sides of the ball to pull the upset.
Putting actual game pressure on Georgia could be the most important factor. The Bulldogs have blitzed everyone at home and was not challenged on the road against Auburn or Vanderbilt. With a new No. 1 ranking by their name, the expectations just got raised. Getting UGA in a close game in the second half would put a ton of pressure on the best team in college football and could turn an incredible home-field environment into a nervous wreck. Stay close and see what can happen if the Bulldogs get tight.