Scouting Report: Kentucky Wildcats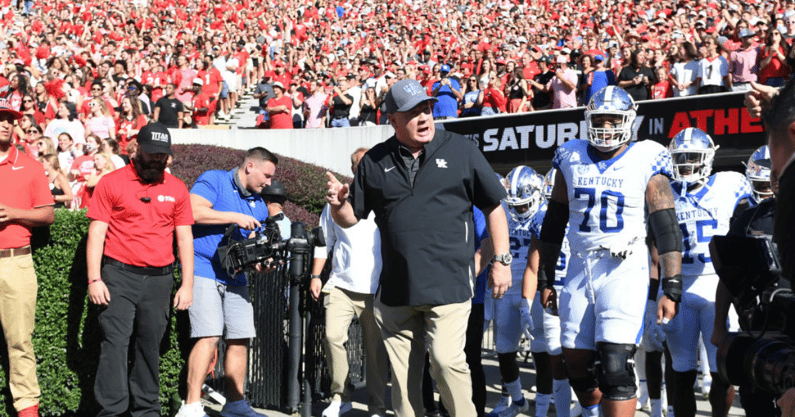 The bye week has arrived in the Bluegrass and the first part of the 2021 season has gone very well for the Wildcats. Mark Stoops has his team in a position to have a historic season at the reset point.
Kentucky is 6-1 overall with a 4-1 mark in conference play and ranked No. 15 in the latest AP Top 25 poll. With five games remaining against unranked teams, there is a chance the Wildcats could close the season very strong.
However, this is not the time to talk about postseason scenarios. That will come in the future. Right now, it's time for some self-assessment.
KSR's Scouting Report is not taking the week off as it's time to do some self-scout to see where Kentucky stands heading into the last five weeks of the season.
Nuts and Bolts
In his first three seasons at Kentucky, Mark Stoops had to build a foundation and winning culture in Lexington. It also didn't help that a pair of coordinators needed to be fired. The Wildcats were 12-24 heading into year four and needed to start winning some games.
The program has done that and more.
Since 2016, Kentucky is 43-27 and will be going to a bowl game for the seventh season in a row. The 2021 team has a chance to set some high marks for the ninth-year head coach.
Kentucky will have a great chance to record just its second winning season in conference play since the 1970s. After tossing 13 touchdowns in seven games, Will Levis could be the first Kentucky quarterback to throw for over 20 touchdowns in a season since 2010. Chris Rodriguez Jr. has a shot at setting the single-season rushing record set by Moe Williams in 1995. Wan'Dale Robinson could become the program's first 1,000-yard receiver since Randall Cobb. Kentucky could win double-digit games in a regular season for the first time since 1977.
The Wildcats have a shot at making a great bowl game and have really put themselves in a position to close the season very strong. The schedule has certainly helped.
Kentucky drew both LSU and Missouri at home this season and each team could be headed towards a losing season. South Carolina is in year one of a rebuild and the Wildcats handled the Gamecocks on the road. Smart scheduling gave UK some early wins against ULM and FCS Chattanooga. The Wildcats were able to upset Florida to give them a chance at closing strong.
To end the year, Kentucky will not face another ranked team after losing to No. 1 Georgia. The Wildcats could be favored in road games against Mississippi State and Louisville. Kentucky gets an improved Tennessee team at home, but will be a large favorite at Vanderbilt and draws New Mexico State the week before Louisville. Everything has been set up and now Kentucky just has to finish.
Out in the desert, Kentucky is 6-1 against the spread this season and 6-0 ATS against Power Five competition. Meanwhile, the over is 3-3 in six games this season. The Wildcats have been an underdog twice and covered in each outing.
Kentucky offense
In Liam Coen's first season in Lexington, the Kentucky offense has done a lot of great things. The Wildcats have scored 35-plus points three separate times and did just enough to squeak out victories against South Carolina and Florida. Once again, the rushing attack paces the group.
The Wildcats were stymied by Georgia and had a ton of surprising issues against Chattanooga, but it has mostly been smooth sailing for the rushing attack. Redshirt junior Chris Rodriguez Jr. is a big reason why.
The redshirt junior tailback out of Metro Atlanta has posted a 54.33 percent rushing success rate this season with 23 rushes of 10-plus yards. Rodriguez currently leads the SEC with 775 rushing yards and is on pace for 1,439 yards. However, that is behind the pace set by Moe Williams for the single-season record of 1,600 yards in 1995. Rodriguez has some work to do but he is getting help.
Kavosiey Smoke is second on the team in rushes (50) and is averaging 5.5 yards per rush with a solid success rate of 48 percent. The redshirt junior has put a handful of strong games together recently and could be ready for a breakthrough. At quarterback, Will Levis has provided a spark to the Kentucky offense recording 38 non-sack rushes this season with 22 of those going for a first down or touchdown.
The Wildcats have a strong rushing attack that is putting up 190.9 yards per game despite the ugly performance against Georgia. Kentucky has a solid blocking offensive line leading the way, a good scheme, and multiple individual talents that can hurt defenses in different ways. The team has a 53.39 percent rushing success rate on 36.57 snaps per game allowing the offense to consistently stay ahead of the chains.
However, the rushing attack was a known commodity. Liam Coen was hired to bolster the passing attack. That is happening but there still is work to do.
After seven starts, Will Levis is putting up 7.41 yards per attempt on a high completion percentage (67.2%). With 13 touchdowns and six interceptions, Kentucky is clearly having one of their best passing seasons of the Mark Stoops era. The Penn State transfer is throwing the ball 25 times per game and has had some bright moments.
Levis hit on multiple deep shots against ULM and Missouri looking like Kentucky could have one of the big-play offenses in college football. However, defenses have adjusted and are taking away the deep shots to Wan'Dale Robinson with deep zone coverage. That has opened up running lanes, but it has slowed Kentucky's passing offense to an extent.
However, Levis took huge strides against both LSU and Georgia completing 46 total passes and not turning the ball over. The 6-foot-3 redshirt junior has collected a passing success rate of 45.76 percent and that ranks ninth in the SEC ahead of both Missouri's Connor Bazelak and K.J. Jefferson of Arkansas.
Levis has made some real strides, but Kentucky must find a way to create more explosive completions as the season winds down.
On the perimeter. the passing game lives and dies with Wan'Dale Robinson leads the offense in targets (74), receptions (49), yards (580), and touchdowns (5). The junior is putting together the best year from a Kentucky receiver since Randall Cobb in 2010 and is well on his way to first-team All-SEC honors.
However, we all know that Robinson is a stud and legit playmaker for the offense. Kentucky needs more from its surrounding parts. Losing Josh Ali for a pair of significant games was a big loss.
The super senior from South Florida ranks second on the team in targets (23) despite playing just five games. Ali leads the team with a 60.87 percent success rate proving to be a valuable option in the intermediate passing game. The veteran should return to the lineup against Mississippi State. However, Kentucky really needs one more consistent option in the passing game to show up.
Izayah Cummings, Isaiah Epps, and DeMarcus Harris are the next guys in line. Each has been used in the last two weeks with varying degrees of success. Coen has tried to be creative in getting both running backs and tight ends targets due to the lack of options at wide receiver. In all, those players have pulled in 31 receptions with Justin Rigg catching 10 balls from the tight end position.
Sophomore tailback JuTahn McClain has emerged in his two games back and could become a weapon for the offense as the season progresses. Levis is making strides and getting Ali back will make a big difference, but another reliable option emerging could allow this passing game to really take off and post some big numbers to close the season.
Along the Big Blue Wall, everything has gone about as well as expected. Luke Fortner has made the transition to center with ease and is on his way to All-SEC honors. Darian Kinnard is putting together another All-American season at right tackle. LSU transfer Dare Rosenthal has been one of the better left tackles in the SEC. Guards Eli Cox and Kenneth Horsey have had some ups and downs but it has generally been more good than bad at both spots.
Austin Dotson, Quintin Wilson, and Jeremy Flax have played sparingly off the bench. The Wildcats have one of the sport's better offensive lines this season but a rebuild will be on the way in 2022.
In situational football, Kentucky has been really good. The Wildcats have a top-35 third-down offense and have converted half of their six fourth-down attempts. In the red zone, Kentucky ranks 10th nationally in red zone touchdown rate (76.92%) and is scoring 5.24 points per scoring opportunity. The efficiency is there and it is allowing the Wildcats to finish drives with points.
Kentucky defense
Brad White's third defense at Kentucky entered the season with a ton of proven parts but no one was sure what the unit would look like. The Wildcats were switching to a 3-3-5/2-4-5 hybrid base that would ask a safety to essentially play a hybrid outside linebacker position to the wide side of the field.
The new-look unit has been an overall success to this point in the season. Once again, the Wildcats are a bend but don't break attack that specializes in eliminating explosive plays and getting stops in scoring territory.
In five of seven games played, opposing offenses have created scoring opportunities on half of their possessions. Kentucky gives up yards, but when opponents get inside the 40 the Wildcats usually tighten the clamps.
Foes are scoring just 3.76 points per scoring opportunity when entering the extended red zone. When red zone possessions are created, Kentucky has struggled as opponents have a 68.42 percent touchdown rate, but overall Kentucky gets stops before the red zone is reached.
With the Wildcats, the strength of the defense is in the front seven. Behind Josh Paschal, Kentucky is getting just enough disruption to make life difficult on opposing offenses.
The redshirt senior is well on his way to a first-team All-SEC season and should receive some All-American looks. Paschal leads Kentucky with 8.5 tackles for loss to go along with 31 total tackles, 7 sacks/QB hurries, a forced fumble, and a blocked field goal. The former four-star recruit out of the DMV has been outstanding.
Behind him, another senior is playing at a high level. Will linebacker DeAndre Square leads the team in tackles (49), is tied with Paschal for the team lead in run stuffs (8.5), has 7.5 tackles for loss, 6 sacks/QB hurries, and a forced fumble. The Detroit native is giving Kentucky some playmaking juice at the second level.
At safety, Kentucky is getting strong play from two more seniors. Tyrell Ajian has 30 tackles and 4 interceptions/pass breakups. Yusuf Corker has 40 tackles with 3 tackles for loss and 7 interceptions/pass breakups. Both redshirt seniors are playing at a high level.
Elsewhere, Ole Miss transfer Jacquez Jones was a terrific portal find as the senior has logged 46 tackles, 5 pass breakups/interceptions, 3 QB hurries, and 2 non-sack tackles for loss. The Alabama native has made some big plays in pass coverage.
On the EDGE, J.J. Weaver and Jordan Wright are making some plays. The duo has combined for 40 tackles, 7.5 sacks/QB hurries, 4.5 non-sack tackles for loss, 5 run stuffs, 6 interceptions/pass breakups, and a forced fumble. The production is giving Kentucky some much-needed havoc from the Jack linebacker position.
After losing Marquan McCall and Octavious Oxendine to injury, Kentucky is dealing with some depth issues on the defensive line but appears to be holding up well. Cornerback has been an area of concern but sophomore Carrington Valentine (39 tackles, 2 pass breakups) and super senior Quandre Mosely (13 tackles 3 pass breakups) have had some bright moments.
Overall, Kentucky has done a good job making offenses play left-handed. The Wildcats took the ground game away from Florida and made Emory Jones pass. Max Johnson and LSU had a rough passing game forcing the Tigers to run the ball. The Wildcats held Georgia to a 40 percent rushing success rate, but Stetson Bennett made them pay with some big throws down the field.
The group has a chance to be a top-25 defense in 2021 if everything comes together in the last five games. The one thing missing has been takeaways.
West Virginia is on the only Power Five team to produce fewer turnovers than the Wildcats. Through 28 quarters of football, Kentucky has produced just one fumble recovery and three interceptions. Some more takeaways could bolster the No. 23 scoring defense.
Brad White is doing another good job and Kentucky's ball possession offense is helping limit possessions to opposing teams. If the Wildcats can create more takeaways it could result in some big performances to close the year.
Kentucky special teams
The Wildcats have had some bright moments in the third phase in 2021, but the year to date has had some unforgivable blunders.
Super senior Matt Ruffolo has been perfect when his kicks are not blocked. The only problem is that this has been an issue in multiple games. The super senior had important field goals blocked against Missouri and Georgia to go along with a pair of blocked extra points. There have been some missed assignments in protection.
At punter, Australian Wilson Berry entered the season as the starter but was dealing with some nagging injuries. Walk-on Colin Goodfellow has taken over and is averaging 46.7 yards per attempt with nine of his 23 punts being downed inside the 20. Goodfellow has stepped up when things were looking bleak in the third phase.
On kickoffs, Chance Poore has a touchback rate of 69 percent on 39 attempts but has seen two kicks go out of bounds. In recent weeks, the redshirt junior has been consistent on kickoffs while serving as the team's holder on field goals.
Moving forward
Coming out of the bye week, Kentucky is set to play some bad defenses. Mississippi State, Vanderbilt, New Mexico State, and Louisville all rank 90th or worse in yards per play allowed. The offense could be about to go on a really good run.
Turnovers, turnovers, turnovers. Kentucky needs to protect the ball on offense and create takeaways on defense. The Wildcats haven't lost the turnover battle in three games, but still aren't forcing a lot of takeaways. Start doing that and it could turn close wins into blowouts.
Chris Rodriguez Jr. needs 826 yards in the final six games to set the program record held by Moe Williams. The redshirt junior should have a good chance at breaking the mark thanks to the remaining defenses on the schedule.
Josh Paschal has been one of the best defensive players in the SEC over recent weeks and he's starting to get proper attention. If the redshirt senior continues his elite play, Paschal will surely receiver some All-American honors.
The secondary has only recorded one interception through seven games. That must change moving forward. Mississippi State, Tennessee, and Louisville all have passing games that can hurt defenses. Kentucky needs its defensive backs to make some plays on the ball.