Scouting Report: Mississippi State Bulldogs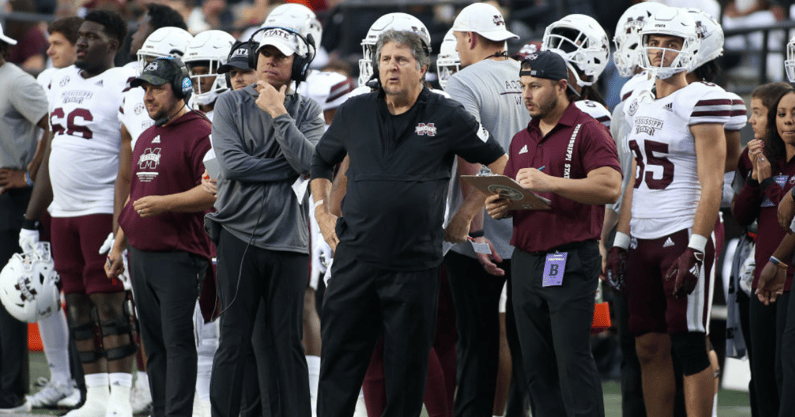 Halloween weekend has arrived and Kentucky will take on Mississippi State for the 32nd straight season on Saturday night. Now the Wildcats will try to get a win at Davis Wade Stadium for the first time during the Mark Stoops era.
The 2021 season has a chance to be special in November, but Kentucky needs a win on Saturday to set everything up. Another big game has arrived for this rising football program.
KSR's Scouting Report has done all of the research on Mike Leach's second football team at Mississippi State.
Nuts and Bolts
Darrell Royal was the head coach at Mississippi State from 1954-55 and recorded a 12-8 season before ending up at Texas for two decades as he went on to have a hall of fame career.
Since Royal left, only two coaches at Mississippi State have finished their tenure with a winning record. One left for Florida and the other was fired.
In nine seasons, former Florida offensive coordinator Dan Mullen won 69 games at Mississippi State leading the Bulldogs to three top 25 finishes. In 2014, MSU reached No. 1 in the AP Poll for four weeks behind high-level quarterback play from Dak Prescott. Mullen was the best coach in program history.
Joe Moorhead followed and the Penn State offensive coordinator was just not a fit in Starkville. After a pair of bowl trips, athletic director John Cohen decided to move on. The Bulldogs took a big swing and brought Mike Leach back to the SEC.
One of the most popular personalities in college football brought his Air Raid offense from Washington State where he was 55-47 in eight seasons. Through 18 games at Mississippi State, Leach is 8-10 but is beginning to show some proof of concept in year two with a ton of sophomores on offense at the skill positions.
However, the book is still out on Leach in the SEC and his program is about to enter a huge stretch of games to finish the season.
For the 49th time, Kentucky and Mississippi State will play a football game on Saturday. For now, the series is in a dead-even heat at 24 wins per school. After the Bulldogs won seven in a row from 2009-15, Kentucky is 3-2 in the last five meetings but the Wildcats have not won at Davis Wade Stadium since 2008.
Out in the desert, Kentucky is a 1.5 point favorite with a total of 47. That's a projected final score around 24-23. The Wildcats are 6-0 against the spread (ATS) against Power Five competition this season and 3-0 ATS as a favorite of a touchdown or less. The Bulldogs are 3-4 ATS and just 2-7 ATS in nine home games under Leach. Kentucky is 2-2 ATS as an SEC road favorite under Stoops.
Mississippi State offense
The debut for Mike Leach was not pretty in 2021. Take out the stomping of LSU to begin the season, and the numbers were ugly. In nine SEC games, the Bulldogs averaged just 18.1 points per game and put up just 4.54 yards per play.
Mississippi State had one of the worst offenses in college football, but it allowed Leach to get young and start growing for the future. Will Rogers (No. 2) started six games as a true freshman quarterback and is beginning to come into his own as he leads this 2021 attack.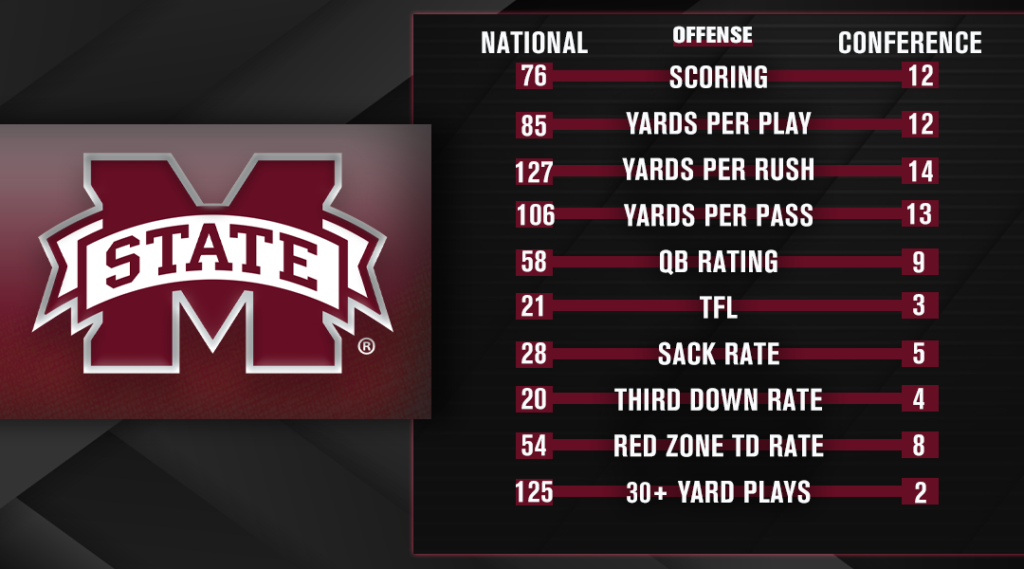 No one has thrown more passes than Rogers to this point (397). The former high three-star recruit out of Brandon (Miss.) High is the son of a high school coach who is now starting to give Mississippi State some much-needed solid quarterback play.
Rogers is throwing for 364 yards per game and has 18 touchdowns to go with 7 interceptions. The big plays have not been there with just 12 completions of 25-plus yards but the efficiency has. The sophomore ranks fourth in the SEC in passing success rate (50.9%) as the Bulldogs consistently stay ahead of the chains.
The young quarterback has shown some solid growth and toughness as he played through an AC joint injury suffered against Alabama. However, Mississippi State knew he needed more help on the perimeter after 2020. Leach went to the transfer portal and found his first true WR1 in Starkville.
Makai Polk (No. 10) spent two seasons playing for Justin Wilcox at California. After starting five games as a true freshman, Polk only got to play in four games last year due to the Pac-12 shortened season. After making 19 receptions, Polk entered the transfer portal and landed at Mississippi State. The redshirt sophomore from California is putting together a terrific season.
The transfer leads the team in targets (88), receptions (58), receiving yards (552), and receiving touchdowns (6). Polk has more than double the amount of targets than the next wide receiver on Mississippi State's roster. Rogers looks to force-feed the football to State's starting Z receiver but the efficiency numbers have not been great. Polk's catch rate is just 65.91 percent and has a success rate of 45.45 percent. Four other receivers have a higher success rate than Polk.
In the upset win over Texas A&M, Polk had his best game recording 13 receptions for 126 yards with two touchdowns and a 55.6 percent success rate. The ball will find the 6-foot-3 wideout and Kentucky must be ready to stop it.
What makes this offense truly dangerous is the depth the Bulldogs have at wide receiver. Mississippi State has five other wideouts that have seen at least 20 targets in seven games. The Bulldogs can spray the ball around.
Jaden Walley (No. 11) led the team in receiving last year as a true freshman and is the most explosive player on the offense with 10 receptions of 15-plus yards. Slot receiver Austin Williams (No. 85) is Mr. Reliable and the redshirt senior has an 85 percent catch rate and 70.6 percent success rate on 34 targets. He is a popular target in situational football. Malik Heath (No. 4) is the X receiver in the attack and one that the Bulldogs look to attack deep with. Expect the Bulldogs to try and get the former junior college receiver involved in some jump ball scenarios thanks to his 6-foot-3, 220-pound frame.
Elsewhere, sophomore Lideatrick Griffin (No. 5) and Washington State transfer Jamire Calvin (No. 6) are also used. Each is a quick-footed slot receiver that can do damage on tunnel screens and other quick throws. After year one had some non-fitting parts, Mississippi State has much better personnel to use in Leach's Air Raid this season.
The biggest thing that separates Mike Leach's version of the Air Raid compared to all of the branches of his coaching tree is the utilization of the running back position. Others have leaned into a traditional run game out of spread formations. Leach isn't running the ball much but the backs are heavily involved.
Jo'quavious Marks (No. 7) has received 100 touches (51 rushes, 49 receptions) in seven games. Dillon Johnson (No. 23) has received 81 touches (43 rushes, 38 receptions) in seven games. The two sophomore tailbacks platoon and combine to touch the ball 25.86 times per game. The Bulldogs just use them in non-traditional ways.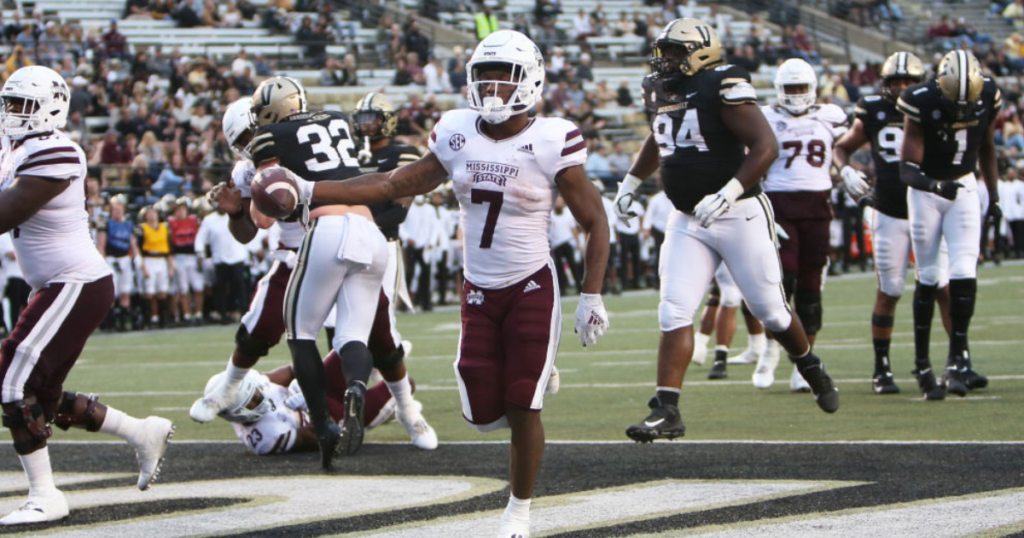 The overall rushing numbers are ugly as Mississippi State has one of the worst yards per rush averages in college football, but that is driven by utilization. A lot of carries happen in short-yardage where the goal is only to gain a couple of yards. When using the success rate metric, Mississippi State has one of the most efficient rushing attacks in college football as their two tailbacks have a combined 59.14 percent success rate.
Behind Polk, both Marks and Johnson are second and third on the team in targets and receptions. However, the offense is a bit inefficient with them thanks to a 43.81 percent receiving success rate on 105 targets.
The extension of the run game is an important part of Leach's attack. Mississippi State will try to lure defenses into forgetting about the tailbacks occasionally sneaking them out on a wheel route during their famous mesh play. Meanwhile, checkdowns on swings routes to the backs have been a very popular option for Rogers this season.
On the line of scrimmage, Mississippi State is a work in progress but Charles Cross (No. 67) is an absolute dude. The redshirt sophomore was a five-star recruit out of Mississippi and could be a first-round draft pick once the season is over. LaQuinston Sharp (No. 63) is a super senior that has been one of the best centers in the SEC this year. The Bulldogs have a bunch of length on the right side with 6-foot-7 guard Kwatrivous Johnson (No. 69) and 6-foot-7 tackle Scott Lashley (No. 78). The latter, a former Alabama transfer, has had some major issues as a super senior.
Due to the inability to create explosive plays, situational football is magnified for Mississippi State this season. The Bulldogs must be strong on third down and in the red zone to consistently score points.
However, ball security have been an issue. The Bulldogs have 12 turnovers (5 fumbles lost, 7 interceptions) this season. In their biggest wins of the season over NC State and Texas A&M, Mississippi State won the turnover battle. A pair of scoring opportunity turnovers likely cost MSU a huge home win over LSU.
Mississippi State defense
Mike Leach has things under control on the offensive side of the ball, but the Air Raid master needs a strong defensive coordinator to run the defense. Ruffin McNeill at Texas Tech and Alex Grinch at Washington State allowed Leach to have some of the biggest seasons of his career due to building a solid defense to compliment the Air Raid.
Second-year defensive coordinator Zach Arnett has brought Rocky Long's 3-3-5 stack defense to Starkville and Mississippi State is giving offenses some issues. The 35-year-old play-caller is a rising star in the coaching ranks who had Oregon and LSU interested in his services this past offseason.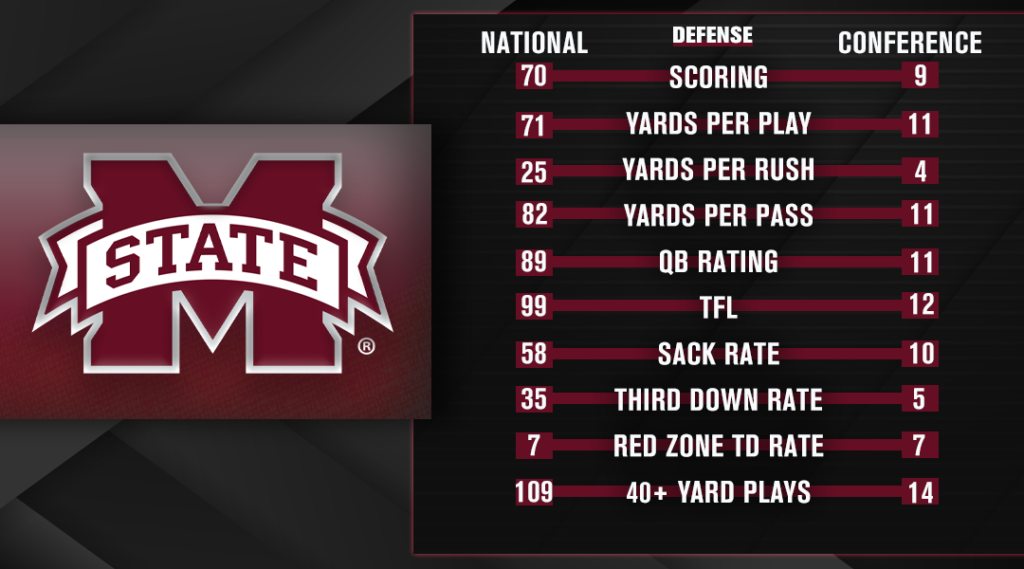 The 3-3-5 defense used by Arnett is one that simply trades size for speed. Mississippi State adds a third safety into their base look who plays in the middle of the field and essentially acts as a hybrid linebacker. Playing nearly 10 yards of the ball, this player is allowed to roam free and give the Bulldogs a plus-one advantage when fitting the run. Arnett calls this the Dog safety at Mississippi State and it is the most important position in this defensive structure.
Super senior Fred Peters (No. 38) holds it down for the Bulldogs.
A junior college transfer, Peters is in his third season at Mississippi State and has a huge role in the defense. The 205-pound safety has 42 tackles and two interceptions. In both run and pass concepts, Kentucky must know where this veteran is playing at all times. The third safety keys everything in this defense.
On the line of scrimmage, Mississippi State uses a three-down front with a nose tackle and two 3-4 defensive ends that will be used in multiple techniques. The Bulldogs call on this unit for a lot of pre-snap movement and slanting to create penetration in the hopes of negative plays. Arnett has length, size, and power from his defensive line.
Cameron Young (No. 93) has been the best of the bunch this season. The redshirt junior has a quick first step and is the best run defender on the team. The 310-pound interior defender can wreck inside running schemes. If he's not blocked it will be a long day for Kentucky's ground attack.
At the two ends, UCF transfer Randy Charlton (No. 5) and Jaden Crumedy (No. 94) each provide much-needed pass rush production with a combined 14 sacks/QB hurries. The Bulldogs also have a healthy rotation off the bench with three other players playing over 100 snaps. Nathan Pickering (No. 22) is a player to watch. The former four-star recruit has major playmaking potential.
At the second level, Mississippi State also does some funky stuff. Junior college transfer Tyrus Wheat (No. 2) is listed as a Sam linebacker but has the size of a hybrid defensive end at 6-foot-2 and 265 pounds. The senior will be used on the edge and in an off-ball role. At Mike, Nathaniel Watson (No. 14) has given the defense some legit play in run fits. Jett Johnson (No. 44) can play both inside linebacker spots and leads the Bulldogs in tackles.
While the defensive front is moving and slanting, the linebackers are called on to fill the other gaps. All three players will move all over the place and will attack gaps on run stunts to eliminate running lanes. The Bulldogs go negative play hunting and this calls for a lot of blitzing from the second-level defenders.
In the secondary, Mississippi typically uses a two-high safety structure. The Bulldogs like to play some aggressive quarters coverage (Cover 4). Arnett tries to keep a deep look to help eliminate some big plays.
At safety, Texas transfer Jalen Green (No. 0) and junior Collin Duncan (No. 19) play the majority of snaps. However, cornerback is the strength of the defense. Both junior Martin Emerson (No. 1) and sophomore Emmanuel Forbes (No. 13) have NFL potential. Each will challenge wide receivers at the line of scrimmage and own strong ball skills. The duo has combined to collect four pass break-ups and three interceptions this season.
Overall, Mississippi State is a gap cancellation defense that will blitz on nearly every snap and look to beat opposing offenses to the punch. The Bulldogs want to stop rushing plays before they get started and pressure the quarterback to throw it earlier than the play is designed. Therefore, the play-by-play metrics are very good.
Zach Arnett's defense ranks 14th nationally in success rate allowed as the Bulldogs are constantly getting offenses behind the chains. However, big plays are there for the taking. Teams have scored multiple touchdowns from 20-plus yards against the Bulldogs. If third downs can be converted, eventually this defense will break and a chunk play will occur.
Mississippi State special teams
The Bulldogs entered the season with high expectations in the third phase but have had to deal with some unexpected speed bumps.
Starting punter Tucker Day had some real issues to begin the season and he has been replaced by Archer Trafford. However, Trafford is averaging under 42 yards per punt with less than 50 percent of his attempts landing inside the 20.
At placekicker, Arizona State transfer Brandon Ruiz missed three games in the middle of the season but has returned to the lineup. In two years at Mississippi State, Ruiz is 14 of 17 on field goals but his longest make was just 44 yards.
In the return game, Mississippi State has a difference-maker. Lideatrick Griffin had a huge fourth-quarter return to spark a comeback against Louisiana Tech and the next week took the opening kickoff back against NC State to give Mississippi State an early lead. He's a weapon on kickoff return.
However, the punt defense has been leaky. Opponents are averaging over 20 yards per return on 10 opportunities. Kentucky could gain some huge hidden yardage opportunities this week.
Keys to Victory
On defense, Kentucky will find itself in third and medium or third and short a ton against Mississippi State's efficient offense. On offense, Kentucky will be in third and long quite a few times thanks to the agressiveness of Mississippi State's defense. Winning this down is the biggest key to success against the Bulldogs. MSU has issues creating big plays and can struggle to score if a bunch of third downs are not converted. On defense, the Bulldogs give up a bunch of big plays, but third downs must be converted to give Kentucky's offense a chance at hitting on them.
As mentioned, the explosive play battle is significant. That is Mississippi State's biggest weakness and something Kentucky must handle in the matchup. The defense has been great at eliminating big plays but the offense has been inconsistent in creating chunk plays. The Wildcats will need them on Saturday night to consistently put points on the scoreboard.
Kentucky seems to have a special teams edge over Mississippi State. That has not been the case much this season for the Wildcats. MSU has major punting issues and the 86.49 percent touchback rate by Chance Poore should allow Kentucky to keep the ball out of Lideatrick Griffin's hands. Get a big return from Wan'Dale Robinson and this could be a great game for the third phase. Mississippi State will have a hard time winning if Kentucky dominates this area.
Turnovers have been an issue for Kentucky's offense all season, but this week feels like a major moment for the defense. Similar to Kentucky, the Bulldogs have had issues possessing the ball with 12 giveaways in seven games. In a limited possession game, a pair of turnovers could turn the game and create some easy scoring opportunities for Kentucky's offense. Three defensive touchdowns have been scored against Mississippi State's offense this season.
Mississippi State is going to move the football. Where the game could be won or lost for Kentucky's defense is in the extended red zone. The Bulldogs will cross Kentucky's 40 on a handful of possessions. When the field shrinks, Kentucky must tighten the clamps and get stops. For the season, three of the four units in this game rank in the top 20 points per scoring opportunity. However, Mississippi State's offense is only putting up 4.09 points per scoring trip and that would rank in the 100s nationally. Kentucky must win this matchup.