Scouting Report: Missouri Tigers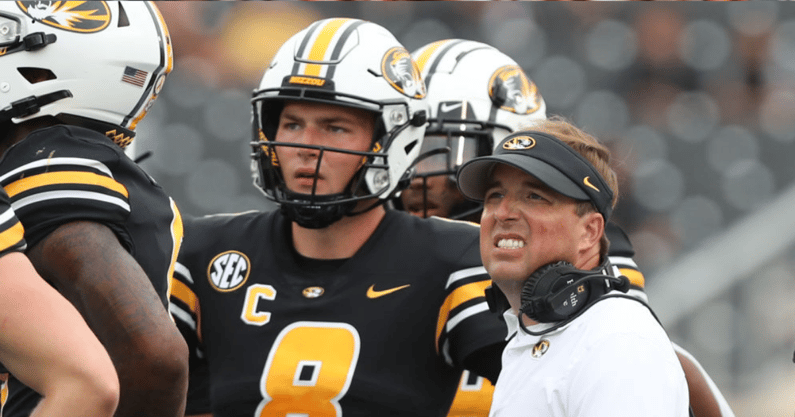 It's time to play some SEC football. Kentucky is set to host Missouri on Saturday night under the lights at Kroger Field. This will be a game with some stakes.
Both the Tigers and Wildcats believe they have teams that can compete in the SEC East and potentially become Georgia's biggest competition in the division. However, to emerge as a threat in 2021, one of the two has to win this game.
There is no hiding from the magnitude of this matchup despite this just being Week 2. This is a huge game. Now let's learn some more about Eliah Drinkwitz's second team in Columbia.
Nuts and Bolts
Eliah Drinkwitz has been a fast riser through the college coaching ranks.
The 38-year-old head coach got his start as an assistant high school coach in Arkansas. Soon after beginning his career, Drinkwitz joined Springdale (Ark.) High and worked for head coach Gus Malzahn.
This connection would be the biggest of Drinkwitz's coaching career.
After a few seasons at Springdale, Malzahn was working his way up the college coaching ladder becoming the offensive coordinator at Arkansas, Tulsa, and Auburn. Once hired by Gene Chizik to run the show on the Plains, Malzahn brought on Drinkwitz in a support staff role. While there, Auburn won the national championship in 2010 with Cam Newton behind center.
Drinkwitz would then follow Malzahn to Arkansas State, but after he left for the Auburn head coaching job after just one year in Jonesboro, Drinkwitz would be retained by new head coach Bryan Harsin. He also spent just one year in Jonesboro before landing the Boise State job. Harsin also decided to bring Drinkwitz with him to his next job.
After one season coaching tight ends, Drinkwitz called plays for Boise State in 2015 at the age of 32. From there, he moved to NC State to call plays for Dave Doeren from 2016-18. Then, he landed his first head coaching gig at Appalachian State. As always with his career, Drinkwitz was a fast-mover and only stayed in Boone for one season. Missouri came calling and Drinkwitz was an SEC head coach at age 37.
After collecting six wins in his first 11 games in Columbia, expectations are growing. The Tigers are putting together a strong 2022 recruiting class and this program has a ton of momentum.
This is Mizzou's 10th season in the SEC and the results have been mixed since joining the best league in ball. Gary Pinkel broke through with the Tigers in 2013 and 2014 logging a 23-5 record with two division titles and a pair of top-15 finishes. However, the Tigers have qualified for just three bowl games in their other seven seasons in the league. The program was just 14-26 in SEC play from 2015-19 and this inability to breakthrough is why Barry Odom was relieved of his duties and is now the defensive coordinator at Arkansas.
The hope is that Drinkwitz can level up the Missouri football program. Early indications are that he might just have the combination of coaching and recruiting chops to accomplish the task.
This will be the 12th meeting all-time between the two conference foes with Kentucky owning a 7-4 series lead. The Wildcats had reeled off five victories in a row until last season's 20-10 loss in Columbia. Mizzou is 1-4 all-time in Lexington.
Out in the desert, Kentucky is a five-point favorite with a total of 56.5. That's a projected final score around 30.5-25.5. Mizzou is 5-6 ATS (against the spread) under Drinkwitz with a 3-3 ATS mark as an underdog with two upset wins. Kentucky is 7-3 ATS in their last 10 home games. However, the Wildcats are just 4-7 ATS as an SEC home favorite over the last five seasons.
Missouri Offense
There is no offensive coordinator in Columbia as Eliah Drinkwitz calls the plays for the Tigers. The play-caller also helps out Bush Hamdan as he serves as the quarterbacks coach as well for Missouri. The visor-wearing head coach has a lot on his plate, but he runs a creative and successful scheme.
Mizzou is an outside zone offense that operates strictly out of the pistol and shotgun. The Tigers will use a variety of pre-snap motions to determine defensive looks and give eye candy to the defense. Two-tight sets are utilized and Drinkwitz prefers to ride a bell cow at running back. The offense will take schemed-up shots in the vertical passing game with extra protection while also utilizing pin/pull and duo gap run schemes. There are a lot of similarities with Kentucky's current attack.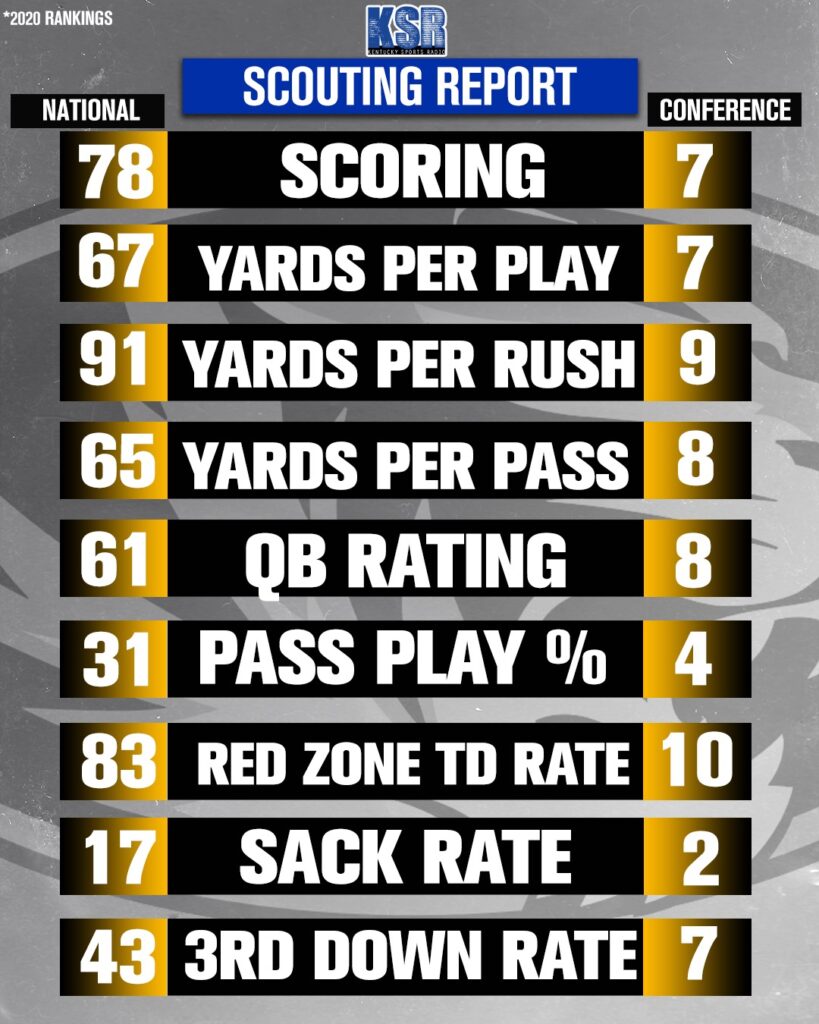 Throughout his tenure, Drinkwitz has been fortunate in some of the quarterbacks he inherited. Boise State transfer Ryan Finley followed him to NC State and was there all three years before being drafted. Zac Thomas was one of the best starters in the Sun Belt when Drinkwitz was hired at Appalachian State. Connor Bazelak was on the roster at Mizzou and quickly became the face of the program just a few quarters into the Drinkwitz tenure.
The redshirt sophomore out of Dayton (Ohio) Archbishop Alter was a four-star quarterback in the class of 2019 who chose Missouri over Kentucky. The 6-foot-3 pocket passer tossed for 2,366 yards last season while averaging 7.3 yards per attempt. The young quarterback did a great job of protecting football with an interception/pass breakup rate of just 3.7 percent.
However, the Tigers want more splash plays from their offense in 2021. Creating some extra-base hits was a major offseason goal for the program. This aggressiveness was shown off in the win against Central Michigan.
Bazelak hit on five completions of 20-plus yards and that was needed as the quarterback recorded a passing success rate of just 37.14 percent. It seems like Mizzou is willing to sacrifice some efficiency to take more home run swings.
On the first play of the game, Bazelak connected with walk-on D'ionte "Boo" Smith (No. 31) on a post route to give the Tigers their longest play of the afternoon. After that, the Tigers zoned in outside receivers Keke Chism (No. 6), Tauskie Dove (No. 86), and Chance Luper (No. 18). Chism — a super senior who was a transfer from Angelo State — is Bazelak's top target. The 6-foot-5 wideout led the Tigers in receptions (35), yards (458), and yards per reception (13.09) last fall. Ohio State transfer Mookie Cooper (No. 5) will be used on jet sweeps and screens.
While looking for explosives in the passing game, Mizzou is leaning on senior tailback Tyler Badie (No. 1) to provide both efficiency and explosiveness on the ground. The senior out of Memphis (Tenn.) Briarcrest Christian did both against Central Michigan.
In the victory, the 194-pound tailback recorded 203 yards on 25 carries averaging 8.12 yards per rush and collecting a success rate of 52 percent. However, it was the chunk plays that made him dangerous with eight rushes of 10-plus yards to go along with a 30-yard reception on a screen for six.
Badie is set to be the offense's workhorse this season and everything in this attack starts and ends with him on the outside zone. With 1,339 career rushing yards, 859 career receiving yards, and 18 total touchdowns, the former low three-star recruit has proven to be a legit skill talent threat in the SEC. The tailback is finally getting a starter's workload and is the guy Kentucky has to stop on Saturday night.
On the line of scrimmage, super senior Michael Maietti (No. 55) leads the way for the Tigers. The former Rutgers transfer has been a starter in college football since 2017 and is one of the best centers in the SEC. The matchup against Marquan McCall at the point of attack will be a must-see trench battle. The Tigers also return both starting guards from last season — Case Cook (No. 59) and Xavier Delgado (No. 72) — but are breaking in a pair of new players at tackle. At left tackle, Javon Foster (No. 76) has stepped in and the redshirt junior out of Detroit looked great in Week 1. However, right tackle Hyrin White had a difficult time in pass protection. Look for Kentucky to attack that right side with their pressure schemes in the game.
Missouri defense
Eliah Drinkwitz is on his third defensive coordinator in three years as a head coach. That doesn't appear to be a good trend. After Ryan Walters left for Illinois, Drinkwitz went with a free agent hire after Steve Wilks spent last season unemployed.
An NFL staffer from 2006-2019, Wilks spent 14 seasons in the professional ranks most notably as defensive coordinator for the Carolina Panthers (2017) and head coach of the Arizona Cardinals (2018). In 2019, Wilks also served as the defensive play-caller for the Cleveland Browns.
While in the NFL, Wilks used a pressure-heavy scheme that wants to influence the quarterback and play plenty of press-man coverage on the outside. His first game at Missouri showed a bunch of that as he tries to improve an already aggressive unit that had a hard time creating negative plays.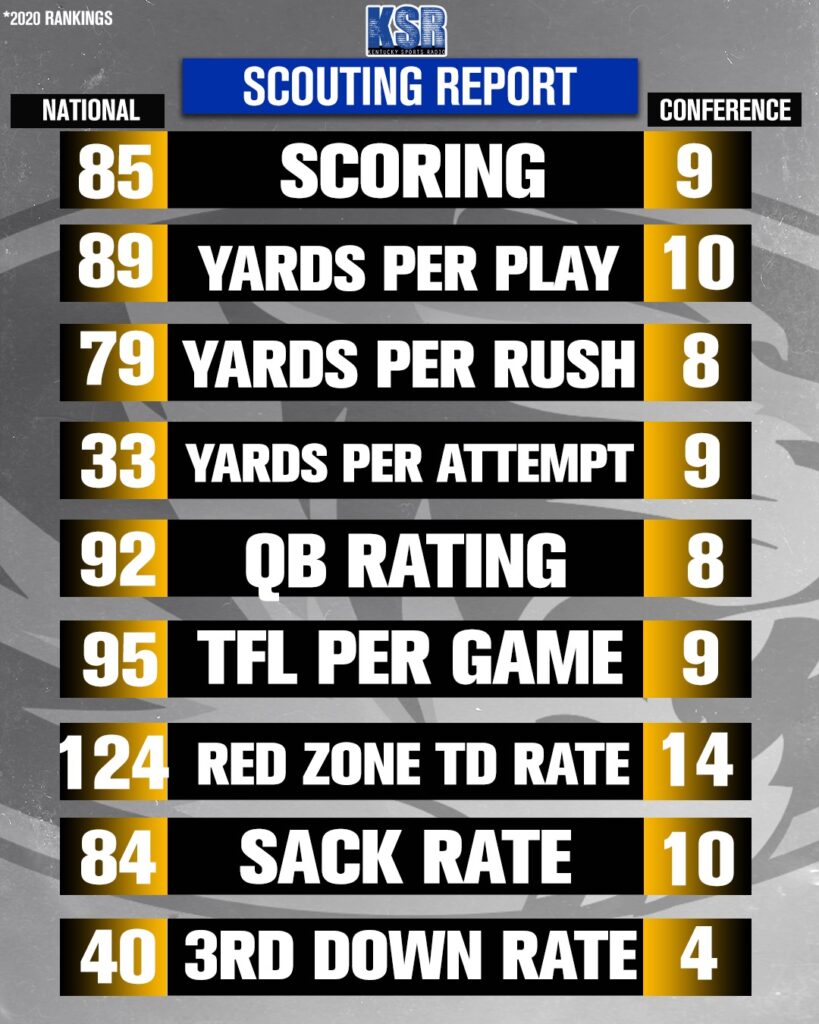 The Tigers stayed in a nickel-base defense for most of the first game with a four-down front. Missouri utilizes two traditional linebackers, but defensive back Martez Manuel (No. 3) plays a unique role. The 208-pound junior spends a lot of time in the box and was brought on a fair share of blitzes. Meanwhile, Wilks will roll him into deep coverage from the box to try and confuse the quarterback. The hometown product was a former mid three-star recruit in the class of 2019 and has recorded 73 tackles, 7.5 tackles for loss, and five pass breakups in his career.
Upfront, there do not appear to be any real playmakers but the Tigers are a legit eight-deep on the line of scrimmage and will roll bodies throughout the game. Defensive end Trajan Jeffcoat (No. 18) has NFL potential as an edge rusher while both Akial Byers (No. 0) and Kobie Whiteside (No. 78) are veterans at tackle who have been disruptive during their careers. True freshman Mekhi Wingo (No. 58) flashed with some pass-rushing potential last week. The St. Louis native is someone to watch for in the future.
At Mike linebacker, Missouri has one of the best havoc creators in college football.
In his first game at Mizzou, Blaze Alldredge (No. 25) recorded 10 tackles, six tackles for loss, and 3.5 sacks. This was not a surprise after the Rice transfer recorded 214 tackles and 29 tackles for loss in three years in the C-USA. The 220-pound off-ball linebacker hunts for negative plays but was often out of position against the run. Alldredge is dangerous on passing downs but can be taken advantage of in run schemes.
At Will linebacker, Devin Nicholson (No. 11) returns and is a three-year starter at linebacker. The Detroit native went to high school with DeAndre Square at Detroit Cass Tech and has 101 tackles in his career. However, the 221-pound linebacker is often out of position against the run. If Kentucky can limit penetration by Mizzou's fronts, splash run plays should be there for the taking on the ground.
Wilks brought a secondary background to Missouri. It's no surprise that this appears to be the strength of the defense in 2021.
The Tigers went into the transfer portal to grab Tulsa's starting cornerbacks from last season. Akayleb Evans (No. 26) is their top cover guy and he recorded an interception in his debut. Evans and Ennis Rakestraw Jr. (No. 2) are an impressive cornerback duo. However, Wilks is using a heavy rotation.
Both Tulsa transfer Allie Green IV (No. 24) and Ish Burdine (No. 8) will also receive snaps at outside cornerback. At deep safety, Jaylon Carlies (No.1) and Jalani Williams (No. 4) platoon at the spot. Carlies is a terrific striker who is good in run support and recorded an interception playing centerfield last week. However, this position is playing 20-25 yards off the ball to keep everything in front while the rest of the unit is uber-aggressive.
At the nickel position, Mizzou has gone to the offensive side of the ball to find some players. Kris Abrams-Draine (No. 14) was a top-500 recruit out of Alabama but after one year at receiver, the 5-foot-11 cornerback switched to defense. In his first game, Abrams-Draine was sticky in coverage and could be matched up with running backs and tight ends this week.
Off the bench, Shawn Robinson (No. 12) made some havoc plays from his safety position. The former TCU transfer was Missouri's starting quarterback for two games last year. This is a deep secondary with some quality players.
Through one game and some recent history, this is a risk-heavy defense. The Tigers produced a havoc rate of 25.58 percent and this helped the unit force a couple of turnovers. Takeaways and negative plays will be the goal for this unit, but this is a defense that will likely give up a ton of big plays all season.
After playing a boatload of Cover 1 last season, Wilks had planned to utilize more zone coverage looks. However, the defensive coordinator is worried about the pass rush, and when in doubt, the Tigers are just going to turn up the heat.
Missouri Special Teams
Missouri has one of the best placekicking situations in college football due to Harrison Mevis. The true freshman made 17 of 20 field goals long-distance last year with the game-winner against Arkansas. Mevis has range from 50-plus and nailed two field goals against Central Michigan last week.
At punter, super senior Grant McKinniss returns for his sixth season and that name should be familiar. The Ohio native spent four seasons at Kentucky and was replaced by Matthew Panton and Max Duffy after starting in 2016. McKinniss ranked top-30 nationally in net punting average last season and had a strong first game against Central Michigan.
Sean Koetting serves as the kickoff specialist for the Tigers and the senior posted an 88.46 percent touchback rate last season. Meanwhile, Mizzou has some unproven returners.
Thanks to the Mevis and McKinniss combo, Mizzou has one of the best kicking combinations in the SEC. The Tigers will have the advantage in the third phase on Saturday night.
Keys to Victory
When handicapping this game, there is no getting around the roster battle. Kentucky has more talent than Missouri and the addition of Will Levis helps the Wildcats negate the biggest advantage the Tigers previously had. If Levis plays Connor Bazelak to a draw and Kentucky avoids a special teams catastrophe and takes care of the football, this is a win.
Due to the aggressive nature of the Mizzou defense, the wide zone stretch play might be harder for Kentucky to establish. However, the inside zone could hit Mizzou where it hurts. Don't be surprised if Kentucky spreads out formationally to lighten the box and then hits Mizzou with tight zone to turn Chris Rodriguez Jr. loose.
The blowout victory over ULM showed a lot of things, but questions remain about Kentucky's cornerbacks. Mizzou has a middle-of-the-road receiving corps, but Drinkwitz is an excellent play-caller and Bazelak is smart with the football. Cedrick Dort Jr. and Carrington Valentine will be challenged. We're about to learn a lot in the next 60 minutes.
Speaking for Drinkwitz's offensive scheme, this is a man who loves gadget plays. At NC State, Drinkwitz was known for reverse passes and other shenaningans. Last week against CMU, Mizzou broke out a flea-flicker. Kentucky will see a trick play or two on Saturday and must be ready.
I do not believe that lack of motivation will be a factor in this matchup. However, playing with too much fire early could backfire. Kentucky will be ready for this game but the Wildcats must keep emotions in check. After a few costly penalties early against ULM, Kentucky cannot afford for the same thing to happen against Missouri because the Tigers are good enough to get out to a two-possession lead early if there are costly mistakes.
To help absorb the blitz-happy approach, 12 personnel could be a popular position grouping. With two tight ends, Kentucky can create an extra gap in the run game as well as having more bodies to absorb blitz schemes. Don't be surprised if big plays come from this personnel grouping on Saturday.
Don't forget about the rushing ability of Will Levis. Whether on scrambles or designed runs, this could be an advantage for Kentucky going against a man defense that loves to bring pressure.