Early Scouting Report: Northern Illinois Huskies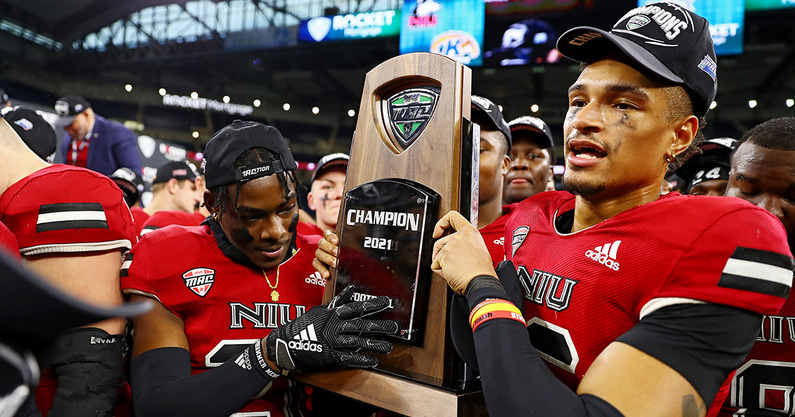 To wrap up the month of September, Kentucky will play its third and final non-power conference opponent of the season. Northern Illinois will come to Lexington for the first time, and this is a program that is used to winning at a high level.
The defending MAC champions have the personnel to make another run at a league crown as alum Thomas Hammock enters year four in DeKalb. The Huskies have a bunch of returning production after a breakthrough season in 2021.
KSR's early scouting report series rolls on with this MAC heavyweight.
Early Scouting Report: Miami (Ohio), Florida, Youngstown State
Nuts and Bolts
In 1997, Northern Illinois became a full member of the Mid-American Conference, and the Huskies almost immediately became one of the best football brands in the conference. After winning three division titles (2002, 2004, and 2005) under Joe Novak, this program saw a real boom with a string of great hires.
Southern Illinois head coach Jerry Kill took the job in 2008 after leading FCS Southern Illinois to the semifinals. Kill would spend three seasons in DeKalb winning 10 games in 2010 before leaving for Minnesota.
Wisconsin defensive coordinator Dave Doeren was hired and would only spent two seasons at NIU. The Huskies went 23-4 under Doeren and won a pair of MAC titles before he left for NC State. A promotion followed that.
Offensive coordinator Rod Carey was named the program's next head coach and the former offensive lineman at Indiana won two MAC titles (2014 and 2018) in six seasons at NIU before leaving to take the head coaching job at Temple. It's been a very long time since this program fired a football coach.
Thomas Hammock was able to cool a hot seat last season.
The former Baltimore Ravens running backs coach returned to his alma mater in 2019 but put up a winless year in the shortened COVID-19 season following a 5-7 debut year. The Huskies needed to show some progress. NIU did just that in 2021.
NIU finished 7-3 in one-score games last season and brought home another MAC title to DeKalb after beating Kent State by 18 points as a small underdog in Detroit. After a close loss to Coastal Carolina in the Cure Bowl, expectations are again sky high for this proud program. The Huskies were picked to win the MAC West in the preseason and will have a great chance to bring home another conference crown this fall.
Transfer Portal recap
When the free transfer rule was first established, one of the biggest worries brought up was that Power Five programs would now be able to poach high-end talent on Group of Five rosters. That is happening to a certain extent, but sometimes it's another Group of Five program that benefits.
As a redshirt freshman, Jay Ducker emerged as the top running back for Northern Illinois. The Nebraska native rushed for 1,184 yards and averaged 5.4 yards per rush as he paced a potent ground attack in DeKalb. However, Ducker decided to leave the program after the season and will be suiting up for Memphis this fall.
Not much was lost after Ducker.
With 18 starters returning, Hammock and his coaching staff weren't too busy in the transfer portal and only added a handful of players to the roster. Izayah Green-May (6-6, 242, Super) could play the biggest role. The edge defender spent five years at Wisconsin and should step into a starting role at NIU. At wide receiver, FIU transfer Shemar Thornton (5-11, 191, Super) spent five seasons in the C-USA and will be bringing 73 career receptions to the offense.
The Huskies were one of the least involved programs in the transfer portal this offseason.
Northern Illinois offense
Eric Eidsness is entering year three as the play-caller at Northern Illinois, and the former offensive coordinator at FCS South Dakota State put together one of the most well balanced rushing attacks in college football last season.
Let's take a look at the data.
Scoring: 32.2 (No. 37 overall)
Yards Per Play: 6.0 (No. 53 overall)
Yards Per Rush: 5.2 (No. 21 overall)
Yards Per Attempt: 7.4 (T-70 overall)
Run Play Percentage: 63.8% (No. 6 overall)
Explosive Plays (20+ yards): 66 (No. 47 overall)
Red Zone TD Rate: 57.1% (T-83 overall)
North Texas was the only non-service academy that ran the ball more than Northern Illinois last season. The Huskies rushed for 241.4 yards per game on 46.4 attempts and had five players rush for over 400 yards. Three of those players will be returning this season.
Harrison Waylee (5-10, 192, Jr.) was RB1 for this offense before being lost for the season in Week 5. The Iowa native posted an inefficient success rate (38.6%) but provided a ton of big play pop with 574 rushing yards and five rushes of 20-plus yards. He'll step back into a starting position but will have a lot of help.
At RB2, Antario Brown (5-10, 218, So.) provides more size and rushed for 538 yards and five touchdowns on 6.6 yards per rush last season. The Huskies should have another solid one-two punch in the backfield again this fall.
The biggest difference maker in this offense happened to be at quarterback. Last offseason, NIU added Michigan State transfer Rocky Lombardi (6-3, 227, Super) to the program, and the dual-threat quarterback made an immediate impact.
The former three-star recruit helped upgrade the passing game by averaging 7.6 yards per attempt on 26.4 throws per game. However, the efficiency numbers weren't great with a low completion rate (58.3%). But the transfer added some real toughness shown by late game playmaking and efficient rushing (55.2% success rate on 87 attempts). Lombardi accounted for 24 total touchdowns and is in many ways the engine for this offseason.
With Trayvon Rudolph (5-10, 182, Jr.) and Cole Tucker (6-2, 195, Super) bringing back a combined 92 receptions, 1,467 yards, and 10 touchdowns to the offense, this passing game could be ready to make a big jump forward at Huskie Stadium.
Regardless of the impressive skill talent production returning, the backbone of the offense is in the trenches. NIU returns four starters on the line of scrimmage and right tackle Nolan Potter (6-6, 309, RSr.) is one of the best in the MAC. This group will be one of the rare Group of Five programs to use a healthy rotation in games, and the success of the ground-heavy approach is strictly tied to this unit creating space and movement at the point of attack.
Northern Illinois defense
The NIU offense had a breakthrough season in 2021. That cannot be said for the defense. Co-defensive coordinators Derrick Jackson and Nick Benedetto still have a lot of room for improvement available.
Let's take a look at the numbers.
Scoring: 33.7 (No. 112 overall)
Yards Per Play: 6.8 (No. 121 overall)
Yards Per Rush: 5.8 (No. 127 overall)
Yards Per Attempt: 8.2 (T-102 overall)
Takeaways: 12 (T-113 overall)
Red Zone TD Rate: 69.4% (No. 109 overall)
The Huskies return nine starters this season, and 8 of their top 10 tackles are back, but this was a bad defense for most of 2021. If NIU is to make a run at double-digit wins, this side of the ball will need to make some big improvements.
The strength of the unit should be in the secondary and that could lead to improved pass defense. CJ Brown (5-11, 194, Jr.) was an All-MAC performer last year who led the team in tackles (109). At cornerback, Jordan Gandy (5-10, 182, Sr.) returns after recording 10 pass breakups last season. The former South Dakota State transfer is also a former All-MAC performer.
The Huskies are banking on continuity leading to improved play in 2022.
Outlook
In the past, Kentucky has faced some MAC teams that had no chance at competing at the top of their conference. That will not be the case this fall.
Northern Illinois is fresh off a conference title and ranks No. 9 overall in returning production. That will give Thomas Hammock's program a shot at another big season.
The Huskies have stability, a proven quarterback, a strong offensive line, skill talent depth with playmaking history, and a strong secondary. All of that could lead to a big season. One of the biggest stretches of the schedule will be consecutive non-conference SEC games in September.
On Sept. 17, NIU will host Vanderbilt and then make the road trip to Kroger Field on Sept. 24. Last year, this program went on the road to beat Georgia Tech and will bring confidence to these big early games.
Expect Kentucky to get NIU's best shot as this team has a chance at being one of the better squads in the Group of Five if the defense makes some real strides. Kentucky cannot be caught sleepwalking the week before a road trip to Ole Miss.