Scouting Report: Northern Illinois Huskies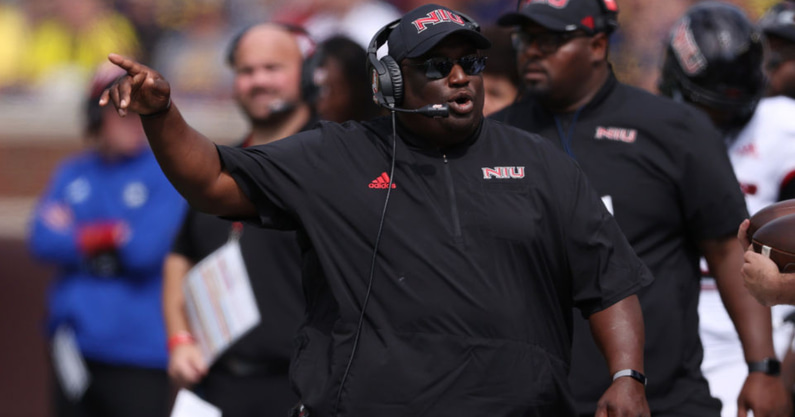 The second home night game of the Kentucky football schedule will arrive on Saturday. Once again, it will be some MACtion under the lights at Kroger Field.
Defending Mid-American champion Northern Illinois will roll into town off consecutive close losses, but the Huskies have logged some impressive offensive numbers. If their star quarterback can get healthy, this is a team that could potentially present some problems for the Cats.
Let's dive into Thomas Hammock's fourth team in DeKalb.
Nuts and Bolts
Northern Illinois became a full member of the Mid-American Conference in 1997. The Huskies almost immediately became one of the best football brands in the conference. After winning three division titles under Joe Novak, this program saw a real boom with a string of great hires.
Southern Illinois head coach Jerry Kill took the job in 2008 after leading FCS Southern Illinois to the semifinals. Kill would spend three seasons in DeKalb winning 10 games in 2010 before leaving for Minnesota.
Wisconsin defensive coordinator Dave Doeren was hired and would only spent two seasons at NIU. The Huskies went 23-4 under Doeren and won a pair of MAC titles before he left for NC State. A promotion followed that.
Offensive coordinator Rod Carey was named the program's next head coach and the former offensive lineman at Indiana won two MAC titles (2014 and 2018) in six seasons at NIU before leaving to take the head coaching job at Temple. It has been a long time since this program fired a football coach.
Thomas Hammock created some job security in 2021.
The former Minnesota (2007-10), Wisconsin (2011-13), and Baltimore Ravens (2014-18) running backs coach returned to his alma mater in 2019 but put up a winless year in the shortened COVID-19 season following a 5-7 debut season. The Huskies needed to show some progress. NIU did just that in 2021.
NIU finished 7-3 in one-score games last fall and brought home another MAC title to DeKalb after beating Kent State by 18 points as a small underdog in Detroit. After a close loss to Coastal Carolina in the Cure Bowl, expectations are again sky high for this proud program. The Huskies were picked to win the MAC West in the preseason.
Some of the offseason hype has lost some steam after a slow start to go along with some bad injury luck, but NIU still has all of its goals ahead of them in 2022.
Saturday will be the first-ever meeting between the two programs. Under Hammock, Northern Illinois is 1-5 against Power Five foes (2-3-1 ATS) with a season-opening win against Georgia Tech last season. Mark Stoops is 7-0 straight up (5-2 ATS) against MAC foes at Kentucky.
Out in the desert, Kentucky is currently a 26.5 point favorite with a total of 53.5. That's a projected final score around 40-13. NIU is 1-2 ATS and 3-0 on the over. Kentucky is 3-0 ATS and 3-0 on the under. The Cats are 5-0-1 ATS in their last six games dating back to 2021.
Northern Illinois offense
Eric Eidsness is back for year four as the offensive coordinator at Northern Illinois after a nine-year run with FCS powerhouse South Dakota State. For the second year in a row, the Huskies are putting up some good numbers on offense as this is a legit top-50 unit with their super senior quarterback behind center.
Let's take a look at the data after 12 quarters of football with some advanced stat numbers provided by CFB Graphs.
Scoring: 32.3 (T-68 overall)
Success Rate: 39.4% (No. 84 overall)
Yards Per Play: 6.2 (T-54 overall)
Yards Per Rush: 4.5 (No. 67 overall)
Yards Per Attempt: 8.3 (T-40 overall)
3rd/4th Down Conversion Rate: 48.8% (No. 43 overall)
Red Zone TD Rate: 88.9% (No. 6 overall)
Points Per Drive: 3.11 (No. 40 overall)
As the numbers show, NIU is not great at one specific thing but really has no weaknesses as an offense. The Huskies have seen some very balanced (54% run, 46% pass) play-calling splits. However, that is a change from last year when NIU ran it as much as anyone (46 attempts per game). The Huskies are more balanced this year because of what's at quarterback.
Unfortunately, the status of Rocky Lombardi (6-3, 209, Super) is very much to be determined heading into Saturday.
The former Michigan State transfer is in year two at NIU and injured his left knee last week against Vanderbilt on an awkward slide. Thomas Hammock was unwilling to go on record Tuesday on if the quarterback will play or not this weekend. Lombardi is very important to this offense's operation as the quarterback can succeed within structure and provide off-script playmaking.
Through two-plus games this season, Lombardi has posted a 51.7 percent passing success rate on 60 throws and has yet to take a sack. The veteran quarterback has a 21.7 percent explosive pass rate (15+ yard completions) and is averaging 8.8 yards per attempt while completing 65 percent of his passes. The former high-three star recruit from Iowa is giving NIU excellent quarterback play and is a capable runner when needed. Not having him would be a big loss for the MAC program.
Ethan Hampton (6-3, 204, RFr.) stepped in for Lombardi last week against Vanderbilt and struggled producing a paltry success rate (26.3%) on 19 throws in 43 snaps. The young quarterback's only explosive completion was on a shallow cross, and six of his attempts ended in an interception or pass breakup. NIU could be forced to go run-heavy if Lombardi is unable to go.
At wide receiver, Northern Illinois also caught some bad injury luck. After Trayvon Rudolph led the offense in receptions (51), receiving yards (892), yards per catch (17.5), and receiving touchdowns (7) in 2021, the All-MAC performer was lost in the preseason with a non-contact knee injury. Despite that, this group is still producing.
Cole Tucker (6-2, 195, Super) has stepped in to lead the charge with 15 grabs and three touchdowns on 18.5 yards per reception. The veteran is NIU's top playmaker on offense.
Overall, the run game is inside zone reliant but will mix in some stretch zone. RPOs are a huge part of the package as the Huskies split time in the pistol and shotgun but will take some snaps under center. Despite an experienced line and solid returning production at tailback, this ground game has struggled.
Antario Brown (5-10, 218, So.) and Harrison Waylee (5-10, 192, Jr.) combined to account for 1,155 rushing yards on 6.3 yards per rush in 2021. Through three games this fall, the duo is averaging just 4.6 yards per rush with a combined success rate of 37.7 percent. After a dominant year, NIU's ground game has become woefully inefficient, and the top two tailbacks have only produced seven rushes of 10-plus yards.
The unfortunate development in the running game is a surprise considering what this offense brought back in the trenches. Marques Cox (6-6, 309, RSr.) and Nolan Potter (6-6, 309, RSr.) have combined to start over 50 games and make a very good tackle duo. At right guard, Logan Zschernitz (6-3, 319, RJr.) is an all-conference performer. The pass protection has been great, but the ground game has lacked efficiency.
Odds are this group will turn things around at some point during the season, but for now this offense is falling behind the chains often and is needing its playmaking quarterback to bail them out. That could be a recipe for disaster if Lombardi has to miss some time.
Northern Illinois defense
Defensive coordinator Derrick Jackson is back with Thomas Hammock for year four in DeKalb, and NIU has struggled for most of his tenure ranking in the sub-100s of SP+ every year. In the offseason, the Huskies added co-defensive coordinator Nick Benedetto to the staff from Samford but the results have been more of the same.
Through three games, NIU appears to be on its way to another woeful defensive finish out of the four-down scheme utilized at Huskie Stadium. Let's dive into NIU's statistical profile in 2022.
Scoring: 34.3 (No. 108 overall)
Success Rate: 45.1% (No. 104 overall)
Yards Per Play: 6.5 (No. 120 overall)
Yards Per Rush: 4.2 (No. 84 overall)
Yards Per Attempt: 9.0 (T-121 overall)
3rd/4th Down Conversion Rate: 61.3% (No. 128 overall)
Red Zone Touchdown Rate: 69.2% (No. 93 overall)
Points Per Drive: 3.57 (No. 115 overall)
Through three games, Northern Illinois doesn't do anything specifically well despite having an experienced roster. Most notably, the pass defense (No. 128 in success rate) has been very, very bad. That could lead to another long season for this defense.
However, there are some solid pieces on the line of scrimmage and that is leading to some mixed success in fitting the run. Devonte O'Malley (6-2, 275, Jr.) is the best run defender from his defensive tackle position and could have a big role against an inefficient Kentucky rushing attack. Wisconsin transfer Izayah Green-May (6-6, 242, Super) is providing some pass rushing production on the edge.
At the second level, Kyle Pugh (6-0, 226, Super) is back for his eighth year of college football after receiving a pair of medical hardship waivers. The Illinois native was a second-team All-MAC selection in 2018 and has logged 18 tackles this season. His sidekick Daveren Rayner (6-3, 208, Jr.) brings a downhill burst to the position and is a player that Kentucky must get blocked on run concepts.
In the secondary, CJ Brown (5-11, 194, Jr.) returns after an All-MAC season where he led the Huskies in tackles (109). The defense will place the safety in the box often and is an important player for NIU. However, this secondary is not producing much ball production and has been the biggest weakness of the team to this point in the season.
The Huskies should have difficulties slowing down a good Kentucky passing offense on Saturday night.
Northern Illinois special teams
John Richardson returns for NIU at placekicker after a very strong year in 2021 saw him go perfect on extra points (42/42) and 22 of 27 on field with 6 of 8 makes from 40-plus yards. However, the veteran is off to a slow start in 2022 missing two of four field goals in the first three weeks. Richardson also serves as NIU's kickoff specialist and has produced a touchback rate of 41.1 percent on 95 attempts over the last two seasons. There will be return opportunities for Kentucky.
Tom Foley is the new punter for Northern Illinois who currently rank No. 77 overall in net average (38.1). Both Tulsa and Vanderbilt were able to find success in the return game. Kentucky could have a big advantage with Tayvion Robinson back deep.
To this point, NIU has been very inefficient in the return game as the Huskies also miss Trayvon Rudolph (25.1 yards per kick returns) in the third phase. Kentucky could make a big impact in the third phase as the SEC team's returners seem to give the Cats an edge in the kicking game.
Keys to Victory
— Kentucky seems committed to establishing the ground game this week, but the Cats must not move too far away from the offense's biggest strength. Will Levis is playing at a high level right now, and Northern Illinois has one of the worst pass defenses in college football this season. Offensive coordinator Rich Scangarello needs to let QB1 cook on Friday night.
— If Rocky Lombardi can go, this could be a surprising challenge for the Kentucky defense. NIU's offensive line is very good in pass protection, and when things do break down, the Michigan State transfer can make some highlight plays off-script. The secondary's discipline could be challenged by a mobile Lombardi who can make an assortment of throws on the run.
— In the last two games, Kentucky has gotten off to a very slow start on offense. It has taken the Cats multiple drives to find some rhythm and put together a scoring drive. That needs to change soon. Facing a bad defense, UK needs to put together a good opening script and execute it early. A quick score could set the tone and give the Cats a clear runway to a double-digit win.
— Kentucky's defense has been downright awesome against the run to this point of the season. The Cats have allowed a stingy 28.6 percent rush success rate with a 16.5 percent stuff rate. However, teams have been able to pop some big runs. As long as NIU is one-dimensional they should have difficulties moving the football. Brad White needs his defense to stop the run but also try to limit the explosives as teams have collected three rushes of 20-plus. With a huge challenge coming up against an explosive Ole Miss rushing attack, Kentucky needs to show running that ball 40-plus times in a game won't be a recipe for success. Not letting NIU get loose on a big run or a short screen would be a good step in the right direction.