Scouting Report: Ole Miss Rebels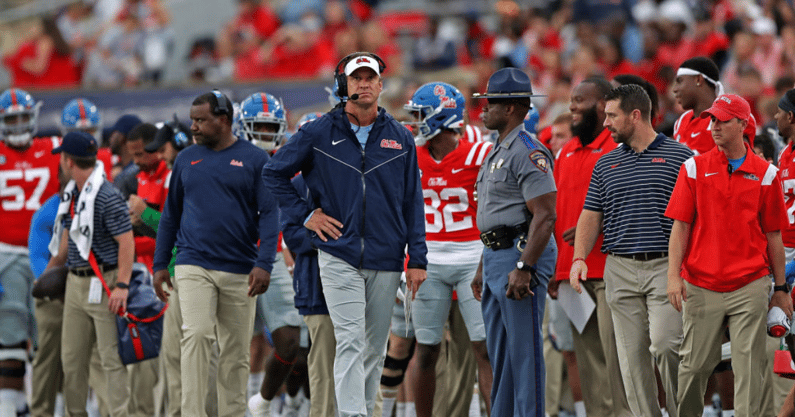 The weekend the Big Blue Nation has been waiting on for over a decade is officially here. Kentucky football is making the trip to Oxford and that means a tailgating opportunity in The Grove for those fans attending the game. However, there is also a very important football game that will be played at Vaught-Hemingway Stadium to start October.
The Cats are set to lock horns with the Ole Miss Rebels in a top-15 matchup that could go a long way in both divisional title races in the SEC. Lane Kiffin's third team is off to a 4-0 start and seems like a squad that could be poised to make some noise.
Let's jump into the 2022 Ole Miss squad with KSR's deep dive scouting report.
Nuts and Bolts
After leading Ole Miss to 19 wins in 2014 and 2015, things quickly started to unravel under Hugh Freeze. After nearly winning an SEC West title, this program got caught up in various recruiting and academic violations that ultimately led to the dismissal of the successful head coach who installed a high successful tempo offense in Oxford.
After an investigation where the NCAA punished Ole Miss for violations both under Freeze and former head coach Houston Nutt, the latter decided to sue the university for defamation saying Freeze and the university falsely blamed him for violations. In that process, Freeze's phone records were discovered through the Freedom of Information Act and a dozen calls were made to escort services. The rising head coach was then forced to resign.
That put the program in a hole.
Offensive line coach Matt Luke was given the interim head coach title for the 2017 season just days before the start of training camp. After closing the year with three wins that included a victory in the Egg Bowl on the road as a 15-point underdog, that interim tag would be removed.
However, that same rivalry game would later determine his fate.
In 2019, Ole Miss entered the game with a 4-7 record and this time saw itself as a small dog against Mississippi State. You all know what happened next.
That led to another coaching search with Florida Atlantic head coach Lane Kiffin rejoining the SEC. The former head coach at Tennessee (2009) and USC (2010-13) has gone 19-8 in his first 27 games with the Rebels and took the program back to the Sugar Bowl last season. After a huge transfer recruiting class, the 47-year-old is flying high as Ole Miss is still using tempo on offense and is scoring points in bunches.
Over the last decade, this program has established an identity, and Kiffin plays the role of charismatic leader well. Ole Miss football is fun again, and it all starts with tempo.
Saturday will be the 44th meeting between the long-time SEC foes. Ole Miss owns a 28-14-1 series lead with consecutive wins as road underdogs in 2017 and 2020. Kentucky has not beaten the Rebels since a 30-13 home win in 2011. The last four wins by the Rebels in this series have been by one-possession. Kentucky has not won in Oxford since 1978.
Out in the desert, Ole Miss is a 7-point favorite with a total of 54. That's a projected final score of 30.5-23.5. Both teams are 3-1 against the spread (ATS) but failed to cover last week as 20-plus point home favorites. As a favorite of a touchdown or less, Ole Miss is 1-4 ATS as a favorite under Lane Kiffin. Kentucky is 4-1 ATS with four outright wins in its last five games as an underdog of a touchdown or less.
Ole Miss offense
Lane Kiffin lost both star quarterback Matt Corral (Carolina Panthers) and offensive coordinator Jeff Lebby (Oklahoma) after a strong two-year run in Oxford. The head coach has joined forces again with offensive coordinator Charlie Weis Jr. after time spent together at Florida Atlantic and the duo is again leaning on spread tempo to have success.
Let's take a look at the statistical profile put together by Ole Miss through four non-conference games.
Scoring: 41.0 (No. 21 overall)
Success Rate: 47.9% (No. 17 overall)
Yards Per Play: 6.5 (T-35 overall)
Yards Per Rush: 5.8 (No. 8 overall)
Yards Per Attempt: 8.0 (T-52 overall)
3rd/4th Down Conversion Rate: 55.1% (No. 14 overall)
Red Zone TD Rate: 90.5% (No. 3 overall)
Points Per Drive: 3.17 (No. 29 overall)
For the third season in a row, Kiffin has a top-20 offense brewing in Oxford. The Rebels have always been somewhat run-heavy since the former Alabama offensive coordinator arrived, but the SEC West program has really cranked up the run calls this season.
Ole Miss enters Saturday ranked No. 7 overall in run play percentage (65.1%) as the Rebels are leaning on the run game and getting creative. It all starts with an impressive platoon at tailback.
TCU transfer Zach Evans (6-0, 215, Jr.) and high three-star true freshman Quinshon Judkins (5-11, 210, Fr.) have combined to rush for 794 yards on 32.2 combined attempts per game at 6.2 yards per rush. Both Evans (54.2%) and Judkins have logged (52.9%) have logged high success rates with 26 combined rushes of 10-plus yards. Both players take the occassional tackle for loss with a combined 13.4 percent stuff rate, but the overall efficiency and explosiveness package has been lethal for this offense.
After leaving last week's home win over Tulsa with a hip injury, Evans is questionable for Saturday. Ole Miss is also likely to be without SMU transfer Ulysses Bentley IV (5-11, 200, RJr.) leaving a big void for Judkins to fill. That could be a significant loss, but quarterback Jaxson Dart (6-2, 220, So.) can provide real value to the running game.
The USC transfer and former top-50 recruit showed his rushing ability last week against Tulsa and has rushed for 212 non-sack yards on 7.6 yards per attempt. Expect him to be a huge part of the running game this week, but Ole Miss added him to the roster because of his athletic traits and live arm.
After coming off the pine in Week 1, Dart has started three consecutive gains for the Rebels and is averaging 8.5 yards per attempt on only 20.5 throws per game. The young quarterback has had some moments, but the Rebels have a low Expected Points Added (EPA) score via the throw game showing that things haven't been great to this point in the season. Dating back to last year at USC, Dart had a high pass breakup/interception rate (16.9%) as decision-making has been a concern after an up and down spring and fall camp. Kiffin has not turned his QB all the way loose yet but might have no other choice on Saturday and later in SEC play if the ground game is limited.
At wide receiver and tight end, Ole Miss hit the transfer portal hard and has four new players playing a lot of snaps. Much was expected of USC transfer Michael Trigg (6-3, 240, So.), but the flex tight end is off to a slow start as the offense has gone run-heavy. Louisville transfer Jordan Watkins (5-11, 190, Jr.) has given the offense some inside-outside versatility. UCF transfer Jaylon Robinson (5-9, 180, RSr.) was expected to be a vertical field stretcher but has been slowed by injuries.
Its been two big bodied wideouts standing out early in the throw game.
Mississippi State transfer Malik Heath (6-3, 215, Super) has been the biggest surprise outside of Judkins as he leads the offense in targets (20), receptions (13), success rate (60%), and receiving touchdowns (3). The former junior college product is quickly becoming Dart's top target both across the middle on RPO concepts and outside the numbers on vertical throws.
On the other side, veteran Jonathan Mingo (6-2, 225, Sr.) entered the season as one of the most important parts of the offense. The former top-250 recruit has over 30 starts in his career in Oxford with 73 career receptions. Mingo has provided efficiency and explosive production on 19 targets, but the Rebels need more from WR1.
On paper, the Ole Miss offensive line entered the year as a team strength. The Rebels have a couple of potential All-SEC performers in left guard Nick Broeker (6-5, 315, Sr.) and left tackle Jeremy James (6-5, 305, RJr.) as expectations were high for this group. The unit has flashed some solid play in the run game while the pass protection has been leaky even with a few number of sacks (2) allowed. For Saturday, the status of starting center Caleb Warren (6-5, 310, RJr.) will be something to monitor. The in-state product was lost in the Tulsa game and that forced Ole Miss to shift right guard Eli Acker (6-5, 295, RSo.) inside and there were some snap accuracy issues.
Ole Miss is still trying to figure out what it has in Jaxson Dart, but there are some real pieces surrounding him giving this unit a lot of potential. However, the offense is ground reliant and will have to prove it can maintain balance against better competition. Expect heavy tempo, large wide receiver splits, zone and gap schemes on the ground, and plenty of RPO looks from Kiffin's offense on Saturday.
Ole Miss defense
Lane Kiffin is now on his second defensive coordinator at Ole Miss after having three different defensive play-callers in three years at Florida Atlantic. Former Michigan assistant Chris Partridge has stepped into the big chair after D.J. Durkin left for the same position at Texas A&M.
Partridge and co-defensive coordinator Maurice Crum Jr. are still using the dime base defense Durkin installed last season that helped pull Ole Miss out of the defensive gutter the program found itself in year one under Kiffin when the Rebels ranked No. 115 in yards per play (6.7).
Let's take a look at the statistical profile for this unorthodox Ole Miss scheme.
Scoring: 10.0 (No. 6 overall)
Success Rate: 37.9% (No. 55 overall)
Yards Per Play: 4.2 (No. 11 overall)
Yards Per Rush: 3.2 (T-32 overall)
Yards Per Attempt: 5.3 (No. 12 overall)
3rd/4th Down Conversion Rate: 35.6% (No. 34 overall)
Red Zone TD Rate: 88.9% (T-94 overall)
Points Per Drive: 1.00 (No. 6 overall)
Under Partridge, Ole Miss has played some dominant football to this point in the season. The Rebels allowed just one touchdown through the first three games before Tulsa took advantage of some weaknesses through the air and on the ground.
However, the defense can cause issues having recorded 28 tackles for loss in four games, and it all starts with a crowded secondary.
Ole Miss will play six defensive backs a large amount of time as long as offenses do not get into heavy sets. In a 3-3-3 format, the goal is to limit big plays and cause confusion for the quarterback while bringing a fourth rusher from a different place frequently. In this scheme, defenses need safeties who are multi-dimensional.
At the Sam/Nickel position, former Georgia transfer Otis Reese (6-3, 225, RSr.) is a big defensive back with size and range making him the perfect defender for this position. The former top-100 recruit is in year three at Ole Miss and has 20 tackles and 2.5 tackles for loss after logging 91 stops last year. The Rebels need the South Georgia product to hold up against blockers in run concepts and provide closing speed with physicality as an intermediate coverage player.
However, Reese will miss the first half on Saturday due to a targeting suspension on Saturday. Auburn transfer Ladarius Tennison (5-9, 200, Jr.) will step in as quality next option.
In the deep three safety look, the middle safety plays a very important role in this deep. In coverage, this player will often have a robber assignment as an intermediate defender asked to cloud the middle of the field and take away crossers. In the run game, this defender is often a free runner from depth and must close quickly and efficiently to minimize big gains.
Iowa State transfer Isheem Young (5-10, 215, RJr.) came from a 3-3-3 defense in Ames and has been a great fit for the Rebels. The former mid three-star recruit has a great feel in coverage (4 career interceptions) and is a willing tackler. Young might be the most important player in the defense and someone Kentucky must account for in both the run and pass game.
At the two traditional safety spots, Ole Miss is also getting quality play. AJ Finley (6-3, 205, Sr.) is the best player on the defense. The three-year starter has 20 pass breakups/interceptions in his career and is a solid tackler. He has an NFL future.
Next to Finley will be former top-250 recruit Tysheem Johnson (5-10-215, So.), and Partridge will often roll the safety down into the box for extra body when the Rebels face off against condensed formations. The Mid-Atlantic native leads the secondary in tackles (27).
At cornerback, Ole Miss has quality depth with four players who will likely see time on Saturday at the outside positions. True freshman Davison Igbinosun (6-2, 185, Jr.) might be the best player of the group. The top-200 prospect has a chance to be a really good player in Oxford.
The defense will go as far as the secondary takes them, but there are players in the five-man front who will also play a big role.
Auburn transfer JJ Pegues (6-2, 315, Jr.) is expected back Saturday after missing the Tulsa game with an injury. The nimble nose tackle is the best interior player on the roster and could make a big impact on Saturday. Flanking him are players with some more pass rushing chops. Cedric Johnson (6-3, 265, Jr.) has 10.5 career sacks in 21 games and is a player Kentucky must have a plan for in the dropback game.
Georgia Tech transfer Jared Ivey (6-5, 265, Jr.) has a ton of potential and could have a breakthrough game at any point. Tavius Robinson (6-6, 265, Super) is the best run support player of the group. However, the Rebels lack some girth on the interior. That can present problems if movement can be created in the run game but don't be surprised to see a high volume of stunts and late pre-snap movement from this group to try and confuse Kentucky.
At the second-level, Central Michigan transfer Troy Brown (6-1, 220, Super) has stepped at Mike linebacker and played very well for the Rebels. The former three-time All-MAC selection leads the team in tackles (29) and has logged 33 tackles for loss in his career. Brown is a knifing, gap-shooting linebacker who plays with instincts.
Next to Brown is Austin Keys (6-2, 245, RSo.) who has been productive has a fourth rusher in the dime base that Ole Miss uses. TCU transfer Khari Coleman (6-2, 220, Jr.) is an important hybrid player that can play off-ball linebacker or rush from the edge. The New Orleans (La.) G.W. Carver is a twitchy rusher that can be tough to deal with. Coleman leads the team in non-sack tackles for loss (4) and sacks (2.5) in 154 snaps. However, he is dealing with a lingering ankle injury and might not be available on Saturday.
The Ole Miss front does a good job of taking calculated risks by stunting and bringing linebackers through gaps to stuff the run. However, big gains can be there for the taking if these stunts are absorbed, and a ballcarrier can make a defensive back miss in open space.
The No. 1 goal for the Rebels is to take away big plays and attempt to confuse opposing quarterbacks with unorthodox looks. However, no defense is perfect. The Rebels have seen 5 of the last 10 offenses faced rush for over 200 yards against them while the defense's passing numbers have typically been strong.
Ole Miss special teams
Ole Miss also dipped into the transfer portal to find another answer at placekicker. Jonathan Cruz made the move to the SEC after spending four seasons at Charlotte. For his career, Cruz is 42 of 58 (.724) on field goals with a handful of makes from 50-plus yards. Cruz also serves as the kickoff specialist for the Rebels where he's produced over a 70 percent touchback rate over the last few seasons.
Australia native Fraser Masin has stepped in a punter and is averaging 41.9 yards per attempt on 15 boots this season. The Rebs have only given up 18 return yards to this point as Masin's efficiency has been very good to start the year.
WKU transfer Dayton Wade (5-9, 175, RJr.) serves as the primary kick returner and has flashed some burst averaging 21.7 yards per return. That will be something to watch for Kentucky after Northern Illinois popped a big return last week. Meanwhile, the kick return coverage has been excellent for the Rebels through four games.
Jordan Watkins is the top punt returner, and the ACC transfer has had some issues fielding punts.
Overall, the third phase has been excellent for Ole Miss. Field position could play a big role in Saturday's contest. What defense can give its offense the most short fields?
Keys to Victory
— Its Week 5, but Ole Miss still has not played a top-50 opponent. Therefore, Lane Kiffin probably has a few tricks up his sleeve that he will unveil in his opening script. The Rebels have started every game fast and are outscoring opponents 56-14 in the first quarter. The home team will likely put a score up early. Kentucky must absorb the first punch and make Kiffin burn through his script by forcing long early drives. Once the Cats can get their footing and adjust to the tempo, some good things should start to happen.
— Everyone in the Big Blue Nation is anxiously awaiting Chris Rodriguez Jr.'s return as the All-SEC tailback joins the offense in Week 5. Many are hoping that the redshirt senior can give Kentucky's sluggish rushing attack a jolt. Facing a defense that has been susceptible to the ground game, it's imperative that the Cats have their best rushing performance of the season on Saturday. A combination of Rodriguez and Kavosiey Smoke should provide that. Getting over 150 non-sack rushing yards will lead to some very good things for the offense.
— It's all about the ground game for Ole Miss, and that is the top challenge for Kentucky on Saturday. Two years ago, UK had some success slowing down a potent rushing attack a Kroger Field. Meanwhile, the Rebels enter Saturday with some valid injury concerns. The Cats must fit the run and make tackles to slow down this offense. If the Rebels can't get rolling on the ground it could be hard to get rhythm established when the tempo is pushed.
— There's no getting around it, pass protection has been an issue. Facing an Ole Miss defense with a unique style and some legitimate edge rushers makes keeping Will Levis clean a huge concern this week. Early down sacks will hurt more than usual as the Rebels will play plenty of drop eight when ahead of the chains to minimize throwing windows. Establishing the run could help get the play-action game going, but the offensive line must be able to pickup stunts and give their NFL QB time to make some throws down the field. If Levis is heated up all day, the Rebels could come up with a tackle for loss drive killer at any point, and there likely won't be big play opportunities afterward as this defense will likely elect to play coverage when ahead.
— If Kentucky can limit the run, it's going to force a young quarterback to beat them throwing the football. In the last big game Jaxson Dart played in, the former blue-chip recruit completed only 57.4 percent of his passes in a rivalry matchup with UCLA last year at USC. The dual-threat quarterback threw two interceptions and posted less than seven yards per attempt while taking a handful of sacks. There are many unknowns regarding how Dart will play in a big spot as it seems Kiffin and offensive coordinator Charlie Weis Jr. have attempted to protect their sophomore gunslinger through four games. If he's turned loose, his small track record tells us there will be some bad decisions made, and Kentucky could force a huge second half takeaway that could change the game.
— Speaking of the second half, that is where Kentucky has thrived. An opponent hadn't scored a touchdown against the Wildcats after halftime until last week as the Cats are outscoring foes 64-12 after the break. Against both Troy and Tulsa, Ole Miss scored just one touchdown combined. The Rebels seem to lose their fastball after the hot starts. As long as Kentucky isn't bombarded in the first half, this game will be there for the taking in the last 30 minutes for a veteran team facing an Ole Miss squad with many new faces in their first pressure matchup with each other.