Early Scouting Report: South Carolina Gamecocks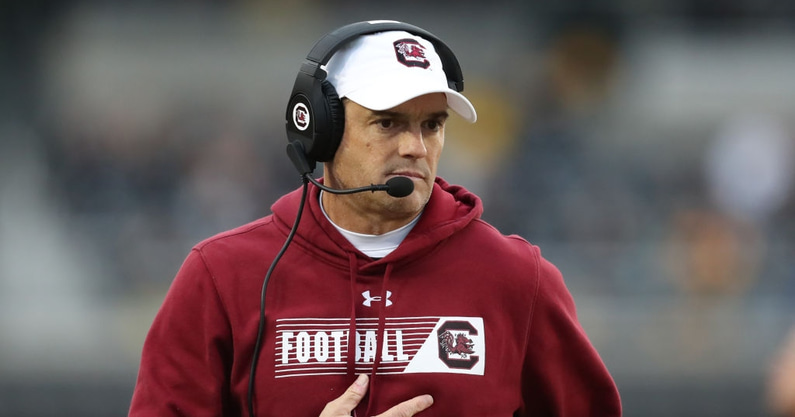 Kentucky fans will have to wait over month once the season starts for the first big home game on the slate. However, it will be against a program that the Wildcats have had a ton of success against in recent seasons.
Shane Beamer will be making a trip to Lexington for the first time as a head coach on Oct. 9. The son of legendary Virginia Tech head coach Frank Beamer has been getting a lot of preseason buzz after wins over Auburn, Florida, and North Carolina to end the season. Thanks to some shrew promotion work and a huge transfer portal commitment, some think the Gamecocks could be a contender in the SEC East.
Our early scouting report series continues with a South Carolina program that is looking to record more than seven wins in a season for the first time since 2017.
Early Scouting Report: Miami (Ohio), Florida, Youngstown State, Northern Illinois, Ole Miss
Nuts and Bolts
After a breakthrough 9-4 campaign in 2017 that ended with an upset win over Michigan in the Outback, things unraveled quickly for Will Muschamp at South Carolina. The former Florida head coach returned a ton of talent in 2018 highlighted by playmaker Deebo Samuel, but the Gamecocks finished just 7-6 as Muschamp again began to churn through offensive coordinators.
Three different assistants would call plays for the Gamecocks ending with Mike Bobo becoming the interim head coach once Muschamp was dismissed during the 2020 season. The SEC East program was 6-16 over two years heading into 2021 and decided to make a change.
The university went with familiarity and pedigree as former South Carolina assistant Shane Beamer was brought back to Columbia.
The versatile coach has worked with numerous positions during his career while working under Steve Spurrier (2007-10), his dad (2011-15), Kirby Smart (2016-17), and Lincoln Riley (2018-20). Beamer convinced the South Carolina administration that he could bring a CEO-type approach to get the Gamecocks back to winning football. There was some proof of concept shown last fall.
Despite a poor personnel situation at quarterback, the Gamecocks clawed their way to seven wins and secured single-digit victories against Auburn, East Carolina, Troy, and Vanderbilt behind some good defense. There were some ugly moments filled with a lot of bad offense, but this was a team that played with effort all year to set the foundation for a new era.
The strong close has raised expectations for Beamer. Just playing hard and winning some close games in games you're expected to win won't be good enough as this program tries to take a step forward in year two.
Transfer Portal recap
Any new coach should expect much roster turnover in the first couple of years on the job. That is true at South Carolina as 17 players entered the transfer portal since the beginning of last season. However, there was no real huge loss that stung.
On the other end, the Gamecocks efficiently used the portal to land nine players that will all have a chance to be starters at South Carolina. Beamer's staff went heavy on offense. Let's take a look at the additions.
— Christian Beal-Smith (5-9, 205, Super): After recording 1,871 rushing yards and starting a bunch of games for Wake Forest, Beal-Smith has moved to South Carolina for his final year in college. The transfer will be at the top of the tailback rotation.
— Lovasea Carroll (6-2, 205, RFr.): The former top-150 recruit spent one year at Georgia playing defensive back. At South Carolina, Carroll will be transitioning back to running back. The Gamecocks are hoping this add pays huge dividends down the road as the program builds depth in the backfield.
— Terrell Dawkins (6-4, 250, RJr.): After recording nine tackles for loss in 2020, Dawkins saw playing time diminish at NC State. The EDGE will push for a starting spot in Columbia.
— Spencer Rattler (6-1, 215, RJr.): The former No. 1 quarterback in the class of 2019 started 17 games for Oklahoma posting over 4,000 passing yards on 8.9 yards per attempt with a 70 percent completion rate. Expectations are high in Columbia at quarterback.
— Devonni Reed (5-11, 200, Super): The safety transfer from Central Michigan started 41 games over the last four seasons twice earning All-MAC honors. Reed should step into a starting spot at free safety for the Gamecocks.
— Corey Rucker (6-1, 212, Jr.): The Arkansas State wideout has 75 receptions for 1,279 yards through two seasons of college football. The wideout has multiple years of eligibility remaining and will give the South Carolina offense another quality option on the perimeter.
— Austin Stogner (6-5, 250, Sr.): Another Oklahoma transfer, Stogner was a second-team All-Big 12 selection in 2020 when Beamer was in Norman. The versatile tight end will give Rattler a familiar target in the passing game.
— Antwane Wells Jr. (6-1, 207, Jr.): The James Madison transfer was a two-year starter in the FCS earning second-team All-American honors last fall when Wells pulled in 83 receptions for 1,250 yards. The versatile wideout should be the starter at Z receiver for the Gamecocks.
Expect transfers to play a huge role on offense.
South Carolina offense
Marcus Satterfield is back for year two as offensive coordinator at South Carolina. The former Tennessee Tech head coach called plays for three years at Temple (2013-15) for Matt Rhule and later worked for him in the NFL. The play-caller needs his unit to show some real progress this season.
Scoring: 22.6 (T-104 overall)
Success Rate: 39.5% (No. 104 overall)
Yards Per Play: 5.3 (T-96 overall)
Yards Per Rush: 3.8 (T-95 overall)
Yards Per Attempt: 7.3 (T-74 overall)
Explosive Play Rate: 12.3% (No. 62 overall)
Points Per Scoring Opportunity: 3.3 (No. 123 overall)
As the data shows, there was nothing that South Carolina did well on offense in 2021. Throughout the year, this was one of the worst offenses in the Power Five. The program is banking on transfer additions at the skill positions to raise both the floor and ceiling.
Spencer Rattler will be a true upgrade at quarterback. Christian Beal-Smith should be a productive tailback. Corey Rucker, Austin Stogner, and Antwane Wells Jr. will each be productive weapons in the passing game. However, there are some other returnees to be excited about.
Josh Vann (5-11, 192, Super) is back after being the most effective player on the offense with 43 receptions for 679 yards last season. The wideout now will get some help and could turn into a draftable prospect with a good season.
At tight end, Jaheim Bell (6-3, 232, Jr.) looks like the clear best player on this team. The South Georgia native is a versatile skill talent that can succeed out wide, in the slot, or with traditional tight end alignments. After recording 30 receptions for 397 yards, those numbers should increase this year.
At tailback, both MarShawn Lloyd (5-9, 212, RSo.) and Juju McDowell (5-9, 180, So.) return, and the production should improve with improvements in the passing game.
The elephant in the room is on the line of scrimmage.
South Carolina returns all five starters on the offensive line, but it is fair to wonder if that is a good thing. The Gamecocks had one of the most least successful units in the SEC last fall, and offensive line coach Greg Adkins needs his group to show some real progress this season.
Right tackle Dylan Wonnum (6-5, 305, Super) and right guard Jovaughn Gwyn (6-3, 300, RSr.) together is the strength of the unit. The twosome has combined for 57 starts. If the unit levels up, it will be due to these veterans on the right side.
South Carolina defense
The offense was ugly, but former WKU defensive coordinator Clayton White did a very strong job with his first South Carolina defense. The Gamecocks forced takeaways and created issues for offenses in coverage to help this program win a handful of games last season.
Let's take a look at the numbers.
Scoring: 24.0 (No. 46 overall)
Success Rate: 42.9% (No. 75 overall)
Yards Per Play: 5.6 (T-73 overall)
Yards Per Rush: 4.7 (No. 102 overall)
Yards Per Attempt: 7.0 (T-40 overall)
Havoc Rate: 11.4% (No. 80 overall)
Pressure Rate: 32.6% (No. 45 overall)
Takeaways: 24 (T-14 overall)
Points Per Scoring Opportunity: 2.6 (No. 3 overall)
A solid pass defense helped create turnovers and that was a recipe for success. The Gamecocks were elite at getting stops when backed up even if the run defense consistently got shredded. However, the turnovers and elite efficiency in the extended red zone may not continue even if improvements are made.
White gets just five starters back for year two and only one transfer who will likely be a starter. There is some production to replace, but the secondary has star power.
Cam Smith (6-0, 188, RJr.) is one of the top cover cornerbacks in college football and has a chance to be a first-round pick. The former top-150 recruit can play some nickel corner for the Gamecocks and could help shut down top receivers if this unit wants to utilize a heavier volume of man coverage.
At the other cornerback spot, Darius Rush (6-2, 200, RSr.) is a former wideout who really blossomed into a good cornerback last fall. After a strong year of ball production (8 PBUs, 1 INT), the Gamecocks could have another potential All-SEC cornerback.
The huge question with this group will be at the point of attack. The run defense was the one true weakness and that must get better. Both Jordan Burch (6-6, 275, Jr.) and Zacch Pickens (6-4, 305, Sr.) were five-star defensive line recruits who have yet to play to that level in college. Carolina will need eacgh to level up in 2022 so the front can provide some more playmaking.
Outlook
When you dig into South Carolina, there are some true tangible reasons for optimism. Thanks to the transfer portal, the Gamecocks have found a good quarterback and have filled out the roster with some good skill talent. Add in an experienced offensive line, and there are pieces available to put points on the scoreboard.
On the other side, Clayton White returns after putting together a top-50 defense last year. Plus the Gamecocks get back a potential elite coverage unit. If the run defense improves, this defense could make a clear jump.
There is enough there to truly believe in what Beamer's staff is doing early.
Once again, the schedule is somewhat brutal. We'll know a lot about the Gamecocks early after a road trip to Arkansas in Week 2 and a home date with Georgia in Week 3. If Rattler is good, this is a team that could make a run at nine wins and a top 25 ranking by the end of the season.
If it doesn't come together, it will likely be due to the offense. To say this is a huge year for Marcus Satterfield would be a big understatement.