Scouting Report: Vanderbilt Commodores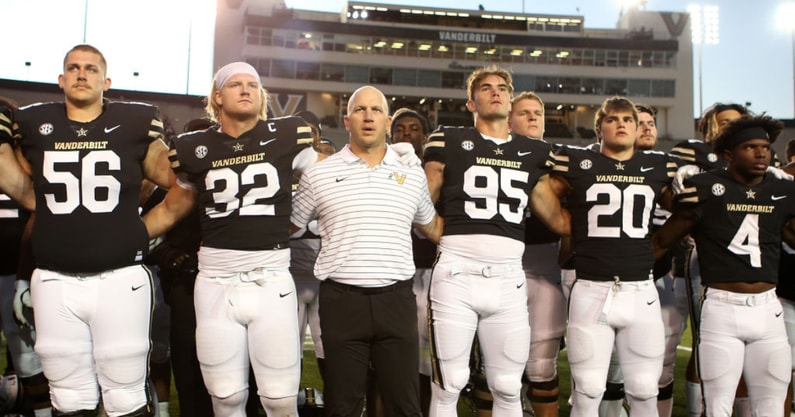 Kentucky returns to Kroger Field in Week 11 with some football weather in the forecast. Not surprisingly, that means it's Vanderbilt week in the Bluegrass.
The Cats and the Commodores have been playing in November for what feels like an eternity and that is no different in 2022. This season, Clark Lea will make the road trip to Lexington for the first time as the Vanderbilt head coach. The Dores are currently riding a long SEC losing streak and dealing with some big offensive injury issues.
Kentucky has a chance to pick up consecutive conference wins for the first time this season on Saturday. Now it's time to dive into Vanderbilt football to see what Lea's second team on the West End is bringing to the table.
Nuts and Bolts
Notre Dame defensive coordinator Clark Lea returned to his alma mater following the 2020 season to begin a long rebuild. The former assistant coach at UCLA and Wake Forest knew he had a tall task ahead of him. Lea inherited a program that had one long losing streak to get rid of.
That losing streak still exists.
After Saturday's loss to South Carolina at home, Vandy has now lost a record 25 consecutive SEC games. The Commodores are three losses away from their third consecutive winless campaign in SEC play. Back in 2019, Vanderbilt upset Missouri at home as a 21-point underdog but finished that year at just 1-7 in league play. The Dores haven't won a conference game since.
Vanderbilt has not won an SEC road game as an underdog since 2017 as Lea is still searching for his first conference win. Kentucky will now want to avoid being the team that allowed Vanderbilt to snap this long losing streak.
Eliminating this streak is the biggest task for the new Vanderbilt regime. For a forward step to be made, the Dores have to end this streak.
Saturday will be the 95th meeting between these two SEC programs, and Kentucky owns a 48-42-4 series lead with six consecutive wins entering Saturday. The Commodores went 16-0-1 in the first 17 meetings between the two programs from 1896-1938. Since then, UK has gone 48-26-3 in the series. Vandy has not won in Lexington since that 2012 blowout many consider the rock-bottom moment that led to the hiring of Mark Stoops a few weeks later.
Out in the desert, Kentucky is an 18-point favorite with a total of 47.5. That's a projected final score of around 33-15. UK is 6-3 against the spread (ATS) this season, and Vanderbilt is 3-6 ATS. The under is 8-1 in Kentucky games and the over is 6-3 in Vanderbilt games. Kentucky is 7-6 ATS as a double-digit favorite against FBS competition since 2017.
Vanderbilt offense
After receiving an in-season promotion right before the 2021 season began, Joey Lynch is entering his second season as the offensive play-caller at Vanderbilt. The 39-year-old Ball State alum called plays for his alma mater (2014-19) and Colorado State (2020) before making the move to the West End.
The Dores have made some real strides on this side of the ball after ranking No. 124 in yards per play (4.5) and No. 127 in success rate (34.5%) last season. However, there is still room for growth.
Scoring: 26.7 (No. 80 overall)
Success Rate (from CFB Graphs): 39.1% (No. 74 overall)
Yards Per Play: 5.4 (No. 87 overall)
Yards Per Rush: 4.3 (T-60 overall)
Yards Per Attempt: 6.7 (T-96 overall)
3rd/4th Down Conversions: 40.8% (No. 74 overall)
Red Zone TD Rate: 74.1% (T-15 overall)
Points Per Drive: 2.05 (No. 84 overall)
In many ways, this offense has gone from very bad to mediocre in multiple statistical areas. That has led to more points being scored. Thanks to strong efficiency in the red zone, Vanderbilt has been able to score 24-plus points against three Power Five defenses this season.
Unfortunately, the offense will have to play Saturday without its young true freshman quarterback.
AJ Swann (6-3, 225, Fr.) has posted a 37.7 percent passing success rate with 10 touchdowns and two interceptions this season. The rookie led the Commodores to a big road win at Northern Illinois and had some success against Wake Forest but has had some real struggles in conference play. Swann has posted just 5.8 yards per attempt on 33.2 throws per game in SEC play. The Georgia native was injured against South Carolina and has been ruled out for the Kentucky game. There might not be a big drop-off on Saturday.
Mike Wright (6-4, 195 Jr.) has started eight games during his Vanderbilt career and brings a run threat element. The former three-star recruit out of Atlanta has rushed for 826 yards and six touchdowns during his career on 6.2 yards per rush.
Wright is putting up 6.8 yards per attempt on a 39.2 percent passing success rate which are both better numbers than Swann in a smaller sample size. Add in the rushing numbers (43 attempts, 336 yards, 7.8 yards per rush, 53.5% success rate), and Vandy could very well be more dangerous with No. 5 behind center. Fumbles have been an issue with Wright after putting the ball on the turf three times against Wake Forest, but the ground game is certainly more dynamic with him in the lineup.
Expect to see 8-12 rushes from the dual-threat quarterback on Saturday as Vandy could lean into a solid one-two rushing punch led by tailback Ray Davis (5-9, 205, Sr.).
The former Temple transfer missed most of last season with an injury but has logged 733 rushing yards on 4.7 yards per rush this season. The veteran is a huge part of the offense with 20.6 intended touches (30 targets, 155 carries) per game. Vandy's offense is at its best when Davis can provide efficiency. Stopping No. 2 will be the top task for any defense. No other tailback has reached 40 carries on the Vandy roster as Davis is a true No. 1.
Kentucky could see a run-first approach from the Vanderbilt offense. However, when the ball is in the air there is a target monster to deal with.
Will Sheppard (6-3, 200, Jr.) is very much the entire passing game averaging 10.7 targets per game. The Louisiana native leads the Dores in receptions (47), receiving yards (620), and receiving touchdowns (8). However, over half of Sheppard's targets have ended as incompletions as there have been a lot of inefficient plays (36.5% receiving success rate) with the No. 1 receiver. But this is still the top explosive play weapon in the passing game.
On the offensive line, injuries are hitting Vandy hard. Starting left guard Delfin Xavier Castillo (6-5, 340, So.) and right guard Bradley Ashmore (6-6, 310, Jr.) will both be unavailable on Saturday. Youngsters Gunnar Hansen (6-5, 320, RFr.) and Gage Pitchford (6-6, 319, RFr.) will draw starting assignments. Vanderbilt has had a tough year on the line, and no Xavier Castillo is a significant blow. It could be tough sledding for this group on Saturday.
The Vandy offense has made real strides in year two under Lynch as there is some legitimate skill talent to believe in for this RPO-heavy offense that utilizes a ton of 11 personnel. However, AJ Swann has become a focal point of this unit and he is being replaced by Mike Wright without two dependable guards in the middle of the line.
The deck seems stacked against this offense heading into Week 11 unless Wright can make a handful of individual highlight plays.
Vanderbilt defense
Vanderbilt caught another tough break in the offseason when Michigan hired defensive coordinator Jesse Minter for the same position. Vandy landed Virginia defensive coordinator Nick Howell after Bronco Mendenhall resigned in Charlottesville, but statistically, not much has changed from year one to year two.
Vanderbilt again has one of the worst defenses in college football.
Scoring: 36.8 (No. 125 overall)
Success Rate: 43.9% (No. 111 overall)
Yards Per Play: 6.8 (No. 126 overall)
Yards Per Rush: 4.5 (No. 101 overall)
Yards Per Attempt: 9.1 (T-128 overall)
3rd/4th Down Conversions: 47.7% (No. 111 overall)
Red Zone TD Rate: 62.9% (No. 81 overall)
Points Per Drive: 2.92 (No. 113 overall)
The Commodores struggle to create stops. The issues start at the line of scrimmage.
In Vandy's multiple front, there are three permanent defensive line players and one EDGE player that can play with his hand in the dirt or stand up at linebacker. The lack of quality depth is lacking on the line of scrimmage and that is putting the back seven of the defense in some trouble.
Christian James (6-4, 275, RJr.) is the best player of the unit at defensive tackle with 25 tackles, 5.5 tackles for loss, and two sacks. Devin Lee (6-3, 285, So.) has emerged in recent weeks with four tackles for loss in the last three games. Outside of that, the Dores are struggling upfront.
Luckily, there is a star at the second level to clean up some messes.
Anfernee Orji (6-2, 230, Sr.) is the only clear NFL Draft prospect on this defense, and the veteran has played like it this season. The former top-500 recruit leads the team in tackles (90), tackles for loss (6.5), and snaps (566). Orji has a strong pressure rate (19.4%) on 67 pass rush reps and has been excellent at fitting the run. Kentucky must know where No. 0 is before every snap. The Texas native is putting together an All-SEC season.
At nickel, Jaylen Mahoney (5-11, 195, Sr.) has been very active with 46 tackles, 6.5 tackles for loss, and two pass breakups. The Commodores ask a lot out of the veteran, but he has given up some big plays in recent weeks.
At cornerback, UConn transfer Jeremy Lucien (6-2, 200, RSr.) has five pass breakups but has allowed 14.7 yards per reception and five touchdowns in coverage.
The defense only has one true bonafide playmaker in Orji and that led has led to some rough defensive numbers. Opposing passing games are lighting this defense up like a Christmas tree through the air, and 4 of 5 SEC teams have averaged over five yards per rush against this group.
Vanderbilt needs more talent on defense as this unit really has no answers giving up 38 or more points in 5 of 6 games against Power Five competition.
Vanderbilt special teams
In the third phase, things are not going great for Vanderbilt.
Former Alabama transfer Joseph Bulovas is just 5 of 9 on field goals and has missed three attempts of 40-plus yards. That has taken away some scoring opportunities for the offense.
At punter, Matt Hayball has been a strength booming 13 punts of 50-plus yards and landing 14 inside the 20 but has a net average of 40.3 thanks to strong return numbers. Opponents are averaging 13.4 yards per return against Vandy.
In the return game, Will Sheppard has struggled to get anything going on punts, and on kickoffs, no Vandy player has had a return larger than 32 yards. Meanwhile, Bulovas has a small touchback rate (45.5%) so return opportunities could be available for Kentucky.
Kentucky enters this matchup not facing an obvious mismatch in the kicking game. That is a win.
Keys to Victory
— Vanderbilt enters this matchup easily having the worst defense in the Power Five. The Commodores also don't have a great pass rush. Saturday should be a huge game for Will Levis and that Kentucky passing game. The Big Blue Wall just needs to hold up. This is a matchup UK should be able to win in the trenches. If Levis gets time, we should see a pretty explosive game from the offense.
— Throughout the season, Kentucky has been very good against QB run. The Wildcats limited Anthony Richardson, Jaxson Dart, Hendon Hooker, and Brady Cook to a combined 122 yards on 27 carries posting just 4.5 yards per rush and a poor success rate (37%) on non-sack attempts. There has only been one rush over 15 yards from a QB against Brad White's defense. With Mike Wright taking over, QB run will likely be a big part of Vandy's game plan. If the Dores don't get some big runs from No. 5 it will likely be very hard to move the football. If Kentucky can contain QB run again it should lead to a big day for the home team
— Kentucky will want to sling the ball around the yard with the passing game, but this is still a run-first offense that won't want to put a ton of pressure on a struggling offensive line in pass protection. Therefore, Chris Rodriguez Jr. is going to get a lot of work. After two rough outings against a pair of top-15 run defenses, the UK offense will catch a break this week. The Cats will look to establish the run with No. 24 early and often at Kroger Field against a bad Vandy run defense. If Kentucky wins this matchup, they should have full control of the contest throughout Saturday afternoon.
— Last week, Kentucky did a great job finishing drives in the red zone with touchdowns but left points on the board in four other possessions that ended in Missouri territory. Kentucky can claim full control of this game early if the offense finishes drives with points.
— On defense, Vanderbilt was able to turn total blowouts into respectable final scores in this series the last two years due to red zone touchdown efficiency. The Commodores have scored touchdowns all on six red zone possessions in the last two meetings. Vandy will need a similar effort to hang around on Saturday. The red zone could determine if this contest is a blowout or another game that can get within one possession in the final quarter.