SDSU transfer Keshad Johnson commits to Arizona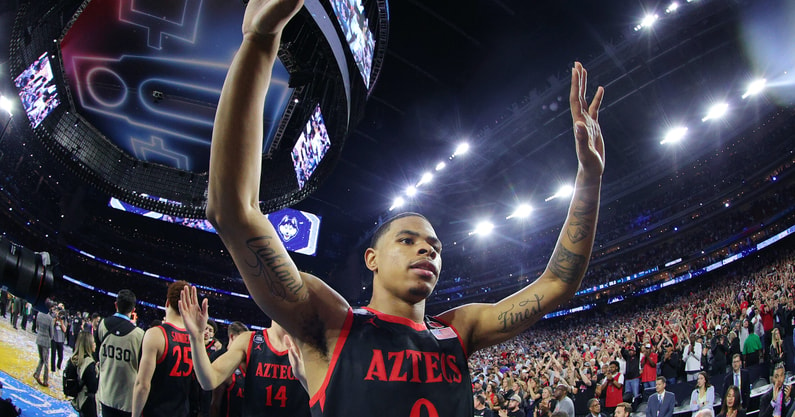 The wait continues for Kentucky to add its first transfer of the offseason. First, it was the Wildcats missing out on Michigan center Hunter Dickinson, who ultimately committed to Kansas after taking an official to Lexington. Now, San Diego State transfer Keshad Johnson has turned down the Wildcats — well, at least the Kentucky Wildcats.
Instead, the 6-foot-7 forward has committed to Arizona, choosing the Wildcats out of Tucson over Kentucky, Oklahoma, Texas Tech and USC.
Johnson visited both groups of Wildcats, along with the Sooners and Trojans, before finalizing a decision. Arizona and Kentucky were widely seen as the favorites to land his commitment in recent weeks, the former winning out on decision day.
Arizona had a 98.0% chance to land the Oakland native leading up to the announcement, according to the On3 Recruiting Prediction Machine.
"I would say the main thing with him is he's a winner. The connection between coaches and teammates is really important," Johnson's longtime coach and mentor, Don Manning-Fuimaono, told KSR leading up to the announcement. "Also from a developmental standpoint, he wants to go somewhere he's going to get better. But he wants to win, that's the most important thing for him. He wants to get back to a Final Four, get back to a national championship."
Johnson clearly felt Arizona was the better fit to accomplish those goals. Why? Kentucky had the blue-blood appeal, recruiting him to be a two-way threat alongside the team's top-ranked recruiting class, a complementary plug-and-play veteran piece. As for Arizona, it was another high-profile program, but one pitching an expanded starring role — something that wasn't expected in Lexington. A graduate student looking to make a significant impact in his final season of eligibility, it was the opportunity to be a featured standout and go-to weapon on a contender that pushed Johnson to Tucson. It doesn't hurt that the Oakland, CA native also gets to remain home on the West Coast, playing for head coach Tommy Lloyd in the Pac-12.
What's next for Kentucky?
John Calipari's upcoming 2023-24 squad currently has seven confirmed scholarship players with move-in scheduled for early June — just weeks away. Five freshmen in DJ Wagner, Rob Dillingham, Justin Edwards, Aaron Bradshaw and Reed Sheppard, two returning sophomores in Ugonna Onyenso and Adou Thiero.
Antonio Reeves is testing the draft waters and is seen as a likely returnee, while Oscar Tshiebwe and Chris Livingston could technically do the same, albeit unlikely. Long story short, there are roster spots to fill. Several, actually.
Where could Kentucky turn to fill them? The NBA Draft Combine concludes this weekend and the withdrawal deadline for players testing the waters is scheduled for May 31, just 11 days away. The undergrad transfer deadline has come and gone, but graduate transfers can enter the portal at any time. That will be the path for the Wildcats in the coming weeks, something that could ramp up rather quickly as players look to make moves leading up to move-in day.
A second wave is about to come with available options. Keshad Johnson just won't be the answer.