Sean Woods got emotional after his Rupp Arena homecoming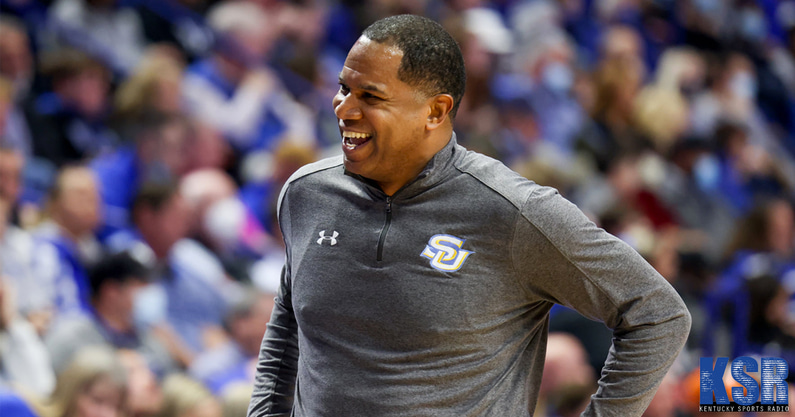 Sean Woods couldn't leave his postgame press conference without reminiscing on his days as a player in Rupp Arena. Now the head coach at Southern University, Woods' Jaguars lost in Rupp to his alma mater, 76-64, in the inaugural Unity Series game. Afterward, the former Wildcat point guard got choked up while speaking about his time and his relationship with the University of Kentucky.
"I envy my players every day because I wish I could still play basketball," Woods admitted in his postgame comments. "I'd give anything to go back and have my experience that I had here at the University of Kentucky. The guys I played with, we went through some things that no other player in University of Kentucky history has gone through. It was tough, but it was rewarding."
You know the story: Woods was the only non-Kentuckian in the historic class of four legends known as the Unforgettables. He and fellow Class of '92 seniors John Pelphrey, Daren Feldhaus, and Richie Farmer stuck with the program at its lowest point amid NCAA sanctions in 1989, then led Rick Pitino's team to the 1992 Elite Eight in the first tournament post-sanctions. (We won't address how that run ended. Not important right now.)
Looking back on the Unforgettable finish, Woods said, "It wasn't just me, John, Daren, and Richie; it was Derrick Miller, it was Reggie Hanson, it was Johnathan Davis, it was Jeff Brassow. I tell people all the time, we might've won the national championship if Brass don't get hurt."
Even without Brassow to pass the ball to in 1991-92, Woods finished his career on the All-Regional Team and as Kentucky Basketball's all-time leader in career steals per game. He still holds that record today.
When his career ended, Woods' jersey was retired beside the jerseys of Pelphrey, Feldhaus, and Farmer in a surprise ceremony in Rupp Arena. He was inducted into the UK Athletics Hall of Fame as a member of its charter class in 2005. These are accomplishments he doesn't take for granted.
"Every time I get a chance to come here, I just get emotional because I gave a lot of my life and everything I had and I did everything people asked me to do, and it was very rewarding afterwards. This university has made me the man and the coach that I am today."
The coach Woods is today gave John Calipari a challenge in Tuesday night's game. Calipari admitted as much following Kentucky's 12-point win.
"Thank goodness we won," Calipari said. "They played harder than we did. Sean did a better job coaching his team than I did."
Woods said, "It was good coming home. I thought I could sneak one."