SEC East Rundown: Georgia dominates, Anthony Richardson terrifies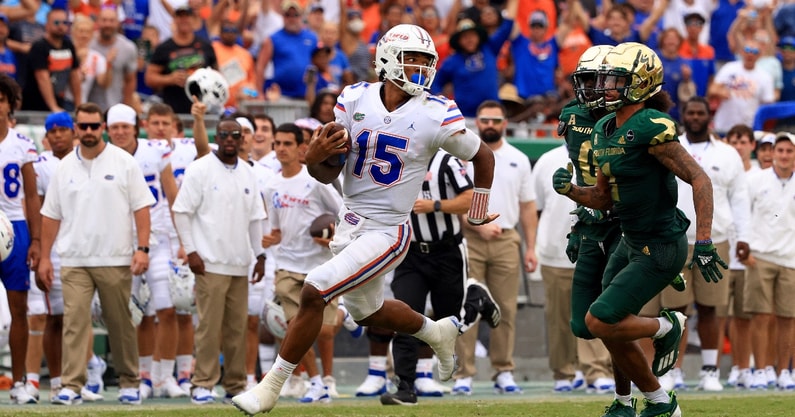 Kentucky is off to a 2-0 start and is in first place in the SEC East. The next goal for the program is to get to Atlanta on the first weekend of December to play in the SEC Championship Game. To do that, the Wildcats must get through their division.
To stay up to speed with everything going on in one of the better conference divisions in college football, KSR has watched the tape, crunched the numbers, and combed through the data. After two weeks of football, a pecking order is beginning to form.
Here is where everyone outside of Kentucky stands in the SEC East. Anthony Richardson is a name to know.
Anthony Richardson creates QB conundrum
Emory Jones was a top-100 prospect out of Georgia was Dan Mullen's first huge recruiting win at Florida. However, the dual-threat prospect had to sit behind both Feleipe Franks and Kyle Trask during his first three years on campus.
However, the redshirt junior was supposed to be the guy for Florida heading into 2021. Mullen let everyone know about it at SEC Media Days. However, a rough fall camp combined with mixed results has many in Gator Nation sharing doubts about Jones.
Through eight quarters, the veteran has a passing success rate of just 40.82 percent with a PBU/Interception rate of 22.45 percent. Add that on top of a 5.4 yards per attempt number, and this passing game is all of a sudden very anemic.
Anthony Richardson may have too much playmaking juice to remain on the bench.
A four-star recruit out of Gainesville, Fla., Anthony Richardson is drawing comparisons to a ton of former Mullen quarterbacks this week — Cam Newton, Dak Prescott, Tim Tebow — thanks to his dynamic rushing ability to go along with arm talent to stretch the field vertically. The 236-pound specimen appears to be a rising megastar, but Mullen isn't budging on Jones as QB1 yet.
Mullen confirmed that Jones will remain the starter for Saturday's tilt with No. 1 Alabama at The Swamp. However, Anthony Richardson will continue to rotate in. The head coach wants more consistency from his young quarterback.
"He doesn't always do the right things, but he does special things," said Mullen.
The Gators have two SEC games before heading to Kroger Field on Oct. 2. We're about to learn a whole lot more about their quarterback situation before that game week arrives.
Georgia is playing elite defense, remains SEC East favorite
Through two games, Kirby Smart's defense ranks No. 2 nationally in yards per play defense (3.13) and first in scoring defense. The Bulldogs have given up just one touchdown this season. This is an elite group.
The Bulldogs need to get a healthy JT Daniels back at quarterback, but there seems to be no slowing this team down at the moment. The Bulldogs have the most talented roster in college football and look to have all the ingredients to be a national champion.
UGA is still the heavy favorite in the SEC East.
Tyler Badie is getting heavy volume
Through his first three years on campus at Missouri, senior tailback Tyler Badie proved to be a valuable RB2 who could impact both the rushing and passing game. This was a talent that was always going to have NFL value due to his dynamic skill set. However, one big question remained.
Could Tyler Badie handle a starter's workload? The simple answer to that question is yes.
Through two games, Badie has received 18 targets in the passing game to go along with 39 rush attempts. Badie's 53.85 percent rushing success rate number is higher than Chris Rodriguez Jr.'s while he has a pair of receiving touchdowns.
The 194-pound senior is essential to Mizzou's offensive plan this year as the Tigers just do not have the outside threats to scare defenses vertically. Therefore, head coach Eliah Drinkwitz needs to lean on Badie and his playmaking ability in the short-to-intermediate areas.
So far, he has been quarterback Connor Bazelak's best friend and leads the league in yards from scrimmage. Badie is in the midst of a potential first-team All-SEC season.
South Carolina is playing defense
Under first-year head coach Shane Beamer, the Gamecocks have a ton of offensive issues. Star tailback Kevin Harris did not participate in any contract drills during fall camp due to a minor back injury while starting quarterback Luke Doty was lost to a foot injury and missed the first two games.
Despite all these issues, South Carolina is off to a 2-0 start. They have new defensive coordinator Clayton White and his unit to thank.
South Carolina shut out FCS Eastern Illinois in the opener and won the game for their team in this past weekend's road victory over East Carolina. The Gamecocks scored a defensive touchdown to go along with allowing just a 20.83 percent passing success rate to senior quarterback Holton Ahlers. This getting the job done.
The Gamecocks are currently a top-five yards per play defense and have a defensive front that could be one of the best in the SEC. If South Carolina is to win games this season, it will be due to their defense.
With Georgia and Kentucky looming, White's unit will get tested but they're passing the eye test to this point.
Tennessee has issues
In the offseason, Tennessee brought in transfers Hendon Hooker and Joe Milton to help address the quarterback situation. The Vols also have former top-100 quarterback Harrison Bailey on the roster.
After two games, Josh Heupel's quarterback situation appears to be a mess.
After struggling to start the season, Michigan transfer Joe Milton was replaced by Virginia Tech transfer Hendon Hooker this past Saturday and the offense looked much better. Hooker is currently averaging just south of nine yards per attempt and has over 1,000 career rushing yards in his career with 15 touchdowns. This could be the guy.
However, the Vols are being hit by some injuries and have major depth issues along the line of scrimmage. With three games looming against ranked teams over the next six weeks, some rough times could be coming to Knoxville.
The home game against Pittsburgh was really one the Vols could not afford to lose. Tennessee has one of the toughest conference schedules in the SEC East.
Vanderbilt shows resilience
I'm not sure any college football program had a faceplant worse than Vanderbilt in Week 1. The 'Dores were thumped by FCS East Tennessee State as Clark Lea quietly demoted his first offensive coordinator. Their offense then responded by scoring zero touchdowns.
In Week 2, Vanderbilt went on the road to Colorado State as a touchdown underdog. Lea had his troops ready to play after a brutal first week.
Despite being outgained by over 100 yards, Vandy was able to do just enough to walk out of Fort Collins with a win. However, the offense remained inefficient.
This is a team with a lot of issues, but they are showing some fight for the new coaching staff. However, all signs point to Vandy finishing at the bottom of the SEC East.