SEC East Rundown: Georgia on top, Dan Mullen is feeling job pressure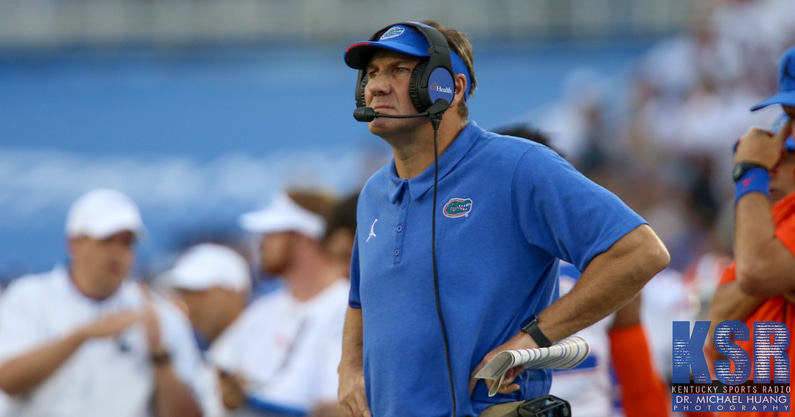 As the college football season enters Week 8, the SEC East race seems all but over.
Following Georgia's 30-13 victory over Kentucky on Saturday, the Bulldogs are 5-0 in conference play with remaining games against Florida, Missouri, and Tennessee. With only one of those being on the road, the Bulldogs will likely be heading to Atlanta for the fourth time in six years under Kirby Smart.
However, there is still a lot happening in the division. KSR is here to provide the rundown.
Patience is wearing thin at Florida
Perhaps the biggest surprise of Week 7 was that Florida dropped a game as a double-digit favorite against LSU for the second year in a row. Behind a program-record 287 rushing yards from Tyrion Davis-Price, the Tigers knocked off Florida 49-42 in Death Valley.
The win was so good that LSU needed to fire Ed Orgeron immediately before things began to turn in the other direction in Baton Rouge.
Despite gaining nearly 500 yards on offense, the Gators found another way to lose as they now sit at 4-3 despite having the top yards per play offense in the SEC. Mullen is 0-6 in one-possession games over the last two years and folks in Gator Nation are starting to get upset.
Many want defensive coordinator Todd Grantham gone while Mullen's lack of recruiting success when compared to Alabama and Georgia is constantly being thrown in Florida's face. Meanwhile, the fourth-year head coach's hesitancy to use Anthony Richardson at quarterback has some more people upset.
The Gators have a meeting with Georgia on Halloween weekend which will likely drop them to 4-4. The schedule is soft in November so an 8-4 finish is likely but all signs point to the offseason being a critical one for Dan Mullen.
If Mullen can't get the Gators back on the right track, the former Mississippi State head coach could find himself on a legitimate hot seat sooner rather than later.
Georgia finds its home run swing
The Bulldogs have the best defense in college football. That is not debatable. However, questions keep getting asked about offensive coordinator Todd Monken's unit.
UGA has been an efficiency machine this season with a passing success rate and a rushing success rate both over 50 percent heading into Week 7. However, the Bulldogs had some issues creating some explosive plays.
That changed against Kentucky.
Facing the second-best defense in the SEC that excels in eliminating big plays, Georgia kicked down the door.
In just 46 snaps, Georgia produced 10 plays of 20-plus yards allowing the Bulldogs to score 30 points in 10 total possessions. UGA blitzed a good Kentucky defense and was never threatened by either top 25 opponent faced at Sanford Stadium.
UGA feels like a lock to make the playoff and should enter the SEC Championship Game with a perfect 12-0 record.
Eliah Drinkwitz, Missouri are going the wrong way in year two
After going 5-5 in SEC play last season, Eliah Drinkwitz entered year two with a ton of expectations. The Tigers had a ton of returning pieces and looked like a team that could potentially make some noise in 2021.
Unfortunately, Mizzou seems headed towards a 5-7 season.
The Tigers might have the worst defense in the Power Five and that showed up in the 35-14 loss when A&M accumulated 300 non-sack rushing yards averaging over seven yards per rush. Meanwhile, the offense does have some issues creating explosive plays and when those aren't there this team can fall behind the chains.
Missouri has remaining games against Vanderbilt on the road and South Carolina at home which seem very winnable, but the Tigers must go to Georgia and will be an underdog in the season finale at Arkansas.
Drinkwitz's program took a step backward in year two when things seem to be pointing in the right direction. That's not a great sign but one that can be fixed.
Zeb Noland saves the day
Following two Luke Doty interceptions in the fourth quarter at home, Vanderbilt firmly had South Carolina on the ropes at Williams-Brice Stadium. To save the day, Shane Beamer turned to Zeb Noland.
The former graduate assistant once against saved the Gamecocks.
With no timeouts and just 96 seconds remaining on the clock, Noland marched the Gamecocks 75 yards in nine plays to score the game-winning touchdown with just 37 seconds remaining. The former Iowa State and North Dakota State quarterback had three explosive play completions on the drive before finding Xavier Legette from nine yards out for the final score.
On Tuesday, Shane Beamer announced that starting quarterback Luke Doty is going to be out for the remainder of the season due to foot surgery. That means it will be Noland's show for the rest of the way.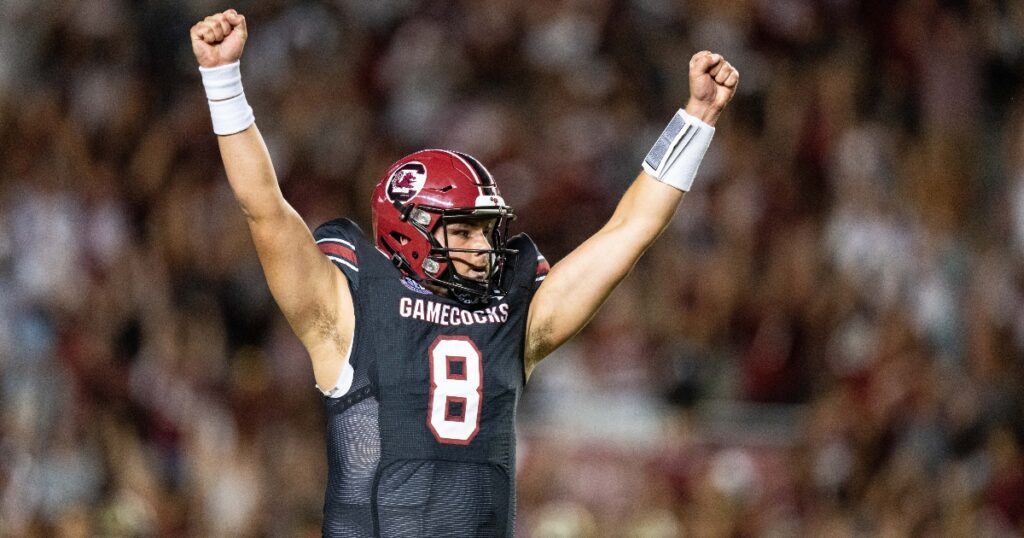 The seasoned veteran is averaging nearly nine yards per attempt with six touchdown throws as he's been one of the biggest surprises in college football.
Injuries are piling up on Rocky Top
The officials missed some calls, Tennessee fans littered the Neyland Stadium field with debris, Lane Kiffin played heel, Ole Miss won a big road game, and Greg Sankey fined the university.
That pretty much wraps up what was an insane Saturday night in Knoxville. The actions of everyone involved are being talked about non-stop this week, but the real story is the health of the Tennessee football team.
The Vols are seriously banged up and now must go play Alabama in their eighth game in eight weeks. Best of luck, Josh Heupel.
Starting linebacker Juwan Mitchell is our for the rest of the season after undergoing shoulder surgery. Quarterback Hendon Hooker and offensive tackle Cade Mays were taken out of the game against Ole Miss. Top tailbacks Tiyon Evans and Jabari Small have both missed games. About four other players are questionable for Saturday's game against Alabama.
All of this is occurring with a roster that does not have much depth due to all the transfers following the Jeremy Pruitt firing. The Vols had walk-ons playing at offensive tackle and running back against Ole Miss.
The player buy-in level is high at Tennessee but injuries are piling up. Luckily, the bye week will arrive once the game with Alabama is finished.
Vanderbilt continues to fight
Lost in the comeback effort by Zeb Noland was how well Vanderbilt played on the road in the one-point loss to South Carolina. Clark Lea continues to get effort from his first team in Nashville.
The Commodores produced four takeaways and the offense had the ball in the red zone up three with just minutes remaining in the game. However, Vandy was unable to shut the door, and this gave South Carolina room for a comeback.
The loss drops Vandy to 2-1 in one-possession games with three straight home games coming up next against Mississippi State, Missouri, and Kentucky. If Lea is to get an SEC victory this season, it likely needs to come in this next stretch.