SEC Football Roundup: Week 1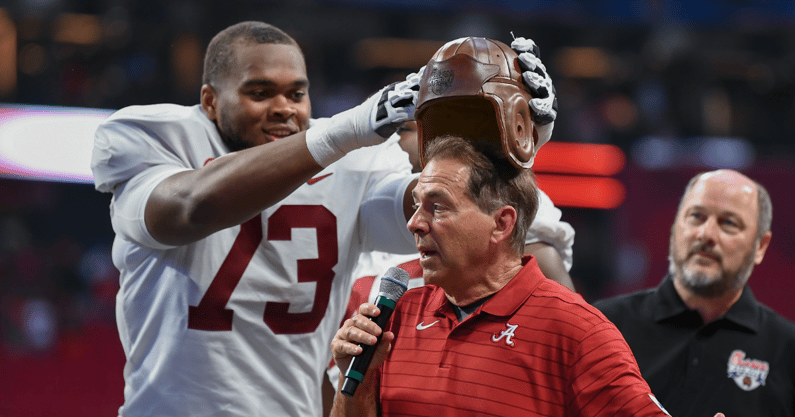 Good afternoon, BBN! We hope everyone enjoyed their first Caturday of the year. Today marks our first SEC football roundup of the 2021 season, where we'll look at major happenings around the league this weekend. Here we go!
Bowling Green at Tennessee
Tennessee kicked things off with a 38-6 win over Bowling Green on Thursday night. The Vols led only 14-6 at halftime, but put up a second-half shutout and tacked on 24 points to finish the game.
Tennessee's passing game was not overly impressive. Starter Joe Milton III finished 11 of 23 with 140 yards and one touchdown. He found the endzone twice on foot, though, and helped the Vols rack up 326 rushing yards.
It was Tennessee head coach Josh Heupel's first game in that ugly burnt orange. Heupel coached at UCF for three years before landing in Knoxville.
No. 1 Alabama vs. No. 14 Miami
Two words: Bryce Young. The sophomore from California made his first start for the No. 1 Crimson Tide yesterday afternoon and wasted absolutely no time showing he's the man for the job. Thanks in part to his stellar performance, 'Bama crushed Miami 44-13.
Young completed 27 of his 38 passes for 344 yards, four touchdowns and zero interceptions. The four TDs mark a new Alabama record for most touchdown passes in a debut as starting quarterback.
Tide fans have more to be excited about than just their passing game. This Alabama defense is T-O-U-G-H. It is one of Saban's most experienced in his tenure at 'Bama, and they are fast, strong and relentless.
No. 3 Georgia vs. No. 5 Clemson
Speaking of defense, Georgia's is also absolutely unreal. Last night, they put on a show against No. 5 Clemson, holding the Tigers to only two rushing yards (no, that wasn't a typo) and sacking Clemson quarterback D.J. Uiagalelei seven times.
Georgia struck first off a 74-yard pick-six by defensive back Christopher Smith shortly before halftime. The Tigers couldn't get anything but a field goal on the board in the second half, and the 'Dawgs took the game 10-3.
Kent State vs. No. 6 Texas A&M
Texas A&M got off to a slow start in their season opener. Though they scored early, they went into the locker room with only a 10-3 lead. The second half was all Aggies, though, as they put 31 points on the board in the final two quarters and ended with a convincing 41-10 win.
Freshman quarterback Haynes King made his first start for the Aggies. He ended the game with an impressive 292 yards and two touchdowns on 21 of 33 passing attempts. However, his inexperience was evident as he threw three interceptions as well.
In even cooler news, the Aggies facilitated a successful 'red, white and blue out' in a tribute to the 20th anniversary of 9/11. Absolutely incredible.
Florida Atlantic at No. 13 Florida
It wasn't their prettiest effort, but the Florida Gators are now 1-0 on the season after beating the Florida Atlantic University Hawks 35-14 in Gainesville last night.
Junior Emery Jones got the start at quarterback for the Gators. He struggled at times, ending with 113 total yards, one touchdown and two interceptions before being replaced by backup QB Anthony Richardson. It was their running game where they impressed. The Gators racked up 400 rushing yards and four rushing TDs.
The Gator defense was not as impressive. They allowed 353 total yards and two touchdowns in the final seven minutes of the game.
No. 16 LSU at UCLA
The unranked UCLA Bruins upset the No. 16 LSU Tigers last night in Pasadena, giving them a 2-0 start after a win over Hawaii in Week Zero.
That Tiger defense looked rough, folks. They allowed 470 yards from the Bruins. 260 of those were passing from quarterback Dorian Thompson-Robinson. He went 9 of 16 for three touchdowns and one interception.
The defensive meltdown comes as a bit of a shock to many college football fans, as the Tigers reportedly spent much of the offseason focused on it. I think they need to geaux work on it a little more.
P.S. – enjoy this clip of Coach O.
Rice at Arkansas
It wasn't a pretty start for the Razorbacks. They trailed at halftime to a Rice team that has not beaten a power-conference opponent in eight years. Regardless, they'll get one in the 'W' column after an impressive comeback effort.
The Razorbacks scored on five of their last six possessions, ending the game with a 38-17 win. Sophomore quarterback KJ Jefferson struggled in the opener, going 12 for 21 with 128 yards and one interception. He made up for it, though, with one throwing and two rushing touchdowns to lift his team to a win.
Louisiana Tech at Mississippi State
The Razorbacks weren't the only ones who struggled in their opener. The Mississippi State Bulldogs narrowly escaped with a win 35-34 win over Louisiana Tech.
Mississippi State took an early 14-0 lead in the first quarter, but LA Tech rattled off 34 unanswered points to take a big lead heading into the final quarter. The Bulldogs finally woke up in the final 12 minutes, where they scored 21 points to take the lead and avoid the upset.
There is a lot of work to be done before conference play starts, though. The Bulldogs turned the ball over four times and committed 12 penalties for almost 100 yards.
Central Michigan at Missouri
The Missouri Tigers got a 34-24 win over Central Michigan yesterday afternoon to start their season. Sophomore quarterback Connor Bazelak started for Mizzou, ending with 257 yards on 21 of 32 passes. He threw two touchdowns and no interceptions.
Defense proved to be a problem though, as the Tigers allowed 475 total yards from CMU. This isn't all that surprising, considering the Tigers are still adjusting to their new defensive system introduced in the offseason.
The Tigers will travel to Lexington next weekend to begin conference play. Kentucky opened as a 5-point favorite today.
Akron at Auburn
Dominant start for Auburn here, as the Tigers beat Akron 60-10 at home. Junior quarterback Bo Nix put on a convincing showing, ending with 275 passing yards and three touchdowns in just a little more than two quarters.
The win is a promising sign for Tigers fans. After going 6-5 last season and firing head coach Gus Malzahn, they are off to a good start with new head coach Bryan Harsin. Harsin coached at Boise State for six years before arriving in Auburn.
He isn't the only newcomer. Former Vandy head coach Derek Mason is the new defensive coordinator for the Tigers – and he seems to be doing a good job. Auburn kept Akron off the board for more than 45 minutes of the game before the Kangaroos (interesting, right?) finally hammered one home to avoid the shutout.
Eastern Illinois at South Carolina
Auburn couldn't get the shutout, but South Carolina could. Led by quarterback Zeb Noland, the Gamecocks dominated the Panthers 46-0 in Columbia.
Speaking of Noland, he has a really awesome story. The 24-year-old was recently hired as a graduate assistant. After expected starter Luke Doty injured his left foot earlier in the preseason, Noland was named starting quarterback.
He made the most of it, too. He went 13 of 22 passing for 121 yards and four touchdowns (!!!) in the first half before being pulled to give senior Jason Brown some snaps. Pretty cool, right?
East Tennessee State at Vanderbilt
This one was hard to watch. It's hard to talk about too, so we'll keep it short and sweet.
In new head coach Clark Lea's first game at Vandy, the Commodores lost 23-3 to East Tennessee State at home.
Yikes.
Louisiana Monroe at Kentucky
We saved the best for last, of course. The 'Cats are back, baby – and they look good.
Led by Penn State transfer Will Levis, Kentucky cruised to a 45-10 win over Louisiana Monroe in front of more than 47,000 fans. Levis completed 18 of 26 passes for 367 yards, four touchdowns and one interception before handing the ball to freshman Beau Allen.
Frankfort native and Nebraska transfer Wan'Dale Robinson looked good in his debut as a Wildcat too. His first reception in Kentucky blue was a 33-yard touchdown catch. He finished the game with two TDs and 125 yards on five receptions.
The Wildcat defense looked impressive as well. They held the Warhawks to just 10 yards rushing on 40 attempts and sacked the ULM quarterback six times. Captain Josh Paschal recorded seven tackles, two for a loss.
PREVIEW: Louisville vs. Ole Miss
Week 1 isn't over yet, though. Tomorrow night, Louisville and Ole Miss will meet in Atlanta for the Chick-fil-A Kickoff Game. That game is scheduled for 8 p.m. on ESPN.