SEC Football Roundup: Week 3 brings some drama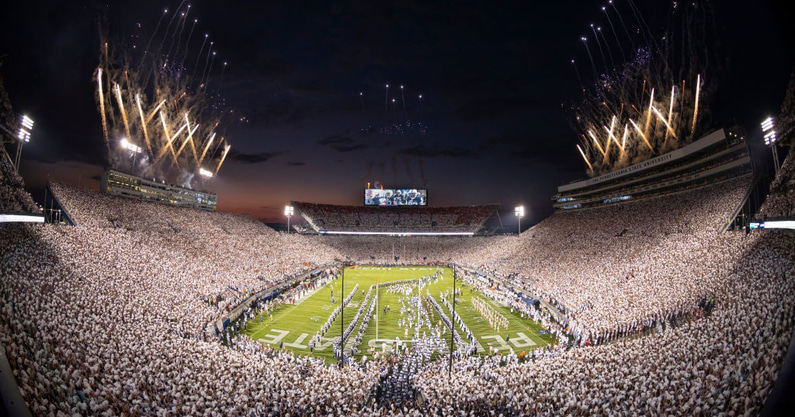 Happy Sunday, BBN. We had a crazy, drama-filled day in the SEC yesterday. Let's skip the silly stuff and talk about it.
New Mexico at No. 7 Texas A&M
Nothing too exciting here. Texas A&M crushed the Lobos 34-0 at home. Our guy Terry Wilson didn't have his best game. He went 10/23 for 33 yards passing – and yeah, that was all the passing. That Aggie defense is strong.
Zach Calzada had a heck of a game for A&M, though. The sophomore threw for 275 yards and three touchdowns. Rushing was good too. Isaiah Spiller led with 15 carries for 117 yards and a touchdown. Jimbo's gotta be happy, right?
Southeast Missouri State at Missouri
Missouri bounced back this weekend with a big 59-28 win over the Southeast Missouri State Redhawks. Connor Bazelak was phenomenal for the Tigers. He went 21/30 for 346 yards (!!!) and three touchdowns.
Tyler Badie led with 81 yards and two touchdowns on nine carries. He's tough to bring down, folks.
Tennessee Tech at Tennessee
Big win for the Vols here. They beat Tennessee Tech 56-0 at home with senior Hendon Hooker at the helm. He threw for 199 yards and three touchdowns AND ran for another. It was his first start in place of Joe Milton, who was injured last week. Oh, and what a name.
The Vol defense was strong too. They came up with four interceptions in the match, but they better hope they can keep it up. They'll face the Florida Gators next week in their SEC debut.
No. 1 Alabama at No. 11 Florida
Led by quarterback Bryce Young, the Crimson Tide remain perfect after a 31-29 win over Florida in the Swamp yesterday. Young completed 22 of 35 passes for 240 yards and three touchdowns, but this one was still closer than many thought, including the oddsmakers in Vegas who had 'Bama by 14.5.
Though Florida has been using both Emory Jones and Anthony Richardson at quarterback this season, the Gators went exclusively with Jones last night out of precaution for a Richardson strained right hamstring. Jones completed 18 of 28 passes for 195 yards. All Gator touchdowns came on the ground, though. Dameon Pierce got two, along with Jones who got one in on the ground.
Georgia Southern at No. 20 Arkansas
Arkansas is legit. They crushed Georgia Southern 45-10 at home last night. Quarterback KJ Jefferson threw for a career-high 366 yards and three touchdowns in the beatdown. He is the first Razorbacks QB with 350+ passing yards, 3+ touchdowns, and zero interceptions since 2015.
One of those three touchdowns was a 91-yard pass to Treylon Burks, making it the second-longest pass play in the history of Arkansas football.
Mississippi State at Memphis
Mississippi State dropped one 31-29 yesterday in Memphis – and it was a wild one. Senior Calvin Austin III scored three second-half touchdowns, including a controversial 94-yard punt return to give the Tigers the lead with just under six minutes left in the match.
After the game, the SEC tweeted to say that the play should have been reviewed after the back judge (part of an SEC officiating crew) signaled to stop the clock when the punted ball stopped moving. Apparently nobody saw that signal, and this chaos ensued.
South Carolina at No. 2 Georgia
That Georgia defense showed out again last night in their convincing 40-13 win over South Carolina. JT Daniels looked pretty good at quarterback for the 'Dawgs too. After missing the last game with an oblique injury, Daniels completed 23 of 31 passes for 303 yards last night and three passing touchdowns.
It wasn't all bad for the Gamecocks. They scored the first touchdown of the season on the Georgia defense. Until last night, the only touchdown scored against Georgia came on an interception return.
No. 22 Auburn at No. 10 Penn State
Auburn is now 2-1 on the season after a 28-20 loss last night at Penn State. Tiger quarterback Bo Nix didn't have his best showing. He went 21/37 for 185 yards, while Penn State QB Sean Clifford completed 28 of 32 passes for 280 yards.
Penn State's defense showed up big in the final minutes to seal the win. The Nittany Lions kept the Tigers from the end zone after a first-and-goal at the 10. The Tigers managed to get back in enemy territory with just three seconds left, but safety Jaquan Brisker batted a last-second heave from Nix out of the air.
Central Michigan at LSU
After a tough season-opening loss to UCLA, the LSU Tigers are back on track. Last night, they beat Central Michigan 49-21 to move to 2-1 on the season – and they could not have done it without sophomore quarterback Max Johnson.
Johnson completed 26 of 35 passes for 372 yards (!!!) and five touchdowns (!!!!!!!). Freshman Corey Kiner ran one in for the Tigers as well, giving them a smooth road to victory against a Central Michigan team that gave Mizzou trouble in Week 1.
Tulane at No. 17 Ole Miss
Two words: Matt Corral. Corral was unbelievable in the Rebels' 61-21 rout of Tulane last night. He accounted for a school-record seven touchdowns in less than three quarters – four running and three passing. Ole Miss finished with 707 yards of total offense, 403 by Corral.
Tulane struggled and trailed by 19 points at the half. The offense stayed resilient, though. Quarterback Michael Pratt went 10 for 18 for 166 yards and two touchdowns to Shae Wyatt and Tyrick James.
Stanford at Vanderbilt
This battle of the brains goes to Stanford, who handily beat Vandy 41-23 on the road last night. Cardinal QB Tanner McKee racked up 218 passing yards and two passing touchdowns. He got one on the ground too, giving him three total in the match.
The loss is Vandy's eighth straight at home. They have not won a game at Vanderbilt since November of 2019.
Chattanooga at Kentucky
The 'Cats just wanted to make sure everyone was good and awake with this one. They narrowly defeated Chattanooga 28-23 yesterday afternoon…and it wasn't pretty. The Mocs (what is that?) led 16-14 early in the fourth, but Kentucky QB Will Levis kept his composure and led a 77-yard touchdown drive capped off with a 31-yard TD pass to Izayah Cummings for the lead. Before the touchdown, the 'Cats had either punted or turned the ball over on their six previous possessions.
The Kentucky defense came up big late in the game as well. Chattanooga drove to the Kentucky 35 before safety Tyrell Ajian picked off an attempt for the end zone and ran it all the back for a Wildcat touchdown. The Mocs scored again with a little over a minute left and brought the game within a touchdown, but couldn't recover the onside kick. 'Cats stay perfect.
Say it with me: NO MORE NOON GAMES!