SEC Football Roundup: Week 4 brings nail-biters and beatdowns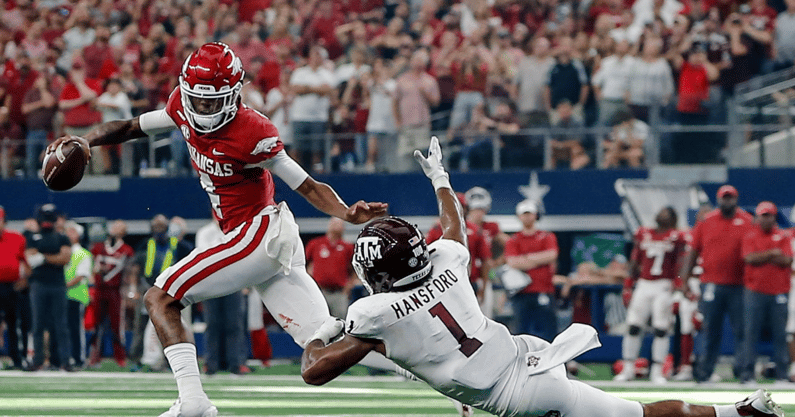 Another wild weekend of SEC football has come and gone, full of both close games and beatdowns. Let's see who came out on top and who fell flat.
No. 2 Georgia at Vanderbilt
At this point I actually feel bad for Vandy. Yesterday, they were absolutely pummeled by Georgia 62-0 on their home field.
Starting quarterback JT Daniels only played one quarter before handing the ball over for the Bulldogs. He threw for 121 yards and two touchdowns in that one quarter, helping give Georgia their biggest win of the series that started almost 130 years ago. The Bulldogs had 524 yards of total offense as opposed to 77 from the Commodores.
The loss was Vandy's 14th straight SEC loss. Yikes.
LSU at Mississippi State
This game was a little more entertaining. Led by quarterback Max Johnson, the Tigers outlasted the Bulldogs 28-25 in Starkville. Johnson passed for 280 yards and four touchdowns.
If you just looked at the stat sheet, you might think this one ended differently. LSU had only 343 yards of offense and was 5-32 on third down. The Bulldogs had 486 offensive yards and 12 third-down conversions, but made their push a little too late.
The loss was the second in a row for Mississippi State, leaving them at 2-2 on the season.
Missouri at Boston College
Overtime alert! Boston College is now 4-0 on the season after beating Mizzou 41-34 in OT yesterday. Eagles quarterback Dennis Grosel went 18 of 29 for 175 yards and two touchdowns, including a 10-yarder to Zay Flowers to take the lead in overtime. An interception from Brandon Sebastian sealed the deal.
Sophomore running back Pat Garwo III ran for 175 yards and two touchdowns on 25 carries for the Eagles. Travis Levy added one on the ground as well, helping BC rack up 275 rushing yards.
No. 7 Texas A&M at No. 16 Arkansas
Arkansas remains undefeated after upsetting No. 7 Texas A&M 20-10 last night at Cowboy Stadium in Dallas. KJ Jefferson was phenomenal for the Razorbacks again, racking up 212 passing yards on only seven completions. He got 50 on the ground too, helping give Arkansas 443 offensive yards.
The Aggies didn't have quite the same success. A&M quarterback Zach Calzada went 20 for 36 with no touchdowns and one interception. The only Aggie touchdown came from junior Isaiah Spiller, who ended with 95 yards on 12 carries.
The Arkansas win was their first over A&M in their 10-season series. The Razorbacks are now 4-0 for the first time since 2003.
Georgia State at No. 23 Auburn
Disaster averted for the Tigers. Auburn narrowly escaped Georgia State with a 34-24 win last night at home, leaving them 3-1 on the season. Bo Nix started the game for the Tigers, but was replaced by TJ Finley after a rough start. Finley entered the game with the Tigers trailing 24-12, but helped his team overcome the Panther effort with his game-winning 98-yard drive.
Georgia State running back Tucker Gregg ran for 150 yards and one touchdown on 12 carries as the Panthers racked up 267 yards on the ground.
Panther head coach Shawn Elliott was not happy with the SEC officiating crew. After the game, he threw shade at the refs for a late review that upheld a Tiger reception which set up the game-winning touchdown late in the fourth quarter.
Tennessee at No. 11 Florida
Florida is back in business after a loss to Alabama last weekend. UF earned a win over Tennessee last night in The Swamp by a score of 38-14. Gator quarterback Emory Jones had a hell of a night, going 21 of 27 for 209 yards and two touchdowns. He got it done on the ground too, leading his team with 144 rushing yards.
The game was close for a while, with the Gators only leading by three points at the half. They started the third quarter with touchdowns on two consecutive drives to open the lead a bit, including this trick-play from Jones to Trent Whittemore to Kemore Gamble. It was Florida's first trick-play touchdown in three years.
Jones is the first Florida QB to top 200 yards passing and 100 yards rushing since Tim Tebow in 2009 against Florida State. Pretty good company to be in, right?
Southern Miss at No. 1 Alabama
The Tide came out hot in this one. Ohio State transfer Jameson Williams opened the game with a 100-yard kickoff return as 'Bama toppled the Southern Miss Golden Eagles 63-14. Williams added an 81-yard touchdown catch on his second touch and an 83-yard run on his fourth.
'Bama quarterback Bryce Young was excellent once again for the Tide. He went 20 for 22 with 313 yards and five touchdowns. The big lead allowed backups Paul Tyson and freshman Jalen Milroe to get some touches too. Milroe threw for a touchdown of his own, giving the Tide six total passing TDs on the night.
Kentucky at South Carolina
4-0 feels damn good, right? The 'Cats remain perfect after a 16-10 win at South Carolina last night, giving them only their second 2-0 start in the SEC since 1977.
Will Levis was relatively quiet, throwing for 102 yards and an interception in the Wildcat effort. Most of UK's success came on the ground, with 230 total rushing yards. Chris Rodriguez led with 144 yards on 26 carries. Kavosiey Smoke racked up 50 himself and scored Kentucky's only touchdown on the first drive of the game.
Super senior Matt Ruffalo delivered with three big field goals in the match. The first came right before halftime with a 43-yard make. The second two in the second half gave the 'Cats a little cushion on their narrow lead.
Turnovers proved to be a problem for Kentucky again. Last night, the 'Cats coughed the ball up four times, losing two of them. Though Chris Rodriguez was great, he recorded his third and fourth fumbles of the season last night, prompting some frustration from Mark Stoops.
The 'Cats will welcome No. 11 Florida next weekend in a huge game. Get your tickets now, folks.