Momentum is building for SEC to stick with 8-game conference scheduling model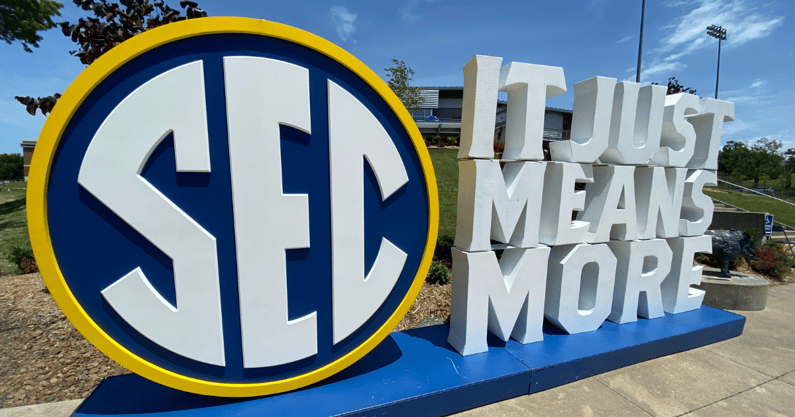 SEC spring meetings at the end of May are typically not a place where we see big news develop. For the second year in a row, that will not be the case.
After word leaked out last year that the conference was looking to switch to a nine-game scheduling model when Oklahoma and Texas joined the league in 2024, there has been momentum lost in recent weeks. If a vote takes place next week, there could be a tight race.
Brandon Marcello of 247 Sports is reporting that at least five SEC schools are against the nine-game model and would prefer to stick with an eight-game conference schedule that would give more flexibility in non-conference scheduling. Surprisingly, the league's biggest brand and most popular individual is now in support of eight games after being a huge proponent of nine games in the past.
Alabama is on the verge of a surprising endorsement for eight conference games after Nick Saban voiced frustration with the SEC's three proposed permanent rivals for the Tide (Auburn, LSU and Tennessee) should the league expand to nine games. Should the program follow Saban's battle cry, the Tide would join forces with at least four schools in opposition to the proposal for a nine-game schedule beginning in 2024, sources tell 247Sports.

Brandon Marcello | 247 Sports
Marcello reports that Arkansas, Kentucky, Mississippi State, and South Carolina are the other four schools that would prefer an eight-game scheduling model. On Thursday, The Athletic's Seth Emerson reported that Georgia could also be against a nine-game model if ESPN is not willing to provide more money for an extra league game. There might not even be a vote at all next week in Destin if the conference is truly split down the middle.
"I may be saying more than Commissioner (Greg) Sankey would want me to say, but obviously if you go to a nine-game schedule, you have to be compensated for going to a nine-game schedule," Georgia president Jere Morehead said. "There's still some dynamics that have to play out with our media partners."
That's the conference's two biggest brands that could be against the proposed nine-game conference model. That could create a swing the other way to the 1-7-7 model.
Projecting the 8-game model
In the nine-game proposed model, the SEC would use a 3-6-6 scheduling format. That means every team would have three permanent foes with the other 12 teams in the conference rotating on and off the schedule every other year. Sports Illustrated's Ross Dellenger — who appears to be very closely connected with SEC commissioner Greg Sankey's office — released a mock schedule in March that included every team's permanent opponents.
Alabama: Auburn, LSU, Tennessee
Arkansas: Missouri, Ole Miss, Texas
Auburn: Alabama, Georgia, Vanderbilt
Florida: Georgia, Oklahoma, South Carolina
Georgia: Auburn, Florida, Kentucky
Kentucky: Georgia, Mississippi State, South Carolina
LSU: Alabama, Ole Miss, Texas A&M
Mississippi State: Kentucky, Ole Miss, Texas A&M
Missouri: Arkansas, Oklahoma, Vanderbilt
Oklahoma: Florida, Missouri, Texas
Ole Miss: Arkansas, LSU, Mississippi State
South Carolina: Florida, Kentucky, Tennessee
Tennessee: Alabama, South Carolina, Vanderbilt
Texas: Arkansas, Oklahoma, Texas A&M
Texas A&M: LSU, Mississippi State, Texas
Vanderbilt: Auburn, Missouri, Tennessee
This model would keep most current rivalries alive yearly while allowing Oklahoma and Texas to re-ignite some past rivalries. The 1-7-7 model would not do that. However, teams would face every program in the league twice in four years and make the permanent projections quite simpler.
Below is how I have mocked a potential 1-7-7 SEC scheduling model that would include no divisions.
Alabama-Auburn
Arkansas-Missouri
Florida-Georgia
Kentucky-South Carolina
LSU-Texas A&M
Ole Miss-Mississippi State
Oklahoma-Texas
Tennessee-Vanderbilt
The Iron Bowl, the World's Largest Cocktail Party, the Egg Bowl, and the Red River game between Oklahoma-Texas would remain on the schedule every year. However, Third Saturday in October (Alabama-Tennessee), Deep South's Oldest Rivalry (Auburn-Georgia), Kentucky-Tennessee, Missouri-Oklahoma, Texas-Texas A&M, Magnolia Bowl (LSU-Ole Miss), Florida-Tennessee, and Georgia-South Carolina would all be played on an every other year basis. However, SEC programs would have an extra game to keep non-conference rivalries alive such as the Governor's Cup (Kentucky-Louisville), Bedlam (Oklahoma-Oklahoma State), Clemson-South Carolina, and Clean, Old Fashioned Hate (Georgia-Georgia Tech). Meanwhile, other programs could use that flexibility to schedule a prominent non-conference game ( LSU vs. Florida State this year).
Regardless of what happens next week, this appears to be a complicated issue where the SEC is split. What does Sankey want? That will likely win out in the end since he is the most powerful man in college athletics.